End of Summer Salad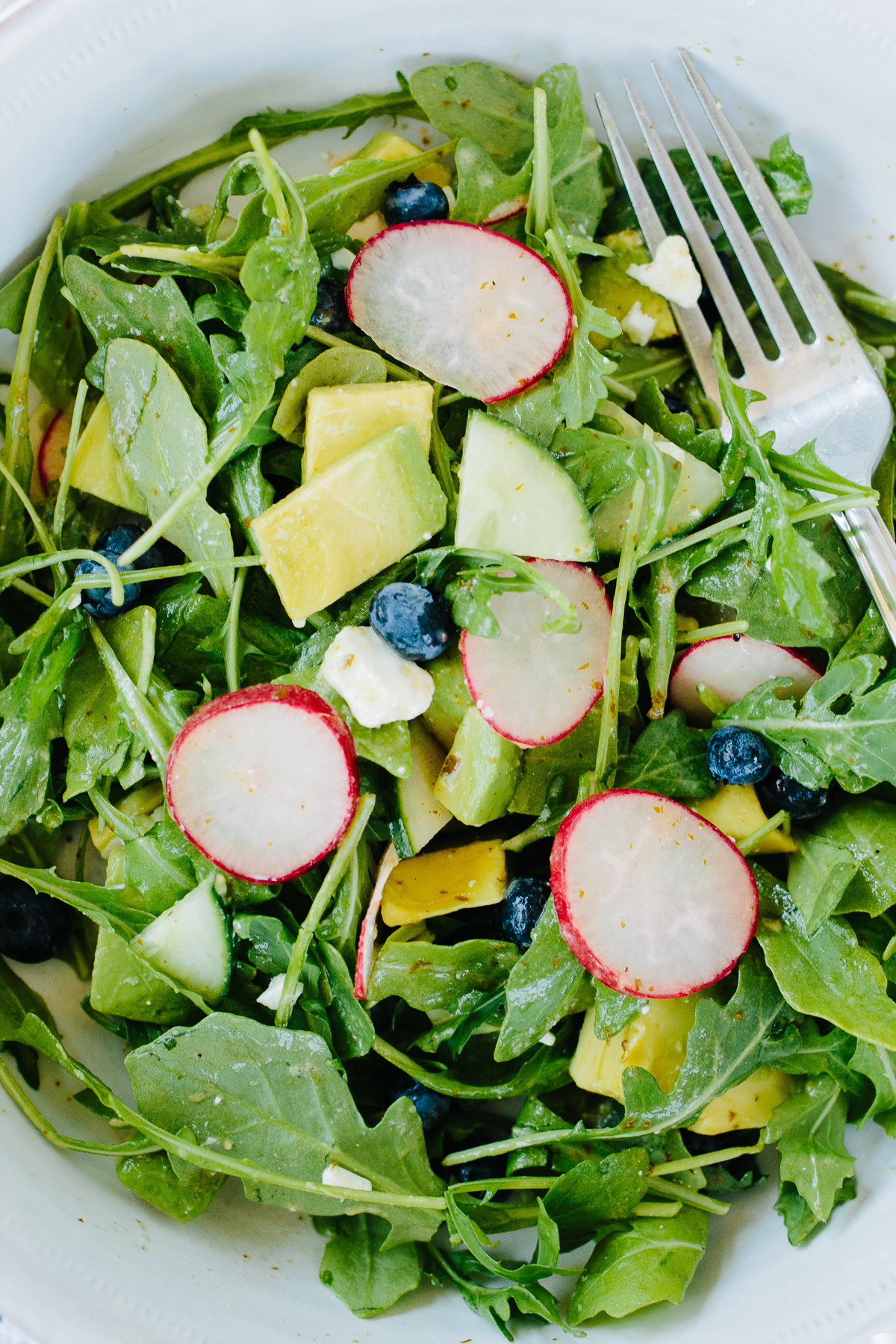 I don't remember the first time I tried arugula, but ever since then I've been kind of addicted to the peppery lettuce and not just in salads. I put it on sandwiches and burgers in lieu of spinach or leaf lettuce and on an arugula and prosciutto pizza — my favorite. So I'm sure you can guess that when it comes to salads, arugula is my go to.
I'd gotten in a bit of rut with the same salad ingredients, so I decided to pull out everything we had in the fridge and come up with a different version. I'd had blueberries in a salad over the summer at Beatrix and loved the sweetness they added, so I knew they'd be a good addition. The radishes add a nice earthy element, cucumber adds crunch and avocado adds creaminess and is just plain delicious. I also mixed in a bit of feta cheese for a salty bite too!
You might notice that the next few recipes I'll be sharing are all pretty healthy. Okay, last week was not, but for the next few weeks, they will be! After a few wedding weekends that were too wild (you know that feeling, right?), I've really been trying to eat healthier, drink more water and exercise more and this salad has spiced up my 'lunch hour'. I've also been trying to not drink during the week (so tough!) and it's amazing how much more energy I have and how much better I sleep at night. I used to be such a health nut and exercise freak and seeing how I feel this week is reminding why I used to do that.
Hopefully I can keep it up through the winter! I'll be focusing on healthy recipes throughout the next few months, except for a few yummy baked goods — I mean, it's almost the holidays, so it's bound to happen!
Arugula Salad
Ingredients
two handfuls of arugula
1-2 radishes, sliced
1/2 avocado, cubed
sliced cucumber
feta, crumbled
a few blueberries
Dressing:
adapted from Self-Proclaimed Foodie
Directions
Combine all ingredients in a bowl. Drizzle a little bit of dressing on the salad and toss to coat. Serve immediately.
Does a new season make you re-evaluate how you're living? Any personal goals for the new season?