How to Wear a Sweater Dress for Fall
Sweater Dress in Khaki (small) | Boots, similar | Bag | Belt | Sunglasses
I've always loved sweater dresses, but when we lived in Chicago, it always seemed to get too cold before I got a chance to wear them. But so far, fall seems to be a bit longer here, so I've been taking advantage.

I scooped up this cozy turtleneck sweater dress from Amazon and have been dying to wear it. We've got a date night planned for this weekend and I think this is perfect.
We've only been out ONCE since the pandemic hit and I seriously miss those nights with just Rob and I. Dinner at home is always fun, but it's such a treat to have someone else serve drinks and dinner and not have a toddler singing the ABC's throughout the meal for a night.
How to Wear a Sweater Dress
With Over the Knee Boots
This dress is not too loose and not too tight either, just that perfect middle ground, and the fabric is so soft and stretchy. The sleeves have a slight bell shape and the drop shoulder just makes it look effortlessly chic. I'm wearing a small here and would say it runs TTS. It is a little on the shorter side, but I'm 5'8″ and don't think that it's too short.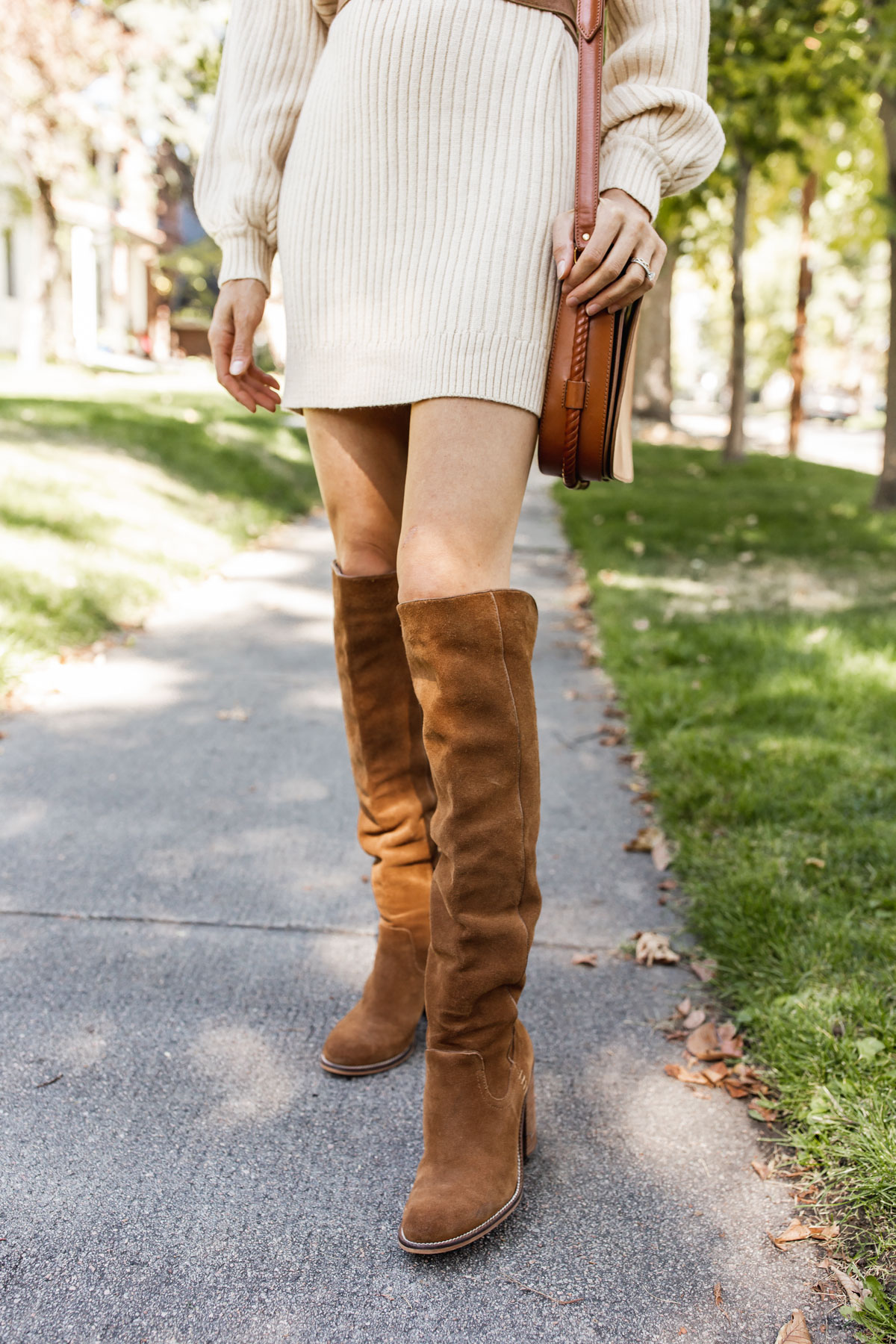 I love monochromatic outfits, and this one with a bunch of warm tones, just screams fall to me. I paired it with an old pair of brown boots, a brown bag and belted it to give it a bit more shape, but as you can see from the second outfit at the bottom, it looks really cute without a belt too.
If monochromatic isn't your thing, this dress comes in several other colors too. I almost snagged the black, but I'm loving this ivory color. It'll look gorgeous paired with a camel coat when it's colder too.
With Snakeskin Booties
Sweater Dress in Khaki (small) | Booties, more colors here | Bag | Sunglasses
I wanted to show you what this dress looks like when it's not belted as well. Still super cute, just not quite as fitted. I paired it with these snakeskin boots that I got last year and absolutely love. Even if you're not into snakeskin, this style of boots are my favorite and this pair comes in several other colors, the Cloud Suede color is on my list because it's so classic.

I really love both looks, but I think I lean more towards the over the knee boots outfit—which would you wear?
BTW, 6 fall sweaters under $35, and how to style a boyfriend blazer.