Why I Make Exercise a Top Priority
My hot yoga class had just ended and I was lying face-up on my mat, sprawled comfortably in savasana, basking in the warmth of the room… and sweating profusely. I was doing my best to let my mind be still, and for once, it actually seemed to be working.
As I left class and walked home, I couldn't stop thinking about amazing I felt. How much more relaxed, healthy, energetic and positive I felt and wondered, as I do after every class, why I don't come to yoga more often.
I have a love-hate relationship with working out. I love how I feel during and after a workout, but I hate getting myself to the gym. On busy days where all I really need is a good sweat sesh, I rationalize reasons why I shouldn't go—it's too far or I should finish this work or the worst one, I'm just too lazy. But once I'm there, I'm totally fine! Why is getting out the door such a struggle?
But, by making it a priority and making myself go, I know I'm doing so much good for my body and my mind!
Another thing that helps me? Cute workout clothes! I know, it sounds kind of silly, but it works. If I feel good in my gear, then I'm more likely to get my booty to the gym or yoga studio and even more likely to work harder.
When it comes to yoga, I almost always opt for a crop top and leggings. For my last class, I wore this polka dot one from Kate Spade's activewear line available at Nordstrom. It has a cute little bow on the back that matches the bows on the back of the leggings. I love crop tops for yoga because if I can see my abs, I always workout harder. Again, I know it sounds crazy, but it really works for me! I always wear another layer or jacket over my top because I'm usually so sweaty that I need it for the walk home.



Kate Spade activewear is definitely some of the cutest out there and Nordstrom has a big selection. I love all the unique and feminine details like the bows and high-neck tops. How cute is this sports bra and this colorblock top?!

Yoga is my favorite way to workout because of the physical and mental benefits, but somedays, I don't have two extra hours to walk there, take a class, get home and shower, so I opt for a quicker workout at home. Our building has a small gym and I've been getting on the stair master for 30 minutes twice a week and varying the speed throughout those 30 minutes. If you've never tried the stair master, it's an amazing workout! Not only does it get your heart rate up, but it's great for your booty and legs too! It's tempting to lean your body over on the machine, but stand up straight and suck your gut in for a good ab workout too! I always end my workout with a few rounds of squats, push-ups and crunches.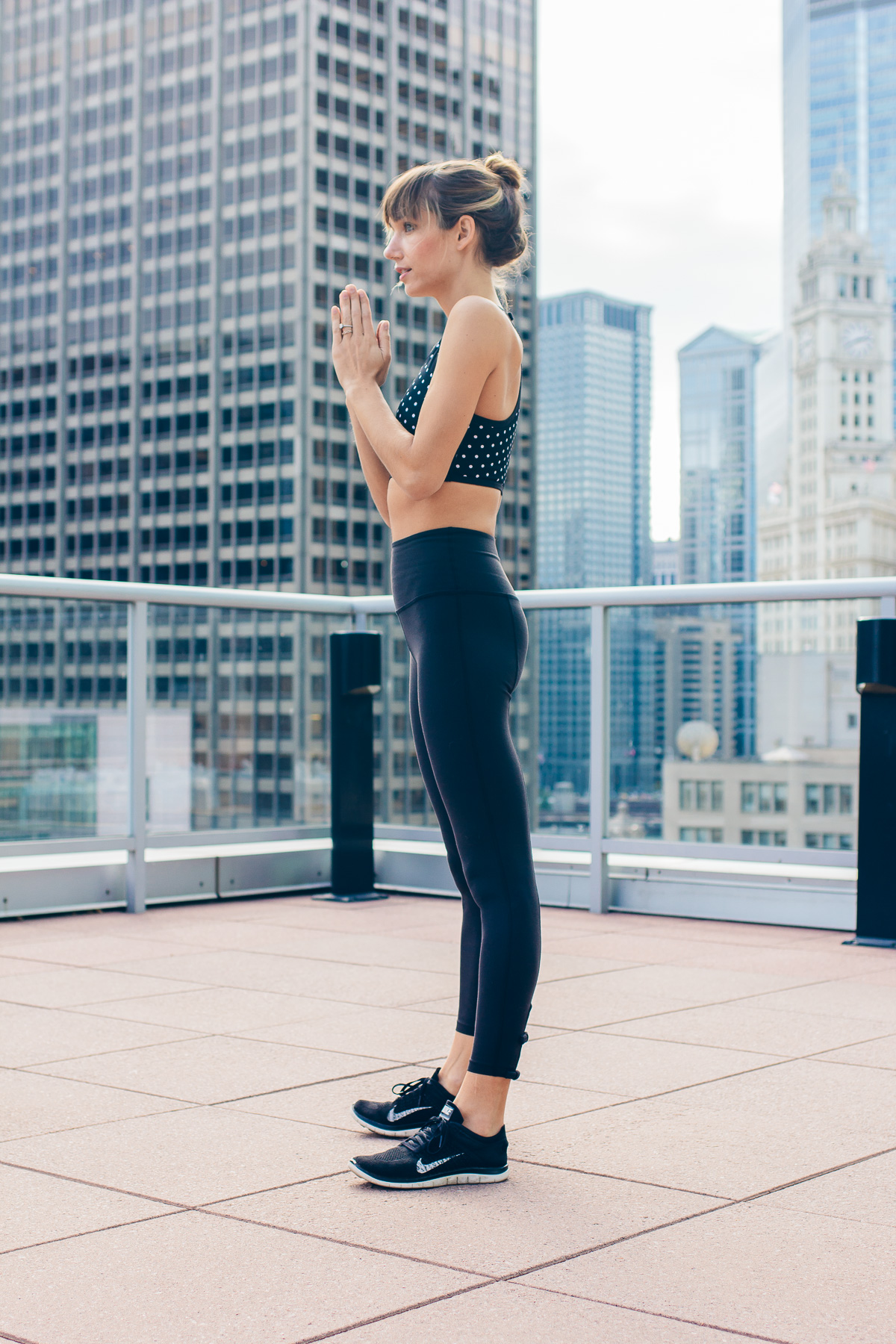 With one of the busiest seasons upon us, I'm really making exercise a top priority to keep my stress at bay. Each good decision I make turns into more healthy decisions—a domino effect of sorts! I know I'll also be happy that it's a regular part of my week when the holiday parties start and baked goods start piling up on our counter!
Do you make working out a priority? What's your go-to workout outfit?
BTW, tech-free weekends, and 6 yoga poses for strong abs.
Thanks to Nordstrom for sponsoring this post!