The Only Thing That Fits
Laguna Striped Dress, similar here & here | Sandals: Luz Sandals (50% off here!), also here | Bag: Escapade Bag, also available here | Sunnies: Leonard Sunglasses | Jewelry: Travel Compass Necklace
Well, it's official. This clip from Mean Girls feels all too appropriate right now. Dresses (and sweatpants) are the only thing that fits me right now. I really shouldn't complain because of two things. It's summer and dresses make for the perfect outfit, and two, I already own a lot of dresses—they're my favorite thing to wear. But, my jeans, skirts and most shorts are now sitting on the bench for the foreseeable future.
Sometime after 21 weeks, it suddenly became really apparent that I was pregnant. The question "is that the burrito I ate for lunch or a baby?" no longer applies.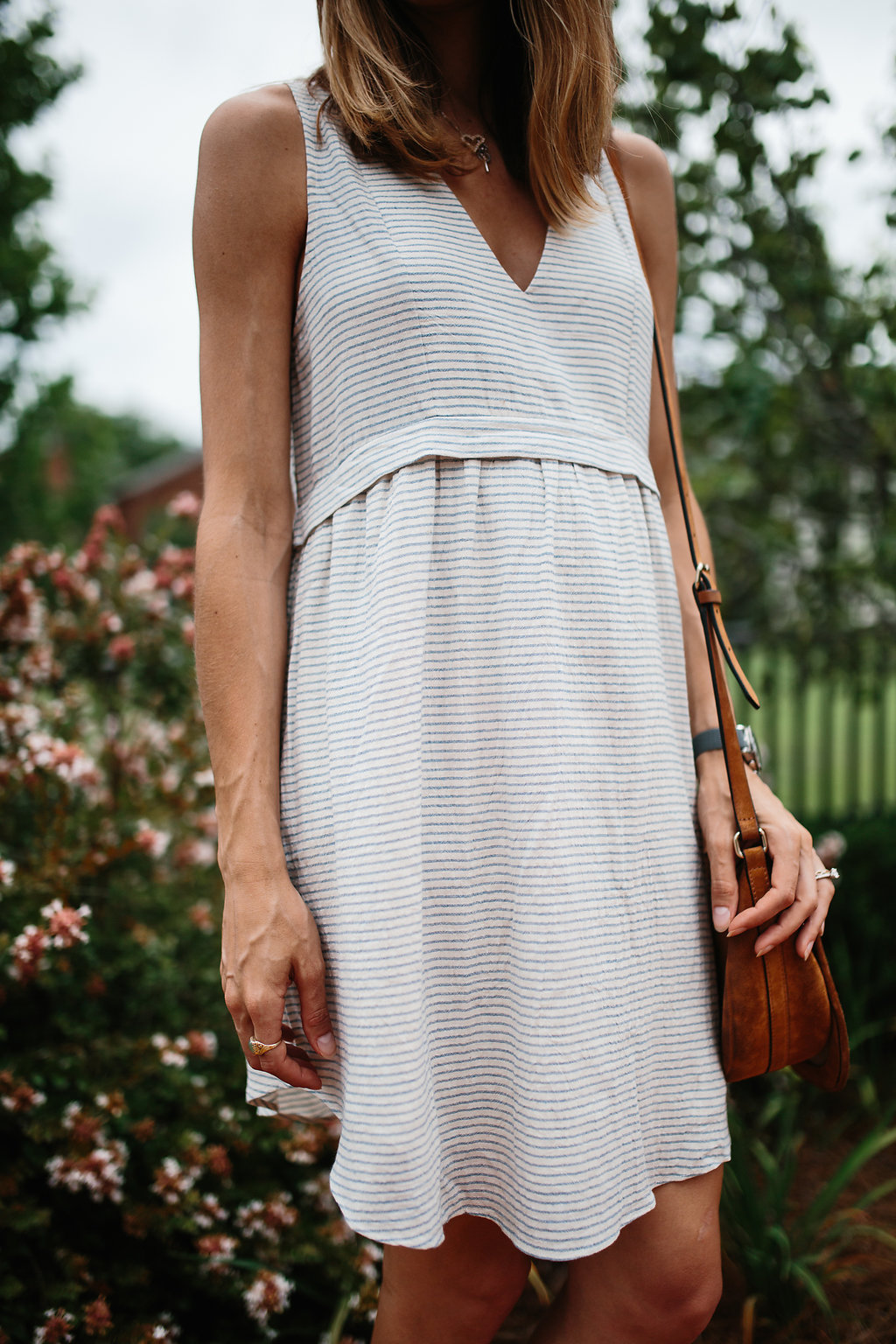 Even some of my favorite dresses no longer fit over my bump! I know, every pregnant woman hits this point and the feelings that come with it are two-fold. It can be weird and frustrating to see your body change and gain weight in places you maybe don't want it to, but on the flip side, knowing what your body is actually doing is pretty spectacular. And if it means my wardrobe and pant size has to change for a few months, I can gladly get over it!
CASUAL DRESSES



I picked up this simple striped dress from Anthropologie a week before my trip to Georgia and it's quickly become a dress I'm wearing at least once a week. I love the length, style, and that it's not restricting at all! Pregnant or not, it's a great casual summer dress to have in your closet. I've worn it with sneakers, heels and sandals and I love how versatile it is.
I've been shopping for more similarly styled dresses to wear through the rest of summer—and for hopefully as long as I can into fall! I've got my eye on this one and this one for a trip we have planned later this month!
Have you ever slipped into one of your favorite pieces to discover it no longer fits? What pieces in your closet have you been wearing over and over again this summer?
P.S. The Nordstrom Anniversary Sale Early Access starts later this week! The best stuff gets scooped up early and cardholders (debit and credit) will be able to shop early! Last year I applied for a debit card and the turnaround was super quick, so if you're wanting to save HUGE on brand new fall stuff, I highly recommend doing that today!
photography by Jules Kennedy
BTW, my simple summer makeup routine, and a casual outfit that'll take you day to night.