6 Tips For Creating a Colorful Mother's Day Brunch
* This post was sponsored by World Market, as always, all opinions are my own. Thank you for supporting the brands that keep The Fox & She up & running!
DINNER PLATES: Aqua Henley Dinner Plates | SALAD PLATES: Aqua Henley Salad Plates | NAPKINS: Black & White iKat Napkins | NAPKIN RINGS: Hammered Copper Triangle Napkin Rings | WINE GLASSES: Copper Stemless Wine Glasses | PEDESTAL: Small Round Marble & Wood Pedestal Stand | FLOWER VASE: Bee Highball Glass | WINE: Sparkling & Still Rosé // DRESS: Villanelle Lace Dress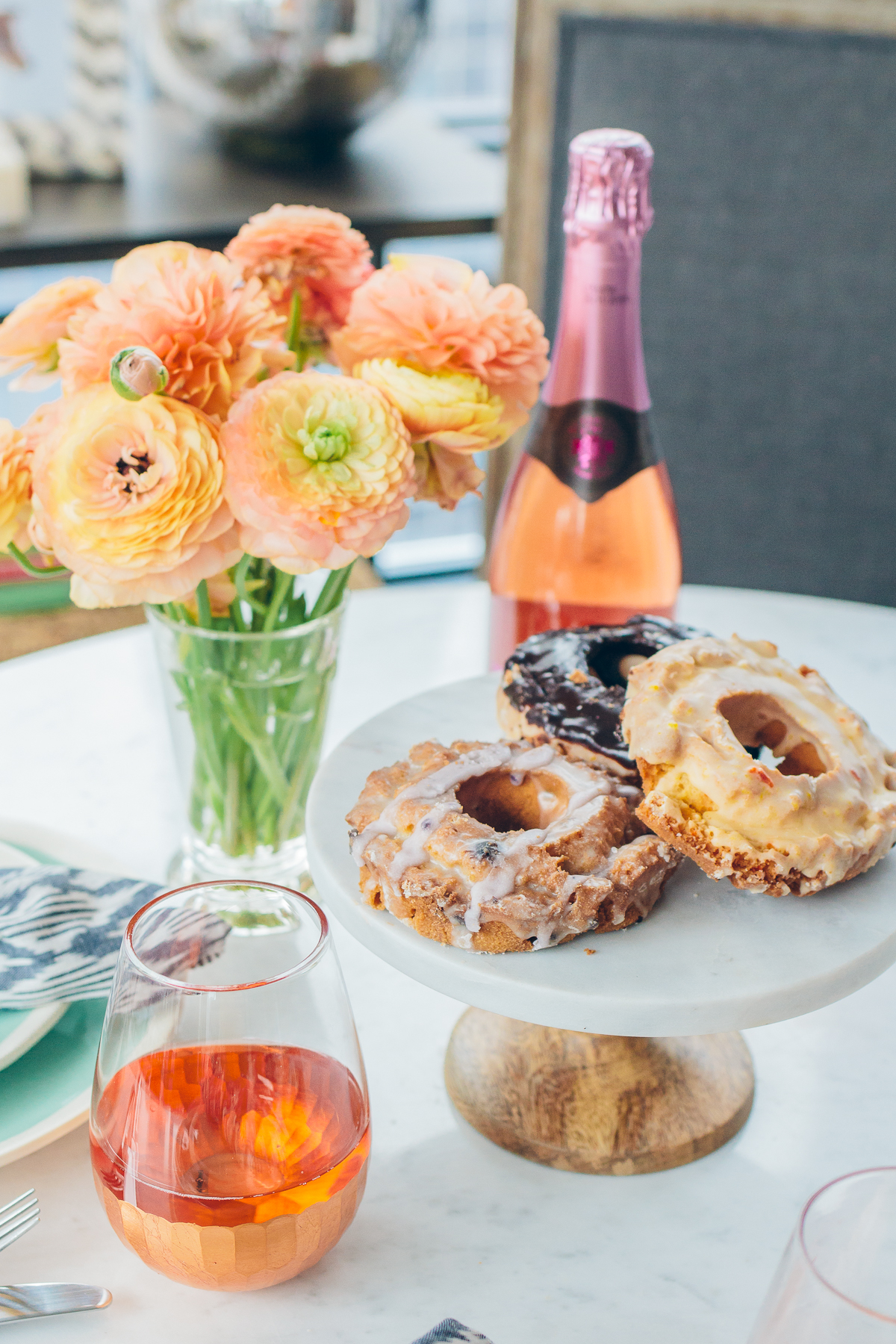 When I lived in Dallas, my whole family (sometimes grandparents too!) would celebrate Mother's Day together by going out to a big brunch. It was always so much fun, but now that I'm in Chicago, it's rare that I get to see my mom on her special day. When it does happen, our first choice isn't going out to a restaurant, but instead we like to stay home and keep things simple and more personal. It's a lot more casual and we can linger for hours without feeling rushed to get out the door.
Entertaining, especially in the morning can be so daunting, but with a little forward planning, creating a gorgeous and colorful Mother's Day brunch (or any spring brunch!) can be so easy and really enjoyable. I wanted to do something bright and colorful for this brunch since spring is finally starting to show its face around here. I stopped by World Market and grabbed some new spring items and I have to say, I'm obsessed with all the colors and patterns they have in stock right now!
1. Create a Menu
First things first! Once you know what you're making, everything else becomes so easy. For a noon brunch, I always like doing a light salad like frisée with a mustard vinaigrette paired with a savory vegetable quiche and a side of crispy bacon.
2. Set the Table
Since our meal had a salad, I also wanted to include a salad plate. I also love how stacking a salad plate on a dinner plate adds more texture and interest to the table. Add the necessary flatware too!
3. Dress up Your Table Settings
Now comes the fun part, making the table look really special with added details. I already loved the color of the plates, so I decided on these black (almost navy) and white ikat napkins with copper napkin rings to add a little something special to each setting. I love the contrast of the napkin on the plates and the copper on the napkin. For bigger brunches, you can add place cards so everyone knows exactly where to sit, but for a small family brunch where everyone gets along, I decided not to.
4. Add Statement Glasses
To tie it all together, I added wine glasses with hammered copper bottoms. Copper and sea foam green might be one of my favorite color combinations, ever. I also love that these are stemless and not too tall — it makes the dessert and flowers really stand out!
5. Put Dessert on a Pedestal
Literally. Little cake stands like this are perfect for adding height and interest to your tabletop and show off the final treat of the meal — donuts! Muffins or cupcakes would also work well, but I love old-fashioned donuts, so that as an easy choice. This pedestal comes in a larger size too!
6. Finishing Touches
To complete the table, I always add fresh flowers. Since my table is small, I opted for a small bunch of ranunculus in a low vase. Actually, this 'vase' is just a highball glass from the bee glassware collection that I got at World Market. I love the base of it and the little tiny bees on the top which you might be able to see if you look close enough!
The last addition? Wine! World Market always has a really great selection of wines at great prices, so I always make sure to run by that aisle before checking out.
To make things easier, I like to set the table the night before so I don't have to rush around in the morning! That always ensures a less-stressful brunch party which is always a plus!
Does your family have any Mother's Day traditions? Do you have any tips for throwing a stress-free brunch party?