Toddler Travel Essentials for the Holidays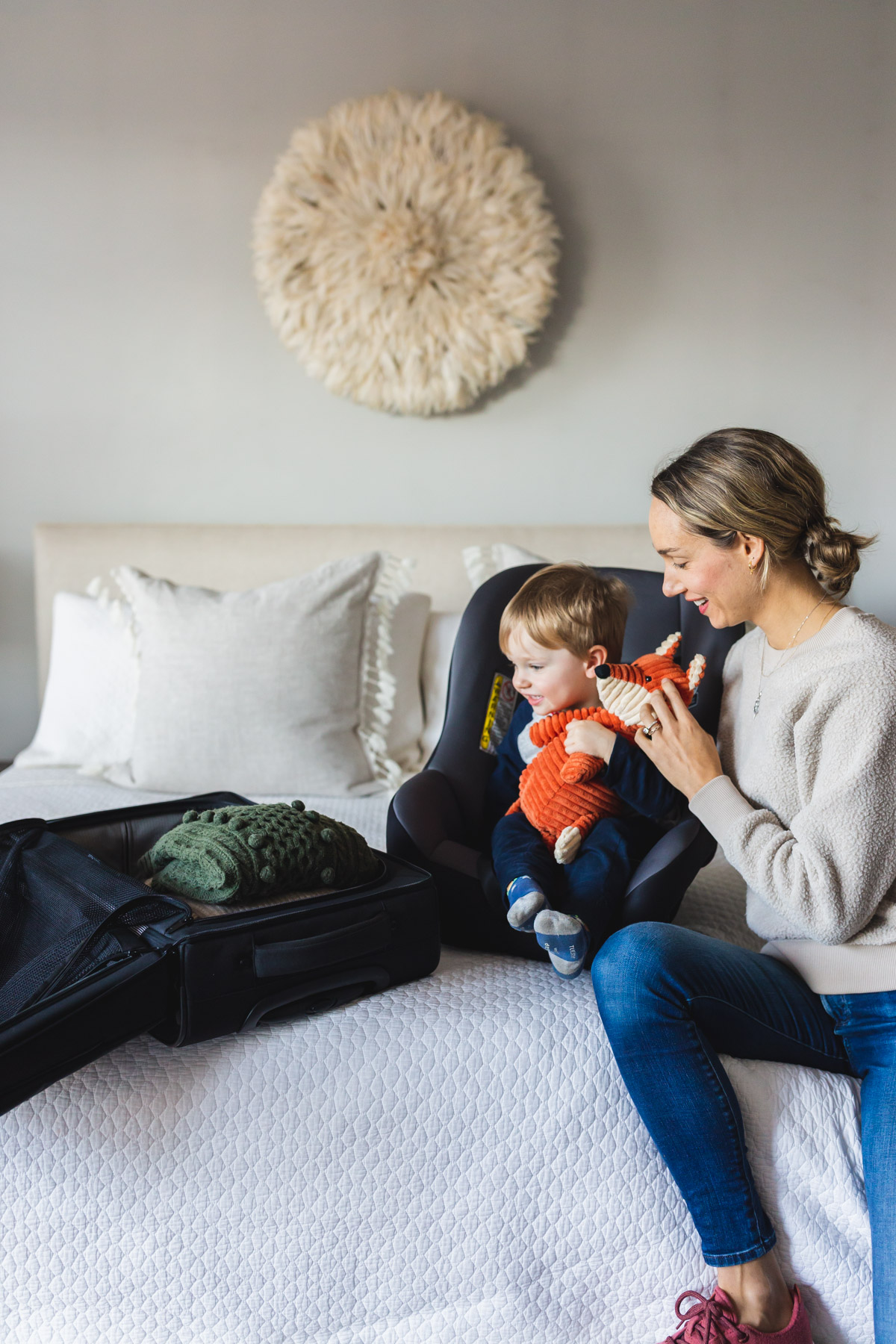 This weekend kicks off the holiday season for us! We're heading to Dallas on Friday morning for my youngest sister's engagement party! I can't wait to spend the weekend with my whole family and to celebrate my sister and her fiancé.
I typically wait until the last second to pack my own bag, but with all of Owen's stuff, I try to get a jump start so I don't forget an essential piece. I teamed up with Walmart to share our toddler holiday travel must-haves to help make your holiday travel just a little bit easier.
Toddler Holiday Travel Must-Haves
1. Duo Essential Diaper Bag | 2. Voyager Stroller | 3. Skip Hop Pronto Portable Changing Pad | 4. Pack n' Play Crib Sheets | 5. Nose Frida| 6. Travel Car Seat | 7. Pack n' Play Crib | 8. Digital Read Thermometer | 9. Video Baby Monitor | 10. Washable Booster Seat | 11. Nuby Flip It Straw Cups | 12. Toddler Travel Neck Pillow
We're actually lucky in that both our families bought pack n' plays to keep at their house, so we typically don't bring ours. But, we've definitely been on trips where we're staying at a hotel and we've had to bring ours. It's always nice to know that he's got his own bed that we know he'll sleep well in and is clean!
Crib Sheets: Don't forget the sheets for your pack n' play! We have a couple of sets like these that are perfect and small enough to easily back.
We used to bring our big stroller to the airport, but sometimes the airlines wouldn't let us gate check it which was so frustrating, so we finally invested in a travel stroller. Once we bought it, I was so mad we didn't do it earlier!
The travel strollers these days are so good! They're easy to fold up, and fold small! They're also lightweight which makes it easy to carry through security and on the plane.
We have this exact travel car seat and it is a game-changer. We used to drag our big one everywhere and it was so heavy! This one is much lighter and makes the whole travel day a lot easier! I can travel with Owen by myself and easily and carry this car seat, our bags and push the stroller with no issues.
Let's be real, the airport is NOT the cleanest place, and the thought of putting Owen on the changing table there grosses me out. Having a portable changing pad is so great. It also makes it easy to change a diaper ANYWHERE. On the floor, in the plane, in the car (while it's parked of course!). I've loved having this one for travel and just when we're around town.
Health Items
I used to bring more stuff when Owen was little, but now I've realized there's only a few things that are necessary for us.
Wipes & Diapers: Duh, well, unless your kid is potty trained, but if not, this is obviously a must-have. I always pack more diapers and a full pack of wipes than I think we'll need in the off chance that our flight is delayed or we get stuck at the airport for a long time.
Nasal Aspirator: Maybe your kid doesn't get a runny nose often, but Owen does! We always pack this nasal aspirator to make sure we can clean out his little nose!
Thermometer: Admittedly, I don't always bring it, but in the winter months I always think it's a good idea because you never know when they'll pick something up.
Diaper Bag Essentials
I actually did a whole post on my exact diaper bag essentials here if you want to check it out, but I wanted to share some of most important essentials.
Extra Clothes: Hopefully you won't need these, but it's smart to have just in case! Even if you don't have a diaper blowout, your kid might pour an entire glass of water on themselves. It's happened to us too many times to count, haha!
Water Bottle: Owen is always thirsty, so I always make sure I have a water bottle that's sealable for when we're on the go.
Toys & Books: We always bring books and a few small toys that don't have too many small parts that can get lost. Owen is really really into reading lately, which is great, it keeps him interested and is a really easy activity on a plane.
Snacks: Alway, always come prepared with more snacks than you'll need! There's nothing worse than being stranded with no snacks. Of course, you can always buy things at the airport, but it's still smart to have a stash.
You might not want to bring this, but we always love having it. Our parents' houses are bigger than ours and Owen sleeps in a room far away from where everyone hangs out. I love having our video monitor with us so we can see when he's up or crying!
I still can't believe the holiday season is nearly here! I'm so excited about it this year, especially since Owen will kind of know what's going on this year. I hope this was helpful for your holiday travels!
BTW, 10 tips for traveling with a toddler, and 7 things I learned after a weekend alone with Owen.
Thanks to Walmart, a brand I love and trust, for sponsoring this post! Thanks for supporting the brands that help make The Fox & She possible!