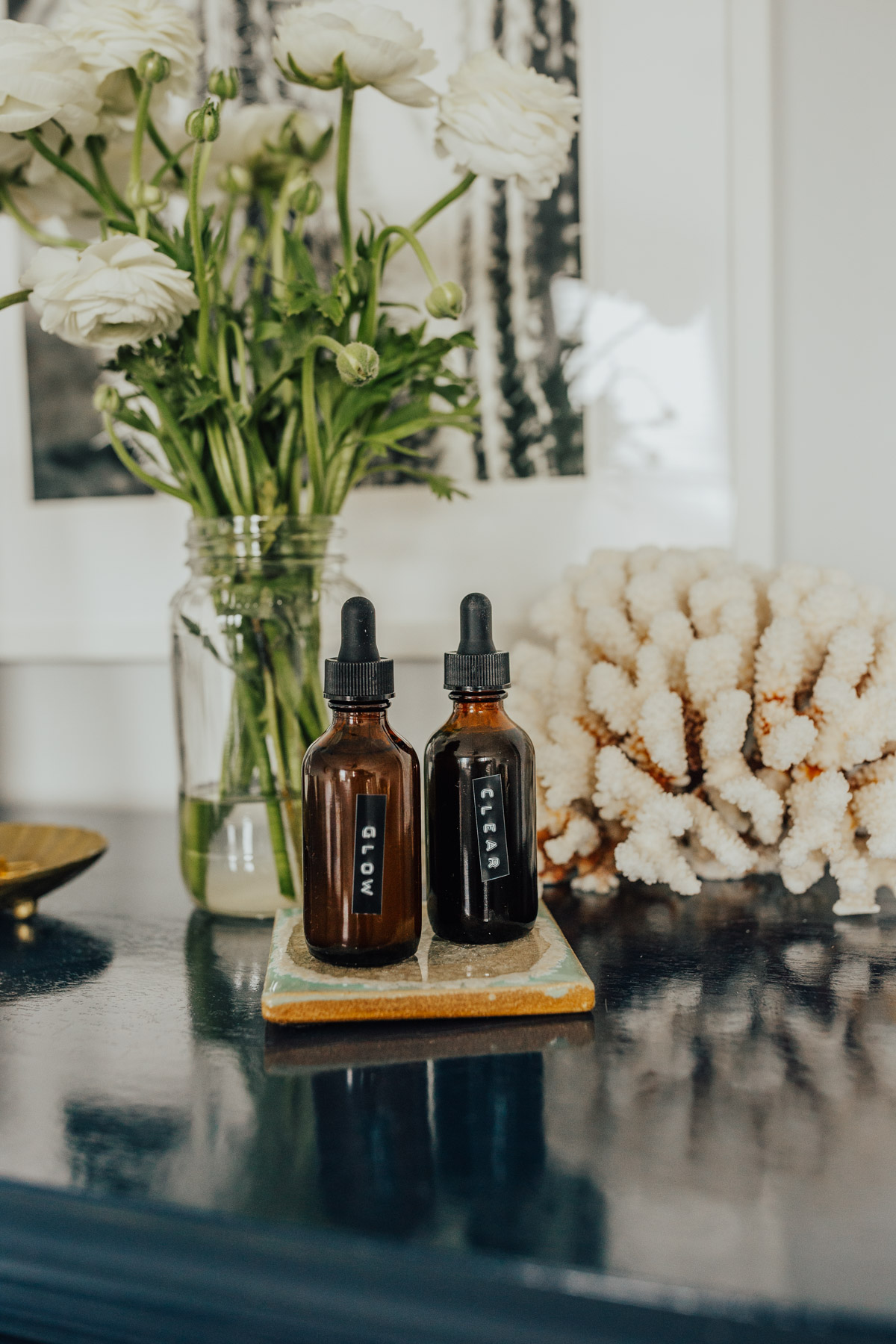 It's here guys! I've been teasing to my homemade face serums for a while now, but I wanted to give it a good long test to make sure I liked the results before I shared with you guys. Good news, the results are pretty spectacular! My skin is the clearest it's been in a long time, though, I've also made a few other lifestyle and skincare changes (hello, natural retinol!!!!) that I know are also helping.
But, either way, my serum is left my skin looking calm, more even, and I've only had one breakout since I started using it! I also wrote this post on all the other things that have helped transform my skin in the past month, but for now, let's just talk about this serum!
If you follow any essential oil Instagram accounts, you might be familiar with the Glow recipe.
It combines frankincense, copaiba and lavender essential oils with a splash of witch hazel and jojoba oil. I saw pictures of people's skin before and after and it was amazing! So, for the base of my serum, I started with those three—I mean, why fix what's not broken, right?!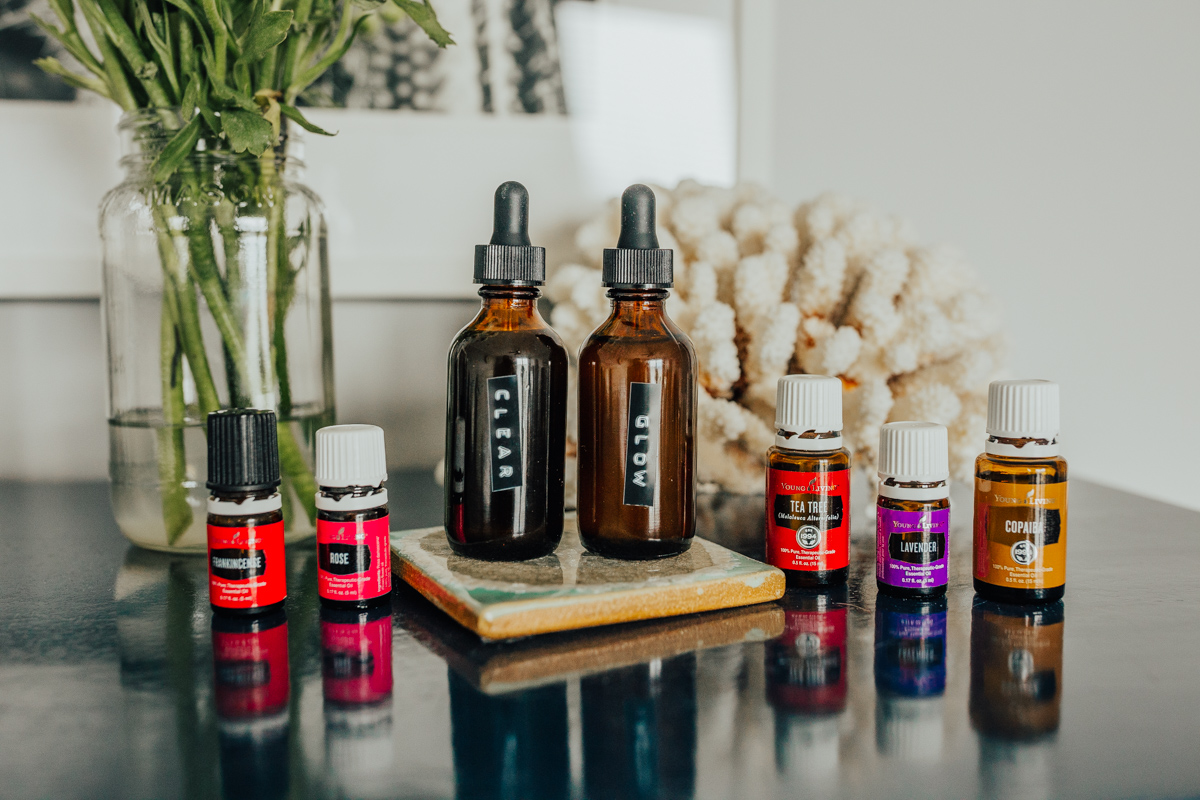 I also wanted to add some ingredients that would fight breakouts and prevent future ones with a little more punch. Tea tree essential oil has long been praised for its anti-inflammatory and antibacterial properties, which makes it especially great for breakout-prone skin.
So, that was added to my list and I splurged and bought rose essential oil which is amazing for your skin and smells lovely too! It's great for anti-aging and healing old scars. For my recipe, you can leave out the rose oil, it works great without it as well!
Before I get into the recipe though (and the recipe for my sister's Glow serum), let's chat real quick about carrier oils.
Essential oils are super potent and while some can be applied directly to your skin, it's usually best to dilute them with a carrier oil when you plan on using them twice a day. There are a gazillion carrier oils out there, and whichever you choose, buy the best quality you can find.
I bought mine on Amazon and I believe at Trader Joe's as well as some good ones too. Read a little further to figure out which carrier oil is best for your skin type!
How to Make DIY Face Serum
Carrier Oils
I did a lot of research and the same three kept popping up again and again. They all have low comedogenic ratings, meaning it's very unlikely that they will clog your pores and are similar to the makeup of our skin's natural sebum, so they work with our skin, instead of against it!
From my research, here's what I found to be the best for different skin types. You can also mix different carrier oils to come up with the best combination for your skin.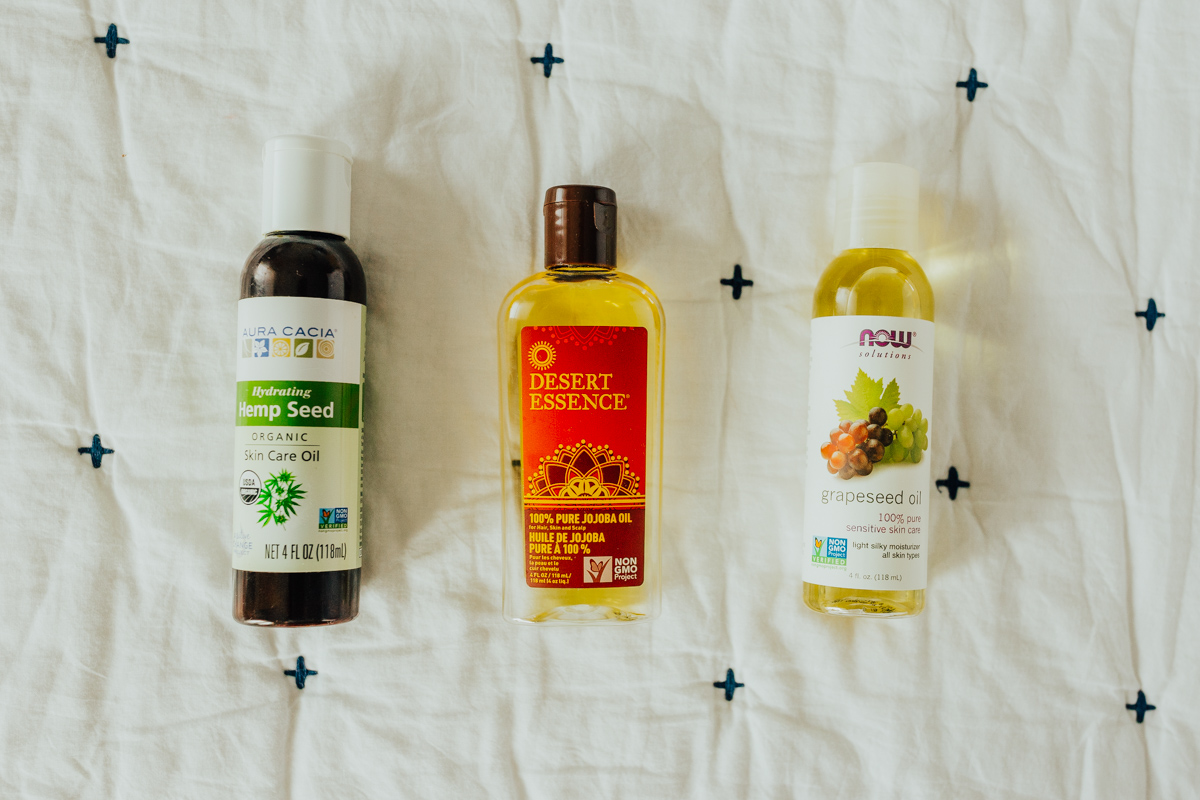 Jojoba Oil
Comedogenic rating: 2 | Good for all skin types, best for those with normal or combination skin. Jojoba oil most closely resembles our skin's natural sebum which makes it a great one for just about everyone to use despite having a higher comedogenic rating.
Hemp Oil
Comedogenic rating: 0 | Or hemp seed oil (it called different things, but everything I read says they're the same). This is the best for oilier skin types. I use some of this in my combination. I'm not incredibly oily, but do sometimes get excess oil that causes blackheads.
It's hydrating, but never leaves my face looking greasy after it's been absorbed. It's high in linoleic acid. Some tests have shown that those with acne have low linoleic acid, so this help boosts that.
Argan Oil
Comedogenic rating: 0 | Best for dry skin, dry acne skin, and aging skin that needs more hydration. Argan oil is also high in oleic and linoleic acid, making it great for those with dry acne skin.
My skin is much drier in winter, so I plan on trying this out as needed.
Grapeseed Oil
Comedogenic rating: 1 | Grapeseed oil is good for most skin types. You can also mix this with other carrier oils. High in linoleic acid. I mix in a bit of this with mine because Grapseed oil has great skin benefits like tightening pores and reducing the appearance of scars.
What Skin Type Do I Have?
For the most part, I think most of us know what our skin type is, but one area that can get a bit tricky is those who have acne and assume their skin is oily. Often, acne is present in those with dry skin.
A good way to test to figure out what your skin type is, is to wash your face and let it air dry. If you have normal or dry skin, your skin will start feeling very tight pretty quickly. If you have oily skin, your skin will likely feel light and refreshed after washing.
My point is that just because you have breakouts doesn't mean you always have oily skin! Who knows, maybe you realize your breakout skin is actually dry and switching your products to hydrating ones makes your acne disappear!
Clear Skin Serum
In a 2 oz. amber/dark dropper bottle combine…
Glow Skin Serum
My sister has drier skin, but was complaining about breakouts, so I made her one that was mostly the glow serum recipe you've probably seen, but added a few little extras!
In a 2 oz. amber/dark dropper bottle combine…
I bought these amber glass dropper bottles and my handy little label maker from Amazon because Prime, duh! You can use whatever you want, but I highly recommend a dark bottle as sunlight can damage the oils and keeping them in dark bottles keeps them safer for longer!
How Much & How Often Should I Apply my Serum?
I typically put on my serum in both the morning and the evening. In the morning, I've been using it as my moisturizer and then just go about putting on my SPF and makeup the same way as I normally would.
At night, it's the final step in my skincare routine, or the second to final step on nights where I'm using the Resurfacing Peel as well. I use the peel about 4x a week—it helps slough off dead skin cells and makes my skin glow in the morning. That peel also helps with breakouts, clogged pores and overall brightness!
I only use 3-5 drops at a time, which means your serum will last you a long time! And, a little goes a long way. If you're finding it hard to spread all over your face with just that amount, try putting it on your skin while your face is still a little bit damp. It'll help lock in the moisture from water and also make it easier to spread.
Where to Buy Essential Oils
The essential oils in these serums are the powerhouse ingredients that will help to heal and transform your skin, so it's best to pick the highest quality you can get! In my opinion, that's Young Living.
Most of the oils you see on Amazon or even at reputable shops aren't therapeutic grade and can be contaminated with fillers. Another brand I use and trust is Vitruvi, and they actually do have a lot of oils for sale on Amazon which is really handy—I linked to those throughout the post.
Young Living is great, but I know that being a starter kit isn't in everyone's budget. Vitruvi is a wonderful brand and you'll get the same results with these as well!
My thought is that I've got my skin for the rest of my life.
So I choose to invest in higher-quality ingredients and products and cut corners other places like buying things on sale, cutting back on shopping, or going out to dinner or drinks less often.
I know several of you bought the YL starter kit, and good news—several of these oils are already included in that! To make the serum, you just need a couple of others—copaiba and tea tree. If breakouts aren't your issue, skip the tea tree! You can of course add rose as an optional one, because it's really amazing for your skin, but it's also pretty expensive and not 100% necessary. If you find it for cheap, don't buy it, it's not the good stuff! You'll still see amazing results without it.
If you want to buy it, I'd love for you to use my link and join our community (seriously, it's been the best way for me to actually know how to use all my oils), and add your starter kit, and any additional items, like that copaiba and tea tree. Total side note, but I highly recommend the Ningxia Antioxidant drink and Joy essential oil blend—it smells heavenly!
Click here to join as a member and everything should auto-populate for ya!
Let me know if you have any questions at all—feel free to comment, email or DM me!
Have you guys attempted to make your own face serum?! What ingredients did you use and how did you like the results?!
BTW, how we use essential oils at home, and how to get more greens in your diet.
Want to remember this DIY face serum? Pin the image below!