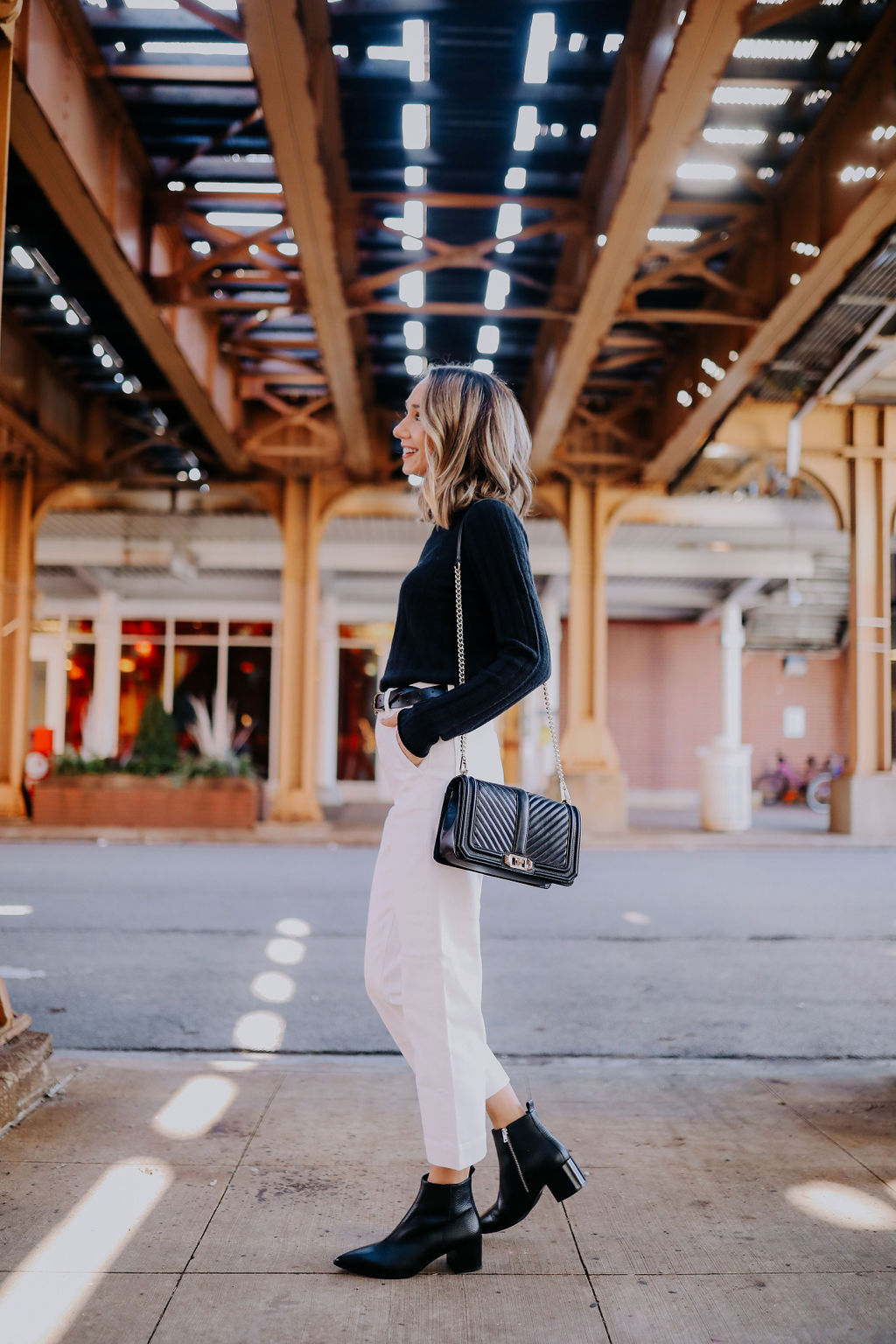 Since having kids, I've pared down my wardrobe considerably and now it's a whole bunch of classic, basic neutrals. But, basics don't have to be boring! They're the easiest thing to grab and always look great. They make me feel stylish and confident—what more could you want!
This fall & winter casual capsule collection includes 15 pieces that you can mix and match at least 100 ways! To see all 100 outfits, click to download the full PDF—it was too long to put it all in one post!
Below are the key pieces, plus some options for different styles and price points in case you have any holes in your wardrobe that need filling! I have a combination of quality pieces that I've invested in. Mixed with affordable pieces that I can easily replace the next season if my toddler spills pasta sauce on them.
I know many of you are moms or work in casual settings, aka our homes these days—these outfits are ideal for you. I know, because I live this life everyday and these are the types of outfits I'm reaching for to make me feel beautiful and confident, even when I barely leave the house!
If you need more outfit inspiration, click here! And, feel free to add accessories or other pieces you love to the mix too!
Fall & Winter Casual Capsule Wardrobe
Tops
Camel Sweater
I always love a camel sweater in winter because it adds a nice warm touch to any outfit. Nothing like a pretty, rich caramel color, right?! I rounded up some pretty ones in different shades. Some are more neutral than others, some more rich!

Black Sweater
An absolute essential in every closet! I have several in different styles and get a ton of use out of them. They always look nice for dates too!

White Tee
Depending on where you live, you might want to get a long sleeve, or maybe you want short-sleeve! I'll leave that up to you! If you live somewhere really cold, this could easily be swapped for a white sweater too.

Grey Sweater
I love a good grey sweater and have several! It's never a bad idea to have several of the same color in different shades and styles. It just gives you more outfits without having to buy a ton of extra stuff!

Bottoms
Skinny Jeans
Distressed or not—it's up to you, but must-haves for every wardrobe.

White Pants
Maybe not what you were expecting in a fall and winter capsule, but I bought a pair earlier this year and have been shocked by how much I've worn them and how much I love them in the winter. It brightens up any outfit! If you have white linen pants, winter is not the time for them however.

Boyfriend Jeans
Personally, I live in jeans during the cooler months, so having several pairs in different styles and watches is a great way to make your outfit look totally different. I love the boyfriend/mom jeans style that's got a shorter ankle length and personally, love some distressing!

Black Skinny Jeans
Another staple! Black jeans always look dressier in my opinion too, so it's a great option to have in your wardrobe. Depending on your style, you can do distressed or not.

Outerwear
Depending on where you live, you might lean more towards heavier coats or lighter. Adjust accordingly!
Military Jacket
I love my military jacket! It goes with so much and I love the pop of green it adds to so many outfits. If you live somewhere really cold, opt for a heavier green parka, otherwise, this weight is great for fall!

Camel Coat
The absolute must-have coat for every lady!! I can't tell you how much I wear this one, it's my go-to nice coat, and this one is such a stunner. So classic, chic and will last you years. If you live somewhere warm and won't wear a coat, swap this with a trench. You get the same look, but much lighter weight.

Tan or Brown Cardigan
The easiest layering piece! I'm always cold, so I have a bunch of cardigans. A pretty tan or camel colored one is so gorgeous and actually looks great layered over more camel. If you don't wear much camel, you can always swap this for grey.

Greyish Blazer
One piece I can't believe I ever lived without. A good grey-black blazer is so pretty all winter and fall and dresses up your outfit instantly. It's also great for the office, or can be paired with your sneakers for a casual, cool mom look!

Shoes
I hope this was incredibly helpful and makes you feel excited about what you already own and getting dressed each day! I'm planning on doing another one for spring, so I'd love your feedback on this!
White Sneakers
You guys know I live in sneakers! And, my most worn are my pairs that are mostly white and have touches of black. I included a bunch of different ones at different price points and styles.

Leopard Flats
For the most part, my capsule is very simple, and I wanted to throw in a little pattern and pizzaz with some leopard print. In my book, leopard is essentially a neutral, and I love how it pairs so well with everything else in this whole capsule wardrobe!

Black Booties
If you don't wear much black, you can always swap these for brown or tan, but I find that black is just so versatile that you can't go wrong. Plus, they look fancier so in my book, they're more versatile.

Accessories
Bags
I've always been a shoe girl over bags, but I love a good bag too! My most worn ones are my brown and black leather bags. They go with everything! It's great to have different styles and sizes for different occasions too.

Jewelry
I'm a minimalist when it comes to jewelry. I used to own all this statement jewelry and I never wore it. Now, I stick with my favorite dainty gold necklaces and earrings (many are under $25), plus a bracelet and watch that I wear almost daily—I shared all the jewelry I wear on a daily basis here. I don't change them out much either.

Belts, Scarves & Sunglasses
I stick to the basics here too. A grey scarf is essential in my book, plus a good pair of sunglasses and a couple of belts that are simple and classic.

If you haven't yet, click here to download the full PDF of 100 outfit ideas!
BTW, 15 fall Amazon fashion finds, and 5 easy fall outfits from Abercrombie.