Healthy(ier) Pizza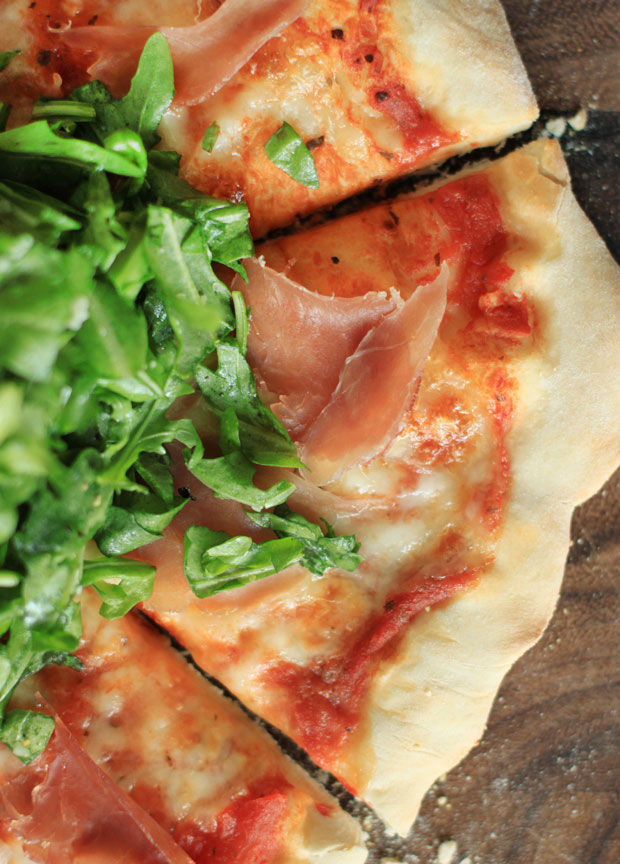 I whipped up this pizza last week and shared it on Instagram. It got a lot of love, so I figured I'd share it! Arugula & prosciutto pizza is my all time favorite, but last week I decided to put a different spin on it. Instead of just topping it with raw arugula, I chopped it up and added a very light and lemony vinaigrette.
The lemon gave it a nice light flavor and made me feel all the better about devouring the entire pizza…. and a glass of wine. It's a pretty loose recipe, but I rarely measure so please forgive me.
Salad-Topped Pizza
Method
Place a pizza stone in the oven and preheat to 500 degrees. Roll pizza super thin. Sprinkle a pizza peel with cornmeal and place crust on top. Spoon marinara on top and spread evenly. Top with fresh mozzarella. Bake pizza for 10-15 minutes until edges are brown (some ovens are hotter, so it's good to keep an eye on it!)
Meanwhile, chop the arugula and toss with a light drizzle of olive oil and a squeeze of lemon. Sprinkle some fresh parmesan, salt and pepper and toss to mix.
When the pizza is done, remove form oven, add prosciutto slices and then top with salad!
Enjoy your 'healthy pizza'!