When it comes to baby stuff, I think I'm more on the minimalist side, but with Owen, I was honestly so clueless. There are thousands of great options out there for different baby products and it can be overwhelming to know what you actually need and which brands are actually good and safe for your baby.
I wanted to share my non-toxic baby registry to help new moms and mamas-to-be in choosing safe and eco-friendly items for their babies. To be clear, I'm not a pro, and definitely still learning! With Owen, I had no idea that some products were potentially more toxic than others.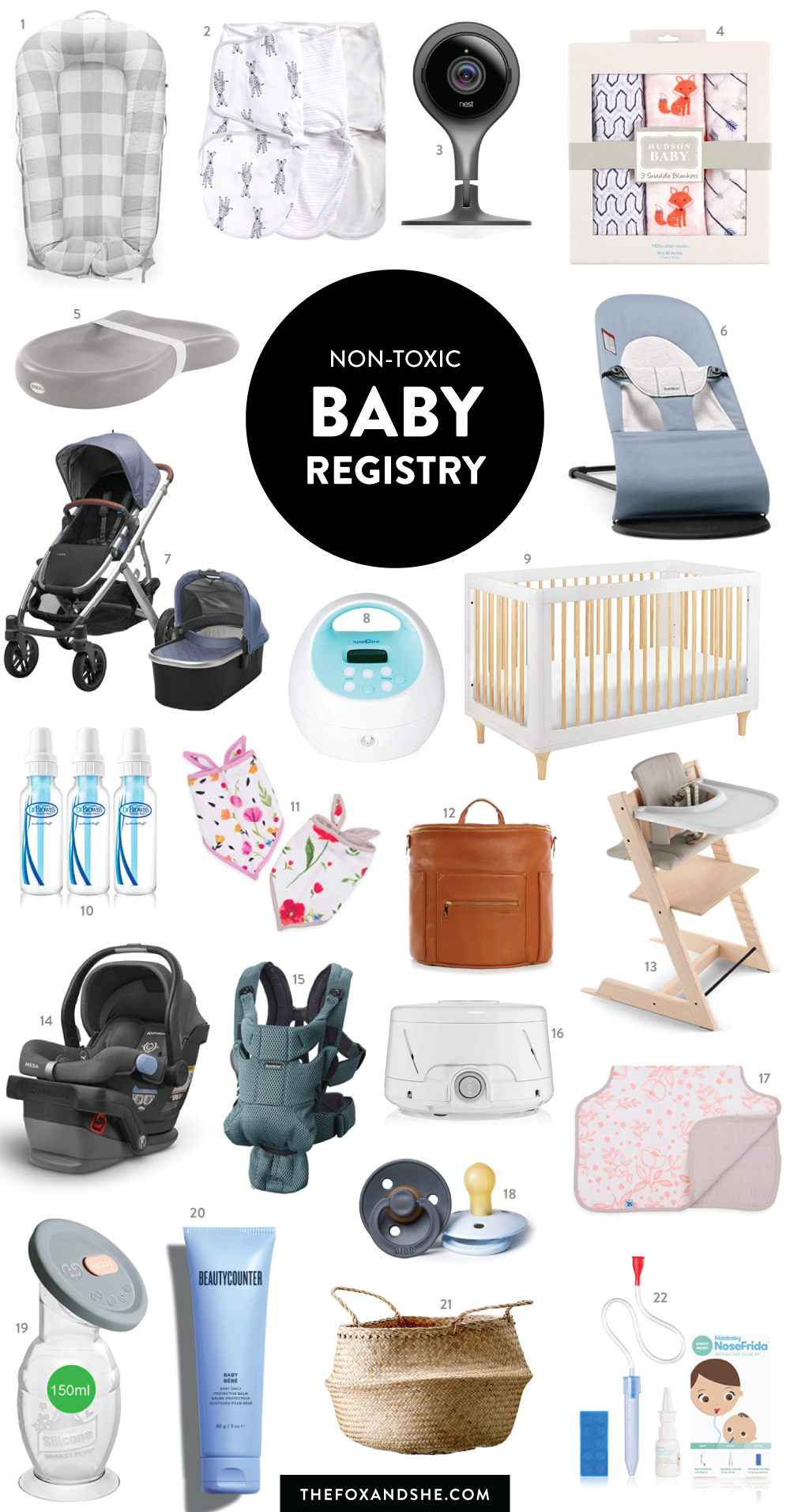 1. Dock a Tot | 2. Velcro Swaddles | 3. Nest Cam | 4. Muslin Swaddles | 5. Peanut Changing Pad | 6. BabyBjorn Bouncer | 7. Uppababy Vista Stroller | 8. Spectra S1 Breast Pump | 9. Lolly Crib | 10. Dr. Brown's Bottles | 11. Bandana Bibs | 12. Fawn Diaper Bag | 13. Stokke Tripp Trapp High Chair | 14. UppaBaby Mesa Carseat | 15. BabyBjorn Carrier | 16. Dohm Sound Machine | 17. Burp Cloths | 18. BPA-Free Pacifiers | 19. Haakaa | 20. Beautycounter's Baby Balm | 21. Seagrass Basket with Handles | 22. Nose Frida
Either way, I hope you find this super helpful! I also included reader favorites as well—tried and trusted from REAL moms!
Non-Toxic Baby Registry
Nursery & Sleep
Crib
Your baby will likely not sleep in their crib at first, but we did start having Owen do naps in their pretty early. We bought this 3-in-1 crib that's Greenguard Gold Certified and absolutely adored it. Babyletto is a great brand and all of their cribs are so cute! Greenguard Gold Certified means that the furniture emits lower levels and incorporate a really low level of formaldehyde emissions.
Owen's still sleeping in this and we'll soon convert it to the toddler bed (comes with it!) so that we can use it for a longer.

Crib Sheets
These crib sheets from Little Unicorn were some of our favorites! They're soft, muslin, 100% cotton and have the most adorable prints! I also loved their bandana bibs and burp clothes.

Crib Mattress
I opted for an organic baby crib mattress for Owen. They're pretty easy to find and not terribly expensive either. It just made me feel safer knowing he was sleeping on something that hadn't been treated with chemicals.
RELATED: Owen's Nursery Reveal
Waterproof Liner
If you already bought a waterproof mattress then you don't need this, but if not, a waterproof liner will save your mattress. I have one for Owen's room now and it's great. Nothing fancy, but it gets the job done and isn't plastic-y sounding when you touch it.
Bassinet
Most babies will sleep in your room for the first few months so you'll ned somewhere for them to go. We had the Halo Bassinest (full review here), but so many people have recommended the Snoo. There's no doubt it's much nicer looking and people say it's a dream, but I decided to not get one because Owen was a great sleeper as it was—maybe I'll change my mind if this baby is different!
We plan on having this baby sleep in the bassinet attachment for the UppaBaby stroller.
Swaddles
There are SO many swaddles out there and to be honest, you might have to try a few to see what works for your baby the best. We Owen broke free of these velcro swaddles (though they are amazing and so easy) and always ended up with his arms up, so we switched to these arms up swaddles which were wonderful. I've heard amazing things about the Ollie Swaddle as well!

Sound Machine
We loved this Dohm sound machine so much we bought one for our room too after Owen moved into his own space. We've had 2 of these for 2+ years and they're still going strong. Highly highly recommend!
Portable Sound Machine
Several people recommended a portable sound machine, but I personally did not have one with Owen. Could be handy if your baby is a light sleeper or you have other loud kids around though.
RELATED: How We Got Our Baby to Sleep
Changing Table/Dresser
We didn't have a true changing table, it was just a dresser and we popped our changing pad on top. This is mostly because we lived in a very small space, but also handy because once you no longer need it, it's just a dresser, not a wasted piece of furniture.
Basket or Hamper
We had a few baskets that we used as dirty laundry hamper and for toys and books. They look cute, they're cheap and easy to move around the house too.

Nursing & Feeding
Breast Pump
The most suggested one from you guys was the Spectra S1 or Spectra S2. The S2 was covered by my insurance, so that's what I got—though it still hasn't arrived. The biggest difference between the 2 is that the S1 is cordless, so you can easily carry it around the house. I did hear that you can get a separate battery for the S2 to make it cordless as well.
Breast Milk Storage Bags
Something I didn't even know I needed until I started pumping more. I just grabbed a box of these. Admittedly, they weren't the most eco-friendly, but they were easy and when I was done, I was done—no more cleaning. Several people recommended these reusable ones.
RELATED: Breastfeeding and Pumping-What Worked for Us
Haakaa
I learned about the Haakaa the last month I was breastfeeding and was so bummed because it would have been a lifesaver. It's a food-grade silicone manual pump that you can put on the boob you're not feeding off to collect milk from your body's natural let-down. I remember how much milk was wasted in those breast pads when I'd start nursing! Think of it like an easy way to start a small freezer stash. I've been told the one with the suction at the bottom is best so it doesn't accidentally tip over!
Nursing Pillow
I had one with Owen and it was very helpful. Who knew 8lbs. could feel so heavy! I had the Boppy and did find that it got a little flat over time, but it was much better than nothing!
Burp Cloths
A friend suggested we get extra of these and she was right. We went through SO many every day and Owen wasn't even much of a spitter-upper. They were great for burping, spit up, wiping noses, etc. They're so soft too and easy to wash! Stock up. I had several of these which have this nice cut out so they stay on your shoulder and then just some basic white ones.
Dr. Brown's Bottles
We used these plastic bottles with Owen, and I kind of wish I'd gotten glass bottles just because they're more eco-friendly, but they nice thing is that they're light-weight, easy to pack and don't break if dropped! Either way, they're washable, so you don't have to buy a ton!
RELATED: Owen's Schedule at 9 Weeks Old
Bottle Brush
Absolutely necessary! The inside of bottles and get gunked up pretty quickly, even if you wash them in the dishwasher. This set is perfect for cleaning bottles and rubber nipples.
Baby Brezza
The Baby Brezza is a machine that makes formula bottles for any formula-feeding moms. We did do a few bottles of formula each day, but I always did it myself—small spaces and not enough counter space. But, from all my straight formula mom friends, they said this thing was a game-changer!
Bandana Bibs
Not essential, but so cute, and so handy! These from Little Unicorn were our favorites. Babies drool and spit up a lot. These will keep their outfits in check for at least a little bit longer each day.
Stokke Trip Trap High Chair
Honestly, this can wait, but if you're having a shower and need more gift ideas, add it! We didn't attempt solids until Owen was 6 months, so if you're tight on space, hold off. We eventually bought the Stokke Tripp Trapp high chair and we still use it today.
What I love about is that it grows with him. As he gets bigger, you just move the seat and foot step down. It also blends seamlessly with our decor and doesn't take up much space.
Diapers & Changing
Parasol Co
We didn't start using these Parasol diapers til later with Owen, but I LOVE them. They're super soft, made from organic material, free from harmful chemicals and really cute. They're a subscription too, so you just set it up once and they always arrive. One less thing to worry about.
There's no doubt that cloth diapers are more eco-friendly, but it just wasn't something I wanted to do, so instead I opted to find a good disposable diaper was the next best thing. Best of all—we've had no diaper rash with these! Make sure you have some sort of diaper pail too—we just used a normal small trash can with a lid!
Peanut Changing Pad
We have and love this Keekaroo Peanut changing pad, this one is basically the same but cheaper. The silicone is a breeze to clean, and if your baby is cold on it, just lay one of your swaddles on it. So much easier to just throw one of those in the wash than removing a fancy cover and putting a new one on when it gets messed up.
Travel Changing Pad
We have this simple Skip Hop travel changing pad, so easy and handy. Folds up nicely and easily fits into your diaper bag. Great for when you're out and about and don't have anywhere clean to put your baby down.
Baby Wipes
We've used Pampers Sensitive baby wipes the entire time and they worked great for us. Water Wipes are more eco-friendly and plant-based so I'm trying those this time! I've also heard great things about Honest Company's baby wipes.
Diaper Bag
This is personal preference in terms of style. I've loved my Fawn Diaper Bag because it's a backpack—so easy and pretty!
P.S. ALWAYS always pack a few extra outfits in your diaper bag with some Ziploc bags. Blowouts are a lot more common in those early newborn days and it's nice to have something to throw dirty clothes in.

Bath & Health
Thermometer
Absolute must-have! We did not have a rectal thermometer which some people would say you need, so I'll leave that up to you to decide, but. a regular thermometer is essential.
Nose Frida & Saline Nose Spray
This thing is amazing! I found that a bulb sucker (your hospital will probably send you home with one) was amazing for when Owen was really little, but soon enough the Nose Frida was way more effective.
Owen got a stuffy nose early on and it broke my heart trying to hear him breathe! A few drops of saline spray and the Nose Frida solved it! This one is great because it's designed for babies.
Branch Basics Laundry Detergent
Babies have uber-sensitive skin, so the last thing you want to wash their clothes in is something that's toxic, full of chemicals and fragrance. Branch Basics is our go-to laundry detergent and is what we'll use for all of the baby's thing and ours! You can get 10% off a Branch Basics starter kit that comes with everything you need with code FOXANDSHE.
Humidifier
A humidifier is another one of those items that you don't necessarily need up front, but can definitely come in handy. We didn't have one and only bought one when Owen got a cold. We've used it a handful of times since then, but to me it's not an essential item to have on your registry.
Nail Clippers
To this day, we use these Tweezerman scissors, I never had luck with the clippers. These were always easier for me.
Baby Monitor
We have a Nest cam for Owen and will just get a second one for the new baby. They're easy, all accessible from one app and we've had no issues with them. I've also heard great things about Infant Optics.
Owlet Smart Sock
We did not have an Owlet Smart Sock, but so many of you recommended it. I've heard that the readings aren't always accurate though, so if you're already anxious that might make things worse. Again, I haven't used this myself, just passing along what I've heard.
Baby Gear
Clothes
You don't need a ton, but you do need enough. Babies go through outfits quickly. I wouldn't get too much newborn sized items at first. Get a few and wait until your baby is born to see what size you need. Owen was 8lbs. and long and outgrew all his newborn stuff within 2 weeks.
Oh, and do yourself the biggest favor ever and NEVER buy snap-up onesies or pajamas. They look cute, but they will haunt your dreams. Zip-up outfits are where it's at!
Lastly, ditch the novelty items—baby shoes, robes, clothes that look like "real clothes"—from my experience, I was too tired and knew I'd be changing his outfit at least 2-3x a day so opted for whatever was easiest.
Solly Baby Wrap or Baby Bjorn Carrier
I didn't use these as much with Owen, but I think they will get a TON of use this time around because I'll need my hands free with a toddler. We had both of these. I loved the Solly for at home, and the BabyBjorn for travel or walking around, it just felt a little more secure to me. Maybe I'll learn how to tie the Solly better this go around. The Ergobaby also has great reviews!
Snuggle Me Organics Lounger, Boppy Lounger or Dock a Tot
These all basically do the same thing. We had a Dock a Tot the first go around and I was kinda meh on it. It's difficult to clean and the clasp on ours never stayed closed. As a newborn, Owen could kick it and it'd pop open. He also grew out of it quickly. We're still going to use ours for now, but I've also heard great things about the Snuggle Me Organic and the Boppy Lounger.
BabyBjorn Bouncer
I bought this bouncer shortly after he was born and LOVED it. It allowed me to set him down, but also be propped up a bit, great for right after feeding. It has a slight bounce to it, but it doesn't plug in or require batteries to move. I was adamantly against teaching my child to fall asleep while rocking, haha! Something I'll stick to again this go around.
RELATED: Our Favorite Newborn Products
Muslin Swaddle Blankets
We used these muslin swaddles like crazy when Owen was born. They're adorable and lightweight and make great little blankets or swaddle blankets.
Pacifiers
Not every baby will take a pacifier, but Owen did. Look for BPA free, non-toxic ones for the safest option for your baby!
Milk Snob Breastfeeding & Carseat Cover
I had a Milk Snob breastfeeding cover but never used it. I do think the idea is great though, and I'll probably use it this time around since we won't be in our own home while I'm breastfeeding those first few weeks. As much as my in-laws love us, I'm pretty sure they don't want to see my boobs.
Strollers & Travel
Stroller
We have the UppaBaby Cruz. For city living, it has been perfect. We opted to not get the bassinet attachment because so many friends had said they didn't use it very long and to me, it wasn't worth the expense. If you don't have a separate bassinet though, you can absolutely use this—just put it in your room. I had another friend who said at night she would just wheel the stroller in by her bed.
Heads up, the Cruz does not have the ability to add a second seat, so if you want that option, definitely get the Vista!
Car Seat
We had the UppaBaby Mesa for Owen and will be using that again for baby 2. I love that it fits perfectly with our stroller, so it made any transition from car to stroller and back a breeze. We also used the carseat as his stroller seat while he was really little since we didn't have the bassinet attachment.
RELATED: Tips for Traveling with a Baby
Travel Stroller
We didn't get a travel stroller until Owen was hold enough to sit up. We now have the UppaBaby Minu and it's AMAZING. But, when they're really little, if you're traveling via plane, I highly recommend just wearing them through the airport—hands free! Or use your regular stroller.
Pack n' Play Travel Crib
We splurged and got the Lotus Guava and I don't regret it for a second. It's very well made, is easy to put together and a lot lighter and less bulky than other travel cribs. If traveling is something you plan on doing in the future, I highly recommend this one. It also unzips on the front so you can use it as a playpen too.
Toys, Books & Play
Books
We got a bunch of books as gifts from friends and family, so I wouldn't buy too many! Board books are the best for little ones though!
Play Mat
These mats are (midi size is what we have) great for tummy time. You can of course use any blanket or lay down a muslin swaddle, but these stay in place better than a blanket. and provide some cushion which is great for when they start rolling over. It's durable, non-toxic, easy to clean and looks cute!
Lovevery Playkits
I can't remember exactly when I subscribed to this, but I highly recommend Lovevery's play kits. They're designed for specific ages and are all great for learning. They're mostly made from wood and are pretty and actually engage your child instead of just entertain them like a plastic, battery-powered toy would. To this day, these are still some of Owen's most played with toys.
Stuff for Mom
Nursing Pads
If you're nursing, you'll want these. I started with these reusable organic ones, but they didn't do enough for me. I eventually got these, not as eco-friendly, but walking around with a soaked bra and shirt was not my idea of thriving! These saved the day.
Ice Pads
Depending on how your delivery goes, you may want to order some of these extra ice pads. My hospital sent me home with 4, but Owen was a forceps birth and I was very sore, so I bought a box and used a ton of them. Well worth it!
Balm for Sore Nipples
Last time I didn't love the balm I got, it was thick and honestly just didn't seem safe for Owen to be ingesting. This time, I'm going to try out Beautycounter's Baby Balm or Primally Pure's Baby Balm as I've heard positive things about both!
Nursing Bras
My go-to were some wireless nursing bras from ThirdLove, but it looks like they don't make them anymore. They still have a nursing bra with a wire, but personally I can't do wires—my chest is too bony and they always hurt.
I've heard great things about these and these, so I think I might try them out!
Legendairy Milk Supplements
Not essential, but if you're struggling with milk production, milk quality or getting clogged ducts often, I couldn't recommend Legendairy Milk more. Within a few days of taking these my milk quality and quantity greatly improved! The also provide so much support for breastfeeding and pumping moms on their Instagram account.