Before we dive into my Countertime review, I wanted to let you know that today kicks off our Friends & Family Sale! Take 15% off almost everything, including almost all the products I've mentioned in this post! It's a great time to refill your favorites or try something new—treat yourself, girl!
Almost this time last summer, Beautycounter launched their Countertime line—a safe anti-aging skincare line with a natural alternative to retinol. I was so excited, but also a little nervous to change up my routine and try new products.
But, at 33, I'm definitely noticing that I have some fine lines and wrinkles, so getting a jumpstart on combating those is smart in my opinion. I think just about everyone can benefit from using anti-aging skincare, no matter what age you are.
Before trying this line, I mostly used the Counter+ products and Countermatch, but have loved adding some of these anti-aging goodies to my routine because they've completely changed my skin in the best way possible!
Beautycounter Countertime Collection Review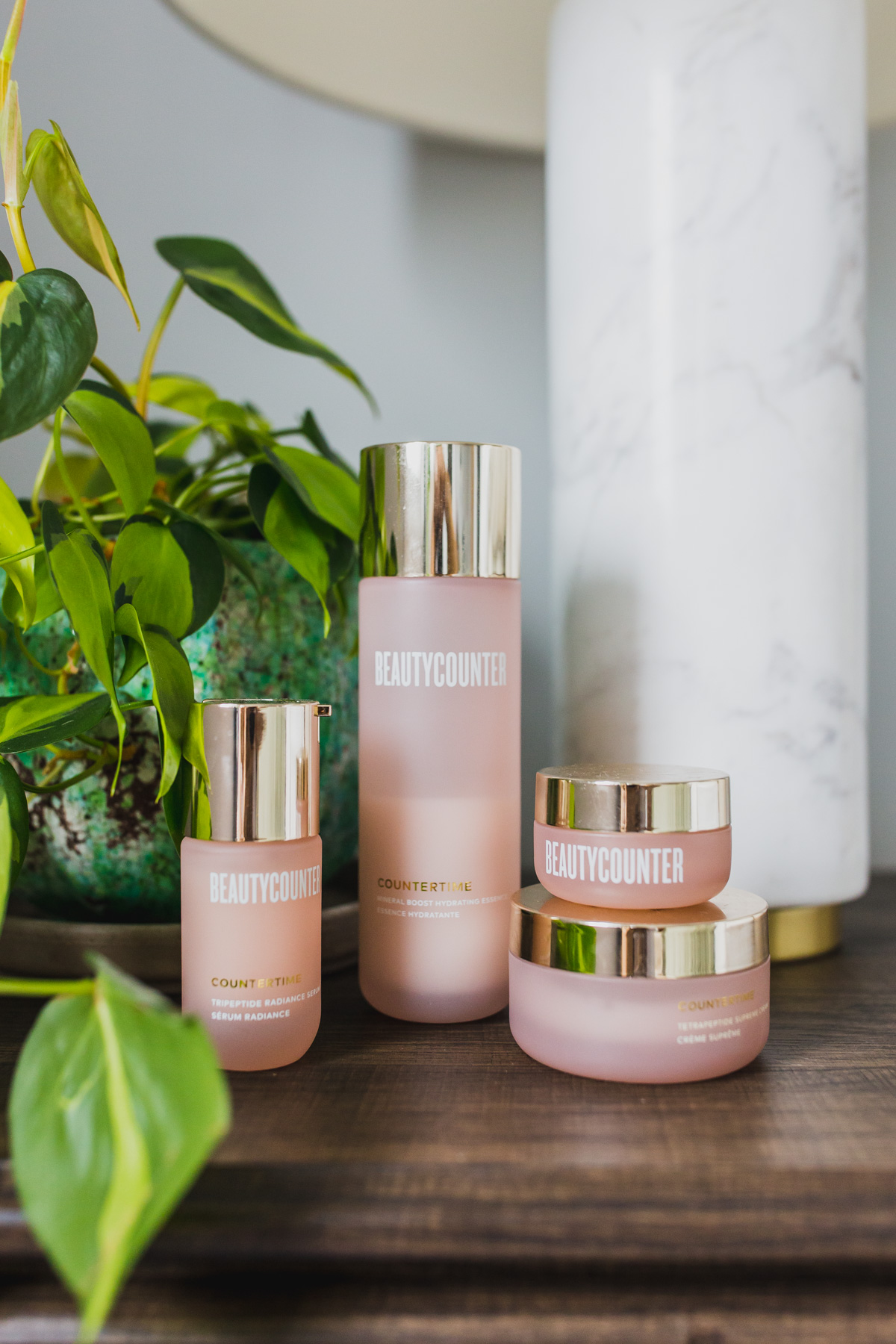 I don't currently use the entire collection, so I've only reviewed the products that I currently am using, but included a few details about the other 2 products in this line that I don't use, but have still heard positive things about.
Countertime Mineral Boost Hydrating Essence
The Countertime Mineral Boost Hydrating Essence works like your toner step.
How to Use It: You use this after you cleanse your face. I put a dime-sized amount onto clean fingers and then gently press into my skin until it's absorbed.
Like all the products in this line, this has the Retinatural Complex in it, which is a natural alternative to retinol made from a combination of Bakuchiol and Swiss Alpine rose. Bakuchiol has similar benefits to retinol, but doesn't have the irritation or sun-sensitivity that comes with it, and Swiss Alpine rose offers antioxidant defense.
The bottle is big—5oz. and lasts a really long time. I bought mine in late October and I still have more than 1/3 of it left and I use it both morning and evening. It's $59, but when you realize it lasts that long, it makes it a total steal for such an amazing product.
Benefits
Adds hydration to your skin
Instantly gives more radiance
Preps skin for serums and moisturizers to follow
Countertime Tripeptide Radiance Serum
If you're looking for a good anti-aging serum, this Tripeptide Radiance Serum is it! It has the highest amount of the Retinatural Complex of the entire line and is designed to target fine lines, wrinkles and also supports elasticity and visibly firms skin.
I adore this product and use it about every other night—I switch between this serum and the Overnight Peel (tutorial on how to use here) every other night for the "Treat" step of my skincare routine. You could use this serum morning and night, but I personally just use it at night after I've used the essence.
How to Use It: Dispense 1-2 pumps onto clean fingers and massage into skin in an upward motion. Let absorb for a couple of minutes before applying moisturizer.
It's $79 and highly concentrated, so you don't need much! It's also very effective, hence the price point. Using this every other night, I'd say that it lasts 3-4 months.
Benefits
Improves skin's natural moisture barrier for balance of oil production
Increases skin elasticity & firmness
Reduces the appearance of fine lines and wrinkles
RELATED: My Current Beautycounter Skincare Routine
Countertime Tetrapeptide Supreme Cream
Okay, this may be the holy grail of night creams in my opinion! I was actually worried that this Supreme Cream would be too heavy for my breakout-prone skin, but I was wrong. It's a heavier, thicker cream, but not super greasy and doesn't clog pores.
It's really hydrating and has actually improved the clarity of my skin, as well as my skin texture and radiance. My skin just looks hydrated, smooth and plump when I'm using this. Again, it contains the Retinatural Complex making it a perfect anti-aging night cream.
How to Use It: Scoop out a small amount (less than an almond-amount) with clean fingertips and massage into skin in upward motion. I use this as the second to last step in my nighttime skincare routine.
This night cream is $89 and if I've learned anything in my late 20s and early 30s it's that good, quality skincare isn't cheap, but it's something I've never ever regretted. A jar of this typically lasts me 2-3 months.
Benefits
Wake up with glowing, radiant skin
Decreases appearance of fine lines and wrinkles
Deeply hydrates and nourishes skin
Countertime Ultra Renewal Eye Cream
I love this Ultra Renewal Eye Cream as it does a great job of softening crow's feet and keeping the delicate skin around your eyes hydrated.
How to Use It: Scoop a very small amount out and pat gently into eye area. I use this at night only as I find it doesn't always do great under makeup, but have heard some people have no issue with it under makeup!
This eye cream is $69, but lasts a long time! We go through it in about 2-3 months and that's with both Rob and I using it. Yes, it's great for guys too!
Benefits
Decreases under eye shadows
Decreases fine lines and crow's feet
Deeply hydrates skin around the eyes
Countertime Lipid Defense Cleansing Oil
This Lipid Defense Cleansing Oil is one that I haven't personally tried, but have heard great things about. This lightweight cleansing oil gently yet effectively removes dirt and makeup without over-drying skin.
Countertime Antioxidant Soft Cream
Same with this Antioxidant Soft Cream! I actually plan to try this one out this summer after my favorite Countermatch Adaptive Moisturizer runs out. This would be your day time moisturizer if you were using this whole line and would be your final or second to last step in your morning skincare routine.
Beautycounter Countertime Pros and Cons
Pros
It's Safe!
We have a list of over 1,800 questionable or potentially harmful ingredients that we will never use in our products formulations. Right now, the U.S. only bans or restricts 30 ingredients—yikes. All of our products are also safe enough to use while pregnant, and I use this line while pregnant too.
Plant Derived Retinatural Complex
This plant based formula gives results that are comparable to retinol! It's made with Bakuchiol, which has similar effects as retinol but comes without the irritation or sun sensitivity that makes retinol less safe, and Swiss Alpine rose that helps boost skin's antioxidant defense.
EWG Verified
All the products in the Countertime line are EWG Verified which means they meet the Environmental Working Group's very strict standars for health and include no chemicals of concern as outline by the EWG—basically, it means you can trust the product as being clean and safe for your health!
Glass Packaging
The packaging for this line is all glass which means it's recyclable and better for the environment than plastic packaging. It's also really pretty!
Cons
Cost
This is the biggest con of the Countertime line, and really any quality anti-aging product. Simply put, they're made with the best ingredients, and those ingredients aren't cheap. Rest-assured that your skin is getting the good stuff though! I'm a big believer in investing in my skin because I'll have it forever, so for me, it's worth it.
Some People Experience Sensitivity
Like all skincare lines, it's not right for everyone. The Retinatural Complex may cause sensitivity or redness for some people. I personally have never experienced this, but do know that it has happened to others. Thankfully, Beautycounter offers a 60-day return policy, so if you don't like it or have a bad reaction, you can always return it for a full refund!
Is The Beautycounter Countertime Collection Worth It?
In my opinion, yes! Especially if you're on the hunt for safe and effective anti-aging skincare products.
I've been blown away at how much smoother, clearer and more even my skin looks since adding these products to my skincare routine. My skin's oil production has balanced and I get less breakouts and have more plump, radiant skin that glows! For the first time in years, I'm actually confident wearing very little to no makeup.
I'd highly recommend adding these products, or even just a couple of them to your current routine to take it up a notch!
Do you use anti-aging skincare products yet?
BTW, how to use the Beautycounter cleansing balm, and my everyday safer makeup routine.