These beautiful and modern kitchens with butcher block countertops will inspire you to use wood counters in your next project—turns out, they're not just for farmhouses.
When it comes to kitchen countertops, we're lucky to have so many different options for materials. We've got everything from marble, quartz, laminate, tile, quartzite, wood, steel and more I don't even know about!
Choosing a countertop is an essential part of designing your kitchen because it plays a huge part in the look and feel of a kitchen, but also plays a huge part in how you use your kitchen.
I've long been a fan of marble. I love the clean white, the veining and how it ages overtime. But, it's also more porous which for some people makes it a no-go. One countertop trend that I continue to see over and over again is butcher block countertops.
They add a warmth to the space that stone materials just can't do, and they're less expensive than purchasing a big slab of rock and having it fabricated to your liking. You can make DIY countertops yourself, or have them installed professionally.
Should you Install Butcher Block Counters in Kitchen?
Best Butcher Block Countertops
Butcher block counters come in all different types of wood, though Maple wood is a common one because it's hard and has a clear grain. Opt for harder woods to handle the wear and tear a kitchen gets. Using a softer wood, might result in kitchens that wear out faster or get dinged up faster.
Common woods used in kitchens with butcher block counters:
Maple
Walnut
Oak
Bamboo
Teak
Cherry
and other unique and exotic woods
Good question! Like all materials, they'll have their pros and cons and they do require a little bit of maintenance to keep their beautiful looks.
Seal with Mineral Oil Regularly
You should regularly seal your butcher block countertops with mineral oil, about once a month. This helps prevent water or other spills from seeping inside and damaging the wood. This is especially important around the sink where water and spills are more common.
Dings and Scratches are Normal
If you're someone who is going to freak out if your wood counters get dinged or scratched, it's probably better to pick a different material. Personally, I find the dings and scratches to be a normal part of life and are the things that give any space, especially one made from wood, it's character over time.
How Much Do They Cost?
Butcher block counters are cheaper than marble, quartz, quartzite or most other stone materials, but likely more expensive than tiling or laminate.
16 Gorgeous Kitchens with Butcher Block Countertops to Inspire your Next Project
I used to worry that butcher blocks would feel too much like a farmhouse, but the examples below will show you that butcher blocks have a wide range of use in many different home design styles.
Try Mixing Countertop Surfaces
Just because you use butcher block surfaces in one area of your kitchen doesn't mean that you have to use them on every countertop surface. You can mix them with natural stone surfaces to create a lived in, collected feel. Often they're used on islands, or a small part of the kitchen. This is an easy way to add some warmth to your kitchen without going wood all over.
Don't Be Scared to Mix Wood Tones
In this space, they've mixed three different wood tones from the floors to the ceiling detail to the countertops and it works. It gives the space an eclectic vibe that's inviting, warm and absolutely unique.
Wood Adds Warmth to Any Space
In this mostly blue, grey and white space, wood is a welcome and warming accent that breathes life into this tiny kitchen. It gives a nice organic touch as well. Also, how pretty are these painted wood floors? Such a great way to add character to a small space.
Modern Butcher Block Kitchen
If you think kitchens with butcher block countertops are just for farmhouses, these sleek, modern spaces will prove you wrong. These modern wooden countertops add incredible warmth to these minimalistic spaces that you wouldn't get from stone or another material.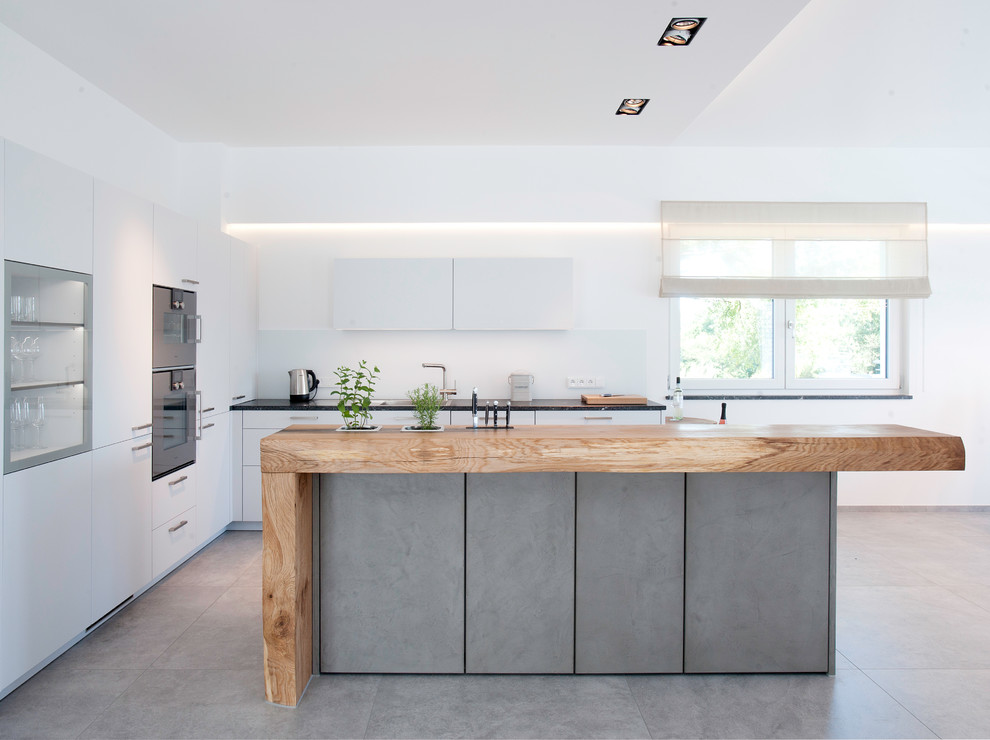 I love the organic feel this modern wood countertop gives this space. Everything else is modern, high-gloss and streamlined, but this adds a much-needed piece of the outdoors inside. The thickness is something to play with as well.
Colored Cabinets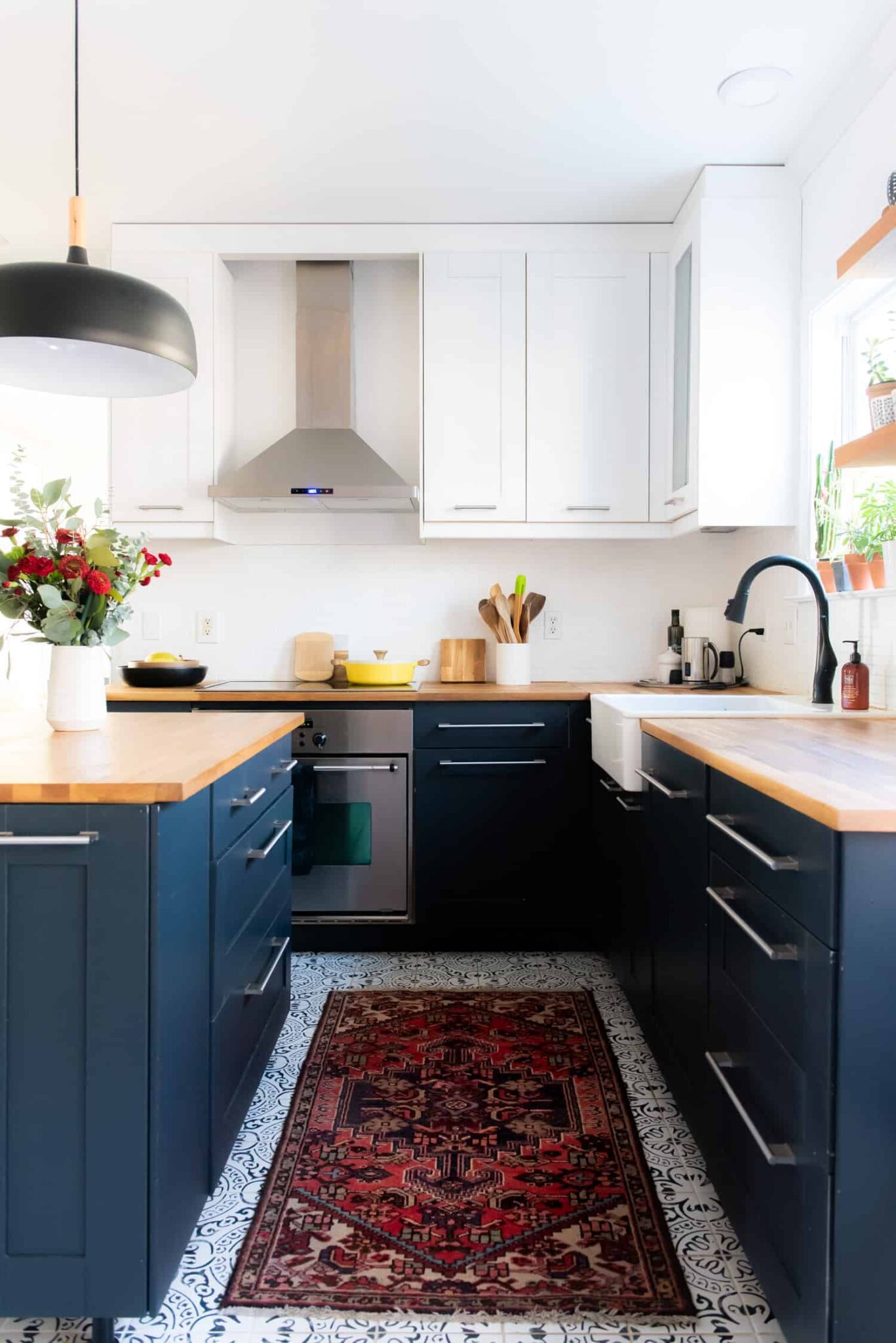 If you have wood countertops and wood cabinets, it might start to feel a bit like a cabin, so break it up with painted cabinets in a contrasting color. I love how they tied in the dark blue cabinets with the dark blue pattern on the tile. Layered with a red rug, this room is such a perfect balance of colors, textures and patterns without being overwhelming.
RELATED: 17 Reasons your Space Needs a Colorful Kilim Rug
For a calming color palette, try a light grey-blue on the cabinets. It pairs beautifully with the counters and leaves the whole space feeling bright and airy.
Or, go bold with a bright hue for a playful, eclectic kitchen like this boho space. I love how they've used this reddish coral color and added warm accents like rugs, and greenery with some cactuses.
Farmhouse Wood Countertops
I love the wood tones used in this farmhouse kitchen. They've also used wood beams on the ceiling which could feel small, but in this quaint kitchen, it looks intentional and cozy.
Small Kitchen with Butcher Block Countertops
Just because you have a small kitchen, doesn't mean it can't have big style. I love how they've used wooden counters here to bring more light and warmth into this small space. The rest of the kitchen is painted white which makes it look and feel bigger.
Installing open shelving that goes up to the ceiling helps make this tight space feel more open and airy. Plus, it gives the illusion of taller ceilings while simultaneously adding more storage. To make the room feel inviting, they've added two small, but similar rugs to make it feel like a runner.
Butcher Block Counters with Wood Floors
Wood on wood might feel like too much, but it absolutely works. The trick here is to use different colors of wood to make your space feel not so matchy-matchy. I also love how the wide planks on the floor contrast against narrow pieces of wood in the counters.
White Kitchens with Butcher Block Counters
All-white kitchens can quickly go from clean to stark. White kitchens with butcher block counters add plenty of warmth and give your kitchen a more casual, relaxed feel. This is a great way to get a farmhouse look without the price of marble or quartz.
Add color and more personality to your all white kitchen with rugs, window treatments and more colorful decor. Even a vase of colorful flowers, or a plant can add much-needed color to an all-white space.
RELATED: 15 Bathrooms You'll Want to Call your Own
Tile Flooring with Butcher Block Counters
If you're feeling overwhelmed by all the wood in your kitchen, opt for tiled floors to break up the natural color and add a unique pattern to the floor. I love how both of these kitchens have used black and white tile. While both used similar color palettes, the tile type completely changes the look and feel of the space.
More Unique Butcher Block Kitchen Ideas
If re-tiling isn't an option, consider painted wood floors like the ones above. This can totally change the look and feel of your space and give it a modern vibe like the one below, or create a farmhouse look with weathered painted floors that get better with age.
If you still love the look of marble, incorporate into your design with a simple backsplash. You get the look you want, but just doing a backsplash will save you a lot of money.
These gorgeous kitchens with butcher block countertops are all so beautiful and unique and proves how versatile these kitchen countertops can be. I used to think they were reserved for a country cottage or mountain house, but these examples have changed my tune. Butcher block counters are a classic style and one that we'll continue to see for years to come.
BTW, 9 cozy home decor tricks to make your home feel instantly more inviting, and 17 enviable entryways.