I've long been a fan of the oversized sweater. I think that living somewhere with brutal winters will do that to you.
Softly Structured Tunic Sweater, wearing a small | Faux Leather Leggings, wearing a small | Boss Boots, (order a half size up!) also love this under $100 pair and this pair | Chevron Crossbody Bag | Huggie Earrings, only $14 | Lipstick in 9 to 5 | Camel Overcoat

After my first winter in Chicago, I realized that my thin, fitted sweaters simply weren't going to cut it. They simply weren't warm or cozy enough.
Now my closet is filled with a good mix, but most of my sweaters lean towards the oversized or thicker side. There's a good reason for it too. They're the perfect thing to wear when it's freezing outside and you just want to be warm, cozy, but still look cute.
Oversized pieces can easily go from looking cool to frumpy, so I've put together a few pointers on how to wear them the right way.
How to Style Oversized Sweater Outfits
1. Tailored Bottoms
When it comes to wearing any boxy or oversized top, a good rule of thumb is to keep the bottom half of you looking more tailored. It keeps your look balanced and gives you that effortlessly chic look. Jeans are my go-to, so I stick to well-fitting skinny jeans to give shape to my legs, but tailored ankle pants like these or Spanx faux leather leggings (what I'm wearing here) would look great and be perfect for the office too.
I love that both of these styles are straight or tapered at the ankle, which gives shape to the bottom half of you and making your legs look longer.
Ankle Pants & Skinny Jeans

2. Consider Your Height
Oversized sweaters typically fall into two categories. One being a boxy, shorter oversized fit, and two being a more straight, but longer fit—like the one I'm wearing here. I love both, but depending on your height and body shape, one might be better for you than the others. If you're shorter, I'd opt for a shorter oversized sweater and then follow tip number three.
Sweaters that are too long can make your legs look shorter, which might be okayt if you're super tall, but not ideal if you're short.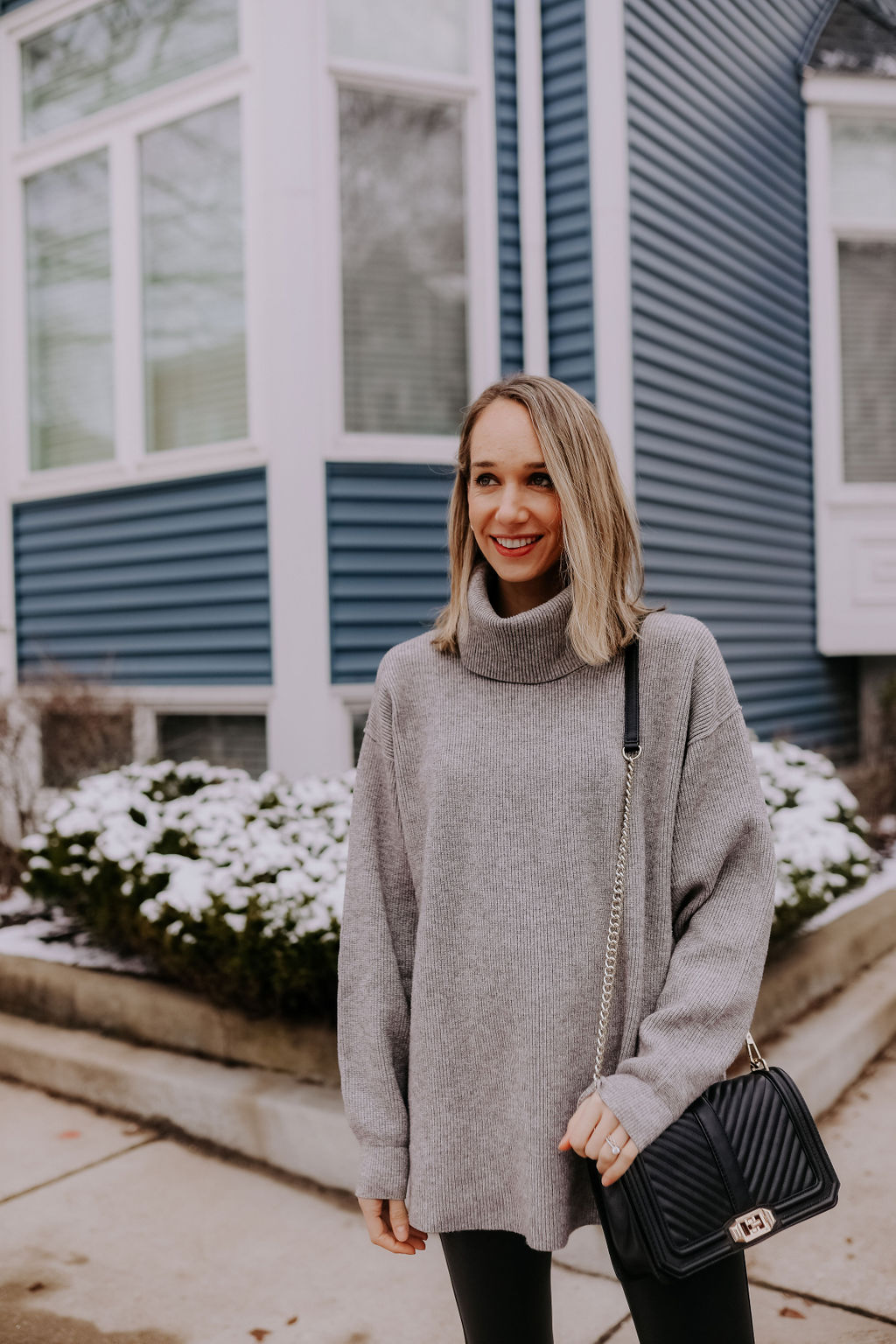 3. Tuck It
When in doubt, tuck the front of your sweater into your jeans or pants. I love doing this with jeans, but not with leggings. I'm currently pregnant, so it's harder to do this with a bump, but when I'm not pregnant, the front tuck is my jam!
It's my signature move to making oversized tops look more stylish and intentional. It also helps to elongate your legs, so if you're on the short side, definitely try this little trick!
4. Frumpy vs. Stylish
There's a fine line to walk with big sweaters and you don't want to fall on the frumpy side. Instead of just ordering any sweater a size or two up, pick sweaters that are designed to be oversized.
Simply ordering up a few sizes will give you an oversized look, but sleeves that are too long and awkward will make it look like you ordered the wrong size…because, you did.
Sweaters that are designed to be oversized will fit your arms and shoulders appropriately leaving you looking styled, not frumpy.
Oversized Sweaters

5. Wear Heels
If you're worried about looking too casual, simply add a pump or heeled bootie to elevate the look. It doesn't have to be fancy—my every day look is typically very casual, but adding a little heel elongates your legs and adds some edge to your look.
And, if you really hate heels, opt for flats with a pointy toe that will give the illusion of longer legs too.
More Ways to Wear Oversized Sweaters
Ottoman Slouchy Tunic, more colors here | Maternity Skinny Jeans, non-maternity here | Leopard Clutch, similar here | Wool Fedora, similar | Newbury Boots, also here and similar
Grey Mockneck Sweater, wearing a small | Ultra High Waisted Mom Jeans, runs TTS—I adore these! under $55 | Form Bag, fits a laptop, phone, keys and wallet | Pony Hair Leopard Mules, TTS (I'm usually a 9 in flats and wear a 40) absolutely worth the splurge!
Oatmeal Turtleneck Sweater, wearing a small | Distressed Skinny Jeans, TTS | Snakeskin Booties, they run a little small, order a half size up | Chevron Quilted Crossbody Bag, love that it looks like the Chanel boy bag for a fraction of the cost!
Do you love a good oversized sweater for fall and winter? What tips do you have for styling them the right?
BTW, how to style a fedora hat, and two fall colors that you need asap.
Want to remember how to wear an oversized sweater? Pin this image below!