These Thieves cleaner recipes are not only non-toxic, but they work incredibly well and leave your home sparkling clean.
I used to be skeptical about non-toxic, or more natural cleaning products. I wasn't confident they'd work well enough, plus having to make my own? Ugh, it sounded like a lot of work.
But, after I came across this post from Kristina, I was blown away and decided I'd give Thieves a chance again. If you don't take the time to click on that link, I'll spoil it for you—Thieves was more effective against bacteria than Lysol, Clorox, Windex, Mrs. Meyers, Method and distilled vinegar on its own.
Like, what?! Clorox? I thought that stuff killed everything.
Turns out, it doesn't.
And, another major downside? It's filled with chemicals that are endocrine disruptors, skin irritants and can generally leave you feeling dizzy because of all the harsh fumes.
Honestly, all the reasons I hate cleaning—I used to feel high and sick after I used those traditional cleaning products.
So, what exactly is Thieves?
It's an essential oil blend that's made of cinnamon, lemon, clove, eucalyptus radiata and rosemary Young Living essential oils. It's sort of their signature thing. It's been copied, but this is their's is real deal. If you've never smelled it, I liken it to spiced tea at Christmas—it's a cozy, clean scent that personally makes me really happy because it reminds me of being with family.
Those oils have great antimicrobial benefits, which means is works great as a cleaner for just about everything in your house. And, it's non-toxic, so I never worry about my kids touching stuff after I've cleaned.
What's really cool about Thieves is that you can literally replace every household cleaner in your home with this one product. I shared some easy DIY Thieves cleaner recipes for you to try at home.
Some utilize the Thieves Household Cleaner, some just use the Thieves essential oil, and one uses this Thieves Fruit & Veggie Soak.
If you're curious about the cost breakdown, read this post where I break down how much more affordable it is to DIY your non-toxic cleaning products than keep buying them.
DIY Thieves Cleaner Recipes
All-Purpose Thieves Cleaning Spray
This recipe is easily the most used in our home because it's so versatile, and with a toddler, I have lots of messes to clean up! I use it on countertops, the kitchen table, stainless steel, cabinets, the outside of the microwave and oven, the refrigerator (inside on the shelves too), in our bathrooms, in our bedrooms, on toys….literally everything!
To make this all-purpose cleaner, you'll mix 30 parts water to 1 part Thieves household cleaner. That equates to this much easier to read recipe:
Ingredients
2 cups of water
1 capful Thieves Household Cleaner
Instructions
In a spray bottle, combine the water and concentrate and gently shake to combine. Spray on literally anything and wipe clean with a lint-free cloth or paper towel.
Thieves Toilet Bomb
I never thought I'd talk about cleaning toilets on my blog, but here I am—32 years old with a toddler and another on the way and quite frankly, this is a part of my life these days, haha! I don't think anyone enjoys cleaning the toilet, but I have to say, this combo actually makes it more enjoyable because it smells nice!
Ingredients
2 Tbsp castile soap (this is what we use)
1/2 cup distilled white vinegar
10 drops of Thieves essential oil
1/2 cup baking soda
Instructions
Pour the castile soap, vinegar and essential oil straight into the toilet and swirl around. Let sit for 10 minutes. Then add baking soda (make sure you wait on the baking soda, otherwise it'll go crazy and foam up). After the bubbles have died down, scrub the toilet and then flush.
Thieves Fruit & Veggie Soak
Admittedly, I haven't tried this yet, but I'm getting some with my next order. I hate having to wash veggies and this method seems like something I could totally get behind. Have you tried it?
Ingredients
2 Tbsp Thieves Fruit & Veggie Soak
1 gallon of water
Instructions
Combine the two ingredients and cover produce completely. Let sit for 1-2 minutes. Rinse produce when complete.
Thieves Fruit & Veggie Spray
If you don't have the space for the soak, this is a great alternative and is great for on the go too.
Ingredients
2-oz. bottle with sprayer
¼ tsp. sea salt
5 drops of DiGize essential oil
5 drops of Thieves essential oil
1 oz. organic white vinegar
1 oz. distilled water 
Instructions
Combine all ingredients in a small spray bottle. Shake vigorously to combine. Spray on fruits and veggies to clean, let sit for a minute and rinse with water.
Thieves Glass Cleaner
As I'm typing this, I'm looking around and noticing that our windows could definitely use this! Windex smells used to make my head hurt, but this combination smells great and works just as well!
Ingredients
spray bottle
1/2 capful Thieves Household Cleaner
2 1/2 cups of water
1/2 tsp white vinegar
Instructions
Combine all ingredients in a spray bottle. Gently shake to mix. Spray on glass surfaces, mirrors, etc. for and wipe clean with a paper towel or lint-free cloth for a streak-free shine.
Non-Toxic Hand Soap
We go through a lot of hand soap at our house and I hate having to buy new bottles just to throw another one away. Now, I can just use the same reusable bottle and save a ton with each new bottle I make.
Ingredients
foaming hand wash bottle
3 Tbsp castile soap
10-15 drops of Thieves essential oil
2 Tbsp aloe vera gel
distilled water, fill to top
Instructions
Combine all ingredients in a foaming hand wash bottle. Use 1-2 pumps to wash hands. Place a bottle in every bathroom and in the kitchen. The aloe vera will help keep hand hydrated and soft.
Deep Scrub
Perfect for grout, stainless steel sinks, grimy bathrooms and shower—essentially anywhere that needs a good deep scrub, this quick concoction is non-toxic and incredibly effective. We put this to work in our master bathroom and I was shocked by a) how dirty it was to begin with, and b) how much better
Ingredients
1 cup baking soda
1/4 cup Thieves Household Cleaner
1 tsp white vinegar
30 drops of lemon essential oil
Instructions
In a bowl, combine household cleaner, vinegar and essential oil. Slowly mix in baking soda until a thick paste forms. To use, place on any area that needs a deeper scrub, use a scrubbing brush and get to work. Store in an air-tight jar for future uses.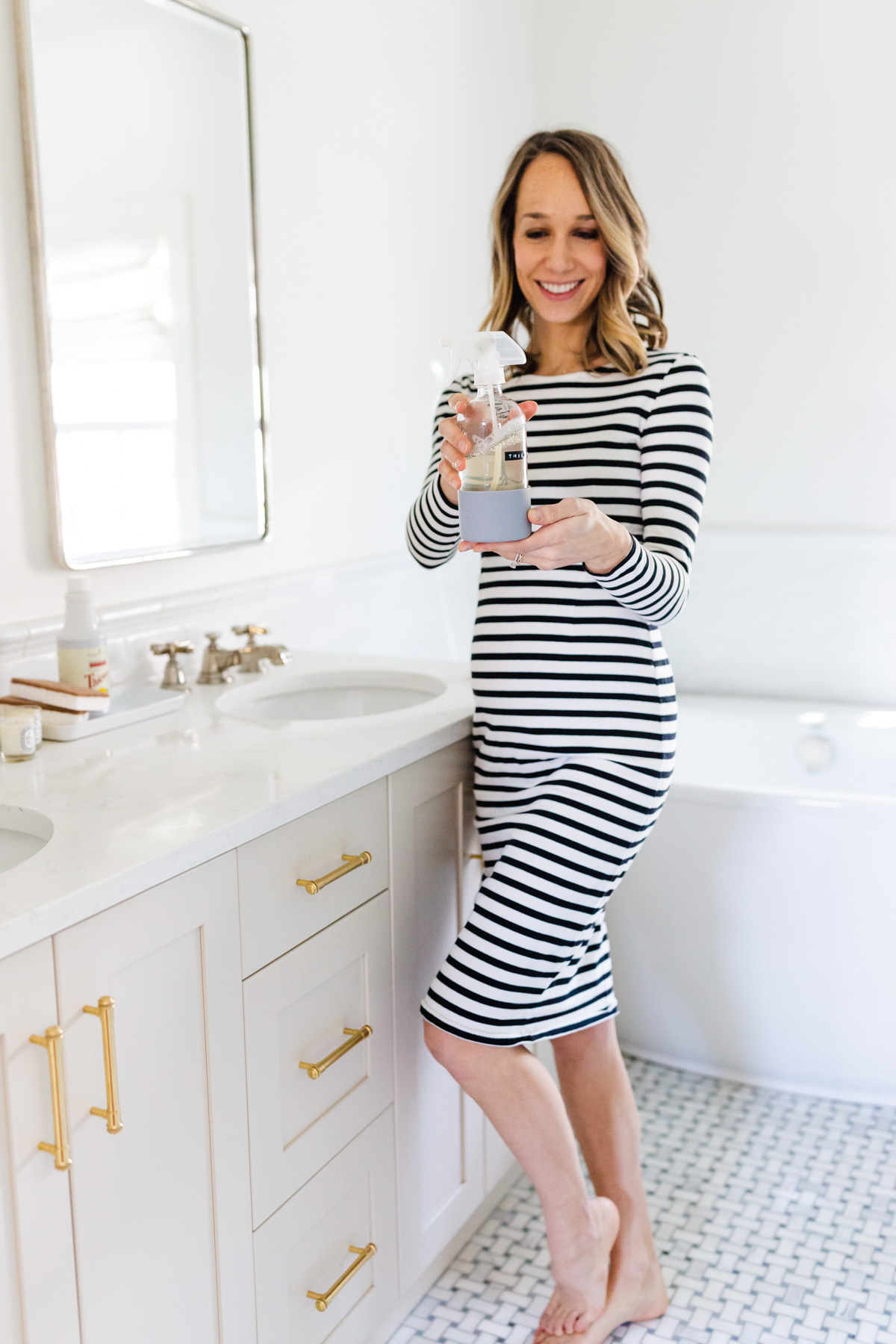 Why Switch To Thieves Cleaner
Plant-Based
Thieves Household cleaner is made from natural ingredients, and has a plant-based formula. You can naturally clean your home and feel good about it all. Who would have guessed that plants can work better than chemicals?! It's better for you and also better for the environment.
Non-Toxic
It will give you a deep, effective clean without all the nasty toxins, dangerous chemicals and gross fumes.
Safe for Kids
When you've got a very curious toddler who doesn't like hearing no, it gives me such peace knowing I don't worry about Owen getting in the cabinets under the sink. Since we switched to all non-toxic products I'm calmer when I suddenly realize it's silent!
How To Use Thieves Cleaner
Countertops & Kitchen
For the most part, you use Thieves cleaner like you would any other typical household cleaner. Spray it on and wipe it clean with a paper towel. I use the all-purpose spray nearly everyday on our countertops and on our marble dining room table. I even use it on wood too and have had no issues.
Washing Fruits & Veggies
Like I mentioned, this is one of my least favorite tasks after a grocery run. I'm adding this to my next order to make cleaning produce so much easier!
Bathrooms
From scrubs to toilet cleaners to all-purpose cleaner, you can literally use Thieves everywhere in your bathroom.
Storing Tips
Keep your Thieves products in a cool, dark place or in dark-colored containers. I love these amber spray bottles and amber glass pump bottles.
How to Buy Thieves
You can join as a member, but if you just want to grab the cleaner concentrate, which is what you'll need to make these recipes, you can grab it on Amazon too! Personally, I don't need another subscription, so I like this option better.
What other Thieves recipes do you use in your home?
BTW, 2 of the best safe cleaning products that actually work, and diy face serums for clear and glowy skin.