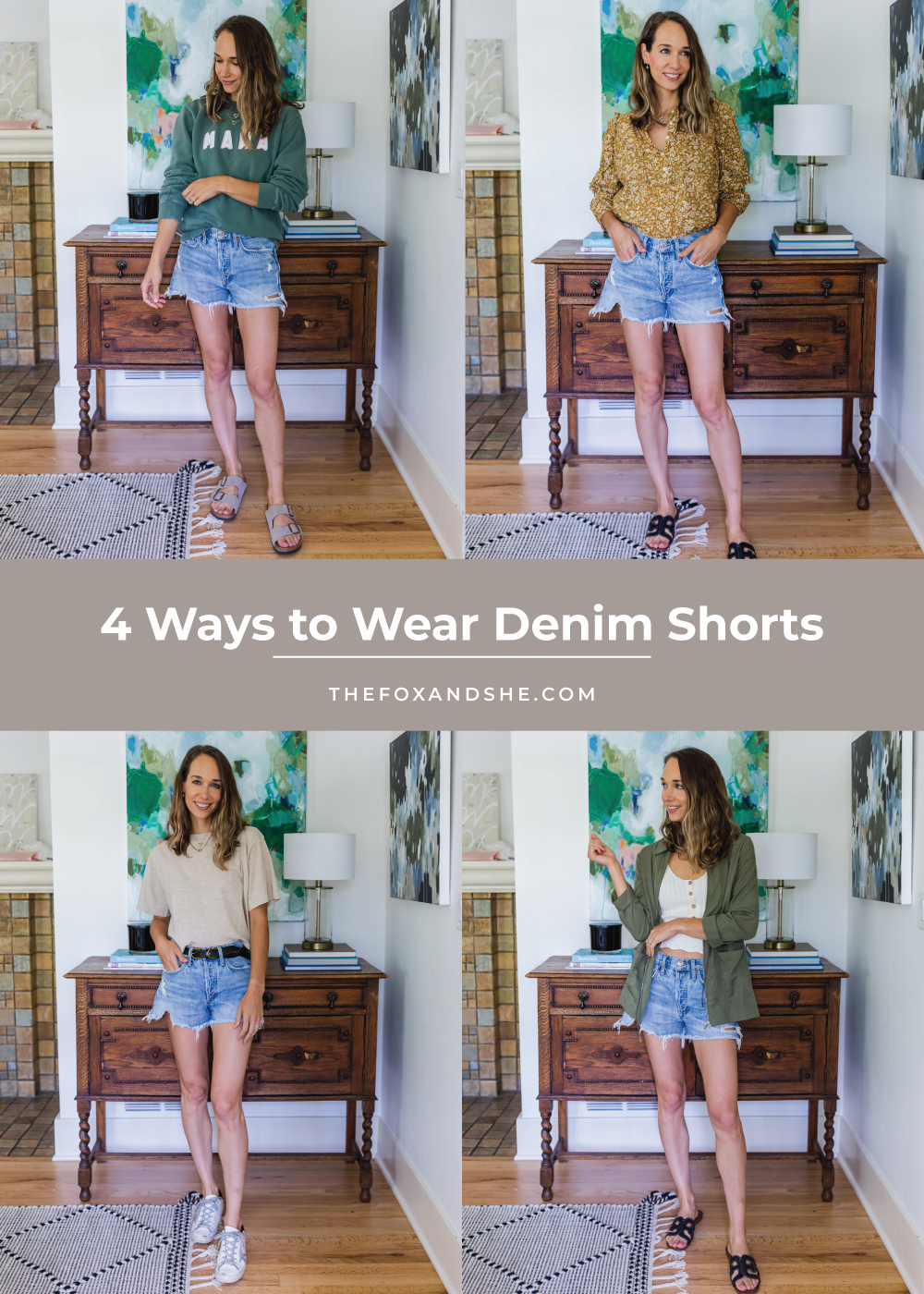 I wear these denim shorts all summer long! This pair was a bit of a splurge as far as shorts go, but I've had them for 2-3 years now and they are my most-comfortable and most-worn pair, so to me, it's worth it. To me, denim shorts scream casual, laid-back and summertime, so I threw together 4 different ways to style your favorite pair, plus a few different options for great pairs at different price points.
4 Ways to Wear Denim Shorts
Best Denim Shorts Options
Boho Top and Jean Shorts
Top (old J.Crew), similar here and here | | Bay Slides
For cooler nights, or something that feels a bit more pulled together, I love pairing my shorts with a more full top with boho vibes. It still has that effortless, summer feel to it, but also feels a bit more dressed up. I paired it with these slides that I got earlier this year. I have been wearing them like crazy—so comfortable and no break-in time which is the actual best!
Slouchy Tee and Jean Shorts
T-Shirt, similar here and here | Denim Shorts | Sneakers | Belt
You can't go wrong with jean shorts and a simple t-shirt. I love this one that's a bit oversized, slouchy and boxy. I threw on a belt so it defined the wait and sneakers because they're my favorites. This is a perfect outfit for those days I'm with my boys all day, but still want to feel pulled together and cute.
Military Jacket and Jean Shorts
Green Jacket | Tank (old Abercrombie), similar here and here | Denim Shorts | Bay Slides
Backyard bbq or patio drinks? This is perfect! I tend to get chilly as the sun goes down, so having this light jacket on hand is perfect for those nights, and if I get too cold, a simply cami or tank underneath is perfect.
Sweatshirt and Jean Shorts
Mama Sweatshirt | Denim Shorts | Birkenstocks
Lastly, a classic comfy outfit that's perfect for the weekend! We have started our morning coffee walks on the weekend now that Jack has dropped that nap, and we've had a few mornings that are a bit chilly (!!!!!). I love this sweatshirt so much, it's longer than most and cozy, but not too heavy.
The trick with making a sweatshirt look more chic is the front tuck and push the sleeves up a bit!
BTW, 7 summer Amazon fashion finds, and 5 ways to wear a striped blouse.