I've never been a big fan of sauces. I find them to be too overpowering and since a lot of them are made with heavy cream and butter, I've avoided them since dairy never makes me feel that great.
But, one sauce I really love? Okay, two. Chimichurri and pesto. I've made chimichurri a bunch, but pesto was something I'd usually just buy at the store.
Why? It requires a whole lot of basil and pine nuts to make a decent sized batch of basil pesto, and those two ingredients can be pricey!
Years ago, my dietician suggested mixing different herbs to create a pesto that turned out to be equally as yummy and cheaper to make than the traditional recipe. This green detox pesto recipe is one you're going to want to make over and over again!
Detox Pesto Recipe: How to Make Detox Pesto
Start with Detoxifying Ingredients
Another reason I love this pesto is because it's packed with detoxifying ingredients. Cilantro being one of the best (more on that here if you're interested)! It aids in removing heavy metals from your body, can aid in digestion, reduces inflammation in your body and help to cleanse your liver. That last one is especially important because our livers remove toxins from our blood.
Taking care of your liver helps it to perform better! You can help out your liver by removing toxic skincare products from your daily routine and eating more real food and less processed stuff.
Your liver also aids in producing bile, which essential to breaking down foods. When your liver is overworked, your bile production goes down and can make it much harder to digest fattier foods.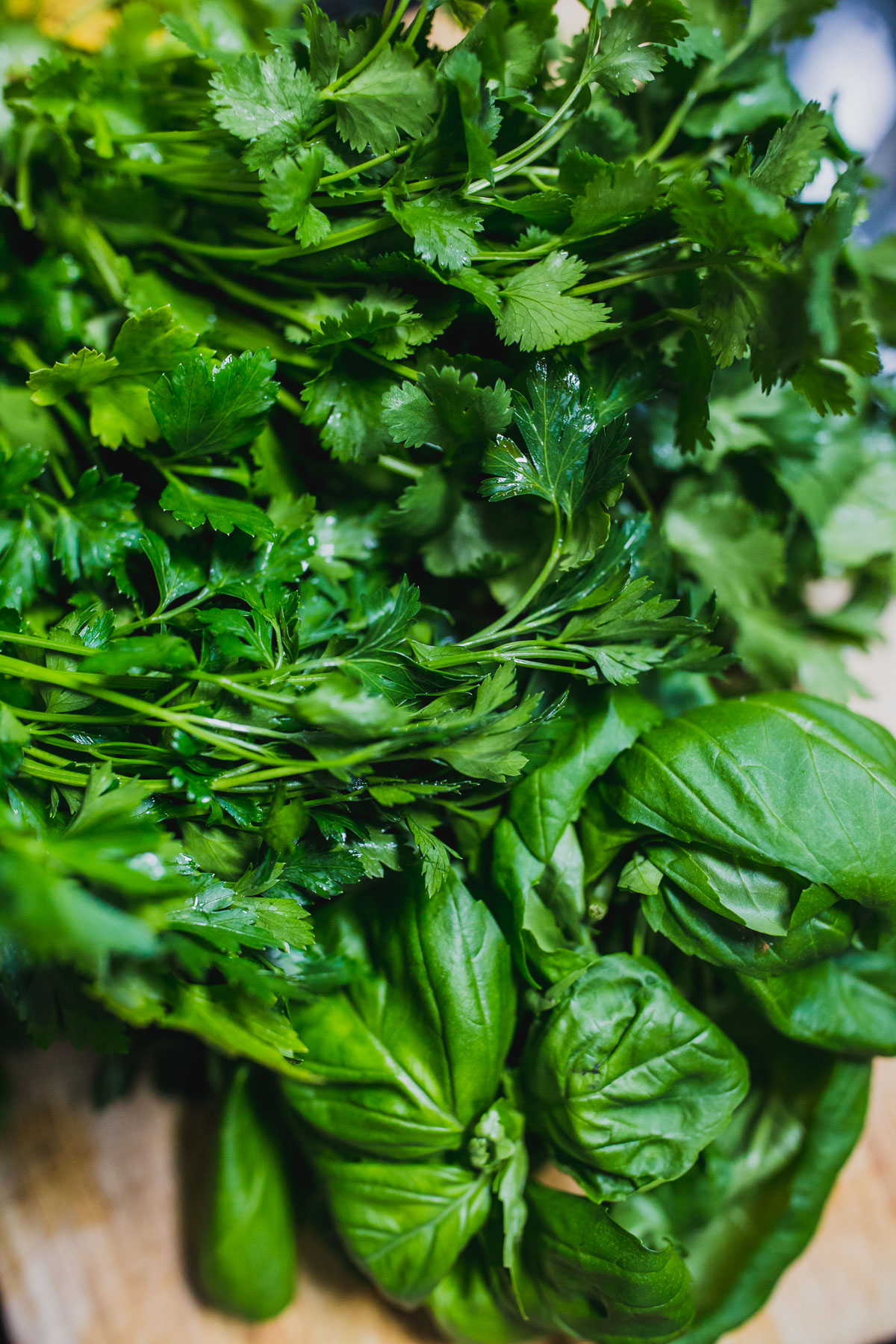 Another sign that your liver could use a little detoxing is bad skin. I know this one all too well! Your liver handles the breakdown and removal of toxins, but when it can't handle everything you're putting in it, your body removes toxins in other ways. One of those being your skin.
Needless to say, your liver is a very important organ and one that we should take time to nurture and heal. All of the herbs in this recipe are filled with antioxidants that are sooo good for you!
Okay, back to this detox pesto recipe! It's easy to make, doesn't require too many ingredients and is good on everything from fried eggs in the morning, to pasta dishes, to fish, to grain bowls and even spread on a sandwich instead of mayo!
I love when healthy foods taste this good, don't you?!
Green Detox Pesto Recipe
Ingredients
1 cup basil
1 cup parsley
1 cup cilantro
2 cloves garlic
1/2 cup pine nuts (walnuts would work too, but Rob is allergic to them!)
1 Tbsp fresh squeezed lemon juice
1/4 cup olive oil
salt and pepper to taste
Directions
Combine all ingredients through olive oil into a food processor.
Pulse to combine. You'll have to scrape down edges every so often.
Season to taste with salt and pepper.
Store in the refrigerator for up to a week—if it's not all gone by then!
What healthy foods do you love eating? If you make this recipe, make sure to tag #FShealthyeats so I can see!!
BTW, vegan butternut squash pizza, and easy matcha lattes.
*sources: Dr. Axe, Perfect Supplements, Cosmopolitan