This past year for Christmas, I asked for a Dyson Supersonic hair dryer. A part of me felt a little silly for asking for such an expensive hair dryer. Mostly, because I don't even blow dry or style my hair every day. But, I'd had the same cheap hair dryer for years and it wasn't great.
I have naturally wavy hair and anytime I dried it, it'd turn into a giant puff ball of frizz! This made straightening or curling it hard too because I needed extra heat to smooth out the fluff. I felt like the constant, extreme heat was turning my healthy hair into a dried mess!
I had heard wonders that the lower heat setting majorly helped to decrease frizz and flyaways, and did a great of smoothing hair. Plus, it claims to dry hair faster too, and I'm all for spending less time doing my hair.
Lastly, I was a little hesitant because of the cost—$399 for a new one—what if it wasn't as good as people had said? Since I also color my hair 2-3 times a year, I felt like it would be a worthy expense in keeping my hair healthy over the years.
Dyson Supersonic Dryer Review
Now that I've had it for many months, I can definitely say it was worth the money. I actually do blow dry my hair more frequently because it dries faster, looks better and doesn't kill my arm and wrist in the process. Even Rob has come to use it every time he takes a shower! Which is great, because the more use it gets, the better I feel about the cost. And, you can get a refurbished Dyson hair dryer which cuts over $100 off the price tag!
RELATED: 8 Healthy Hair Tips
I think it's especially great if you dry your hair frequently or every day. Because of its intelligent heat control, it protects your hair from extreme heat that can damage and dry out your hair.
Okay, now let's get to the specifics and my review!
Dyson Supersonic Hair Dryer Specs
Length: 9.6″ It's kind of long/tall, but it actually makes the weight sit in your hand really nicely!
Depth: 3.1″ — So many traditional hair dryers have longer barrels. This one does not and it is a feature I LOVE. It makes the balance in your hand really even and doesn't hurt your wrist when holding.
Weight: 1.8lbs — To be honest, I don't know what other hairdryers weigh, but I've found this one to be very lightweight compared to my older clunker.
It also comes with several attachments—a smoothing nozzle, a styling concentrator, and a diffuser, making it great for all hair types. For the most part, I use the smoothing nozzle the most because getting smooth hair is my biggest goal when I'm drying my hair. The diffuser is great for anyone with curly hair! I've tested it out with waves and they looked great with no frizz.
They're all magnetic attachments too, which is pretty handy. They come on and off easily and if you need to twist one to get the right angle, it makes it a breeze.
Dyson Supersonic Hair Dryer Design
It's sort of crazy when you think about how nearly every hair dryer is based on the same design. Dyson, per usual, has crazy technology that makes their dryer more effective and better for your hair. It has a Dyson motor in it, which means it has better air flow than your average hair dryer.
It uses something they call Air Multiplier technology that produces a high velocity jet of air to dry faster, while still giving you total control. Fancy stuff, eh?!
If that all sounds like a bunch of mumbo-jumbo, I'll just tell you that whatever it all does, it works! Really well too, and I'm never going back to my old hair dryer again.
RELATED: How I Air Dry My Hair
Pros and Cons Of The Dyson Supersonic Hair Dryer
Pros
It's lightweight and not top heavy making it easier to maneuver: This is especially great if you have long or thick hair that takes longer to dry.
It dries hair faster and more thoroughly: Dyson once claimed it would cut 8 minutes out of drying. I don't think it cuts down quite that much, but it definitely dries faster and dries more thoroughly. With my old drier, I often felt like my hair was still a little damp even after a long dry.
It results in smoother, shinier hair: I still can't believe how smooth and shiny my hair is after I use this thing! I feel like I came from the salon.
Cons
The Price Tag: To me this is really the only major con. You can get traditional hairdryers for so cheap, and this one is not. Thankfully, like most any Dyson products, you can buy a refurbished one that's considerably cheaper than buying it brand new.
The cord is a little bulky. It's not a huge deal, but it's a thicker cord and has a box thing on it that make it a little heftier to pack for travel.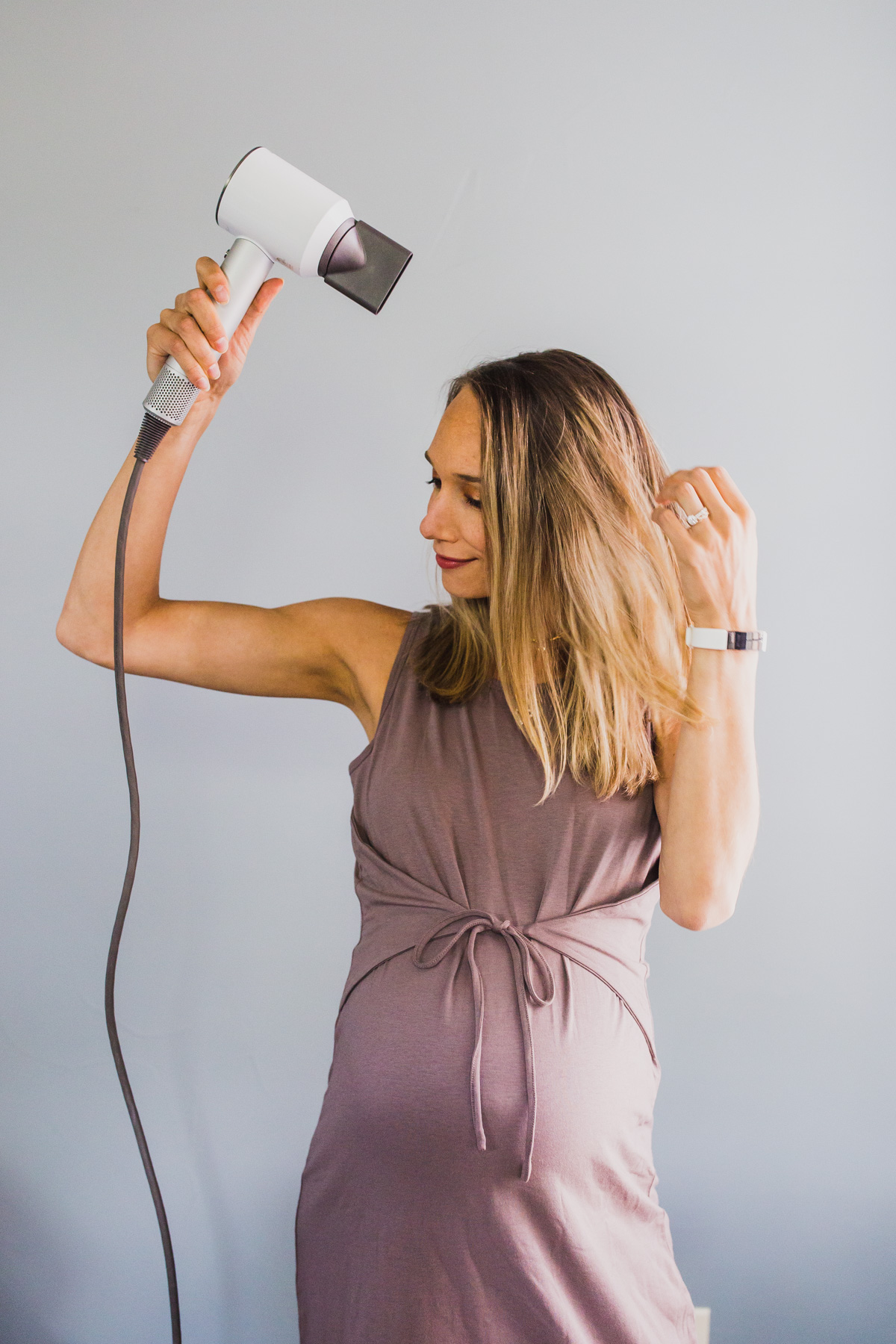 How To Use The Dyson Hair Dryer
It's pretty simple. Like most hair dryers, it has different heat settings so you can easily adjust these on the back of the dryer. There's 3 buttons for both heat and cool, plus a cool shot feature to set your hair if you're working with a round brush or styling it—something I've yet to master!
To turn the heat or cool up or down, you simply just push the buttons on the back and it adjusts accordingly.
You can use any of the different attachments, I recommend the styling nozzle for everyday use, and blow dry like normal! I wish I had better blow drying tips for you, but I'm not a pro.
Where to Buy a Supersonic Hairdryer
Buy New
Buy Refurbished—Considerably Cheaper!
In my opinion, this hair dryer is completely worth it. And, you can absolutely buy it brand new, but, if you can find a refurbished one, which is pretty easy, I'd highly suggest that too. I have several refurbished Dyson products (including my hair dryer) and they look and work like brand new.
Just make sure you're purchasing from a legitimate online shop so that you're not getting a counterfeit product! Most will say that it ships directly from Dyson which is a very good sign!
Rob got mine from New Egg because it was sold out on eBay last year during the holidays. It was a new retailer to us, but it is legit!
If you've been thinking about splurging, I hope my Supersonic hair dryer review helped clear up any questions for you on whether or not it's worth the money.
BTW, Isle of Paradise Tanning Drops review, and my Thrive Market review and all my must-haves.