If you're looking to get a healthy glow anytime this year without the harmful rays, these Isle of Paradise self tanning drops will be your new best friend. We're sharing our Isle of Paradise drops review and how to best use them to get a gorgeous sunless tan.
Whether it's the dead of winter, or the middle of summer, having a nice healthy glow to your skin can make you feel more confident and smooth out any skin perfections. But, booking a trip to the beach and sitting around in the sun all day is something I have little time for these days.
Plus, I'm more worried about skin cancer than I was in my teens and twenties. When I am at the beach, you'll often find me covered in SPF 50, a hat and under an umbrella.
I vaguely remember my mom applying self-tanner as a kid and the smell, orange-stained towels and amount of work it took her must have scarred me. It wasn't until a few years that I finally jumped on the self-tanning train and can confidently say, the products available to us now are far better and easier to use than what my mom was using.
I'm a big believer that getting real sunshine is incredible for your health. But, when it's cloudy, or you're like me and very prone to melasma and dark spots, I always try to keep my face covered in my favorite daily SPF and wear a hat. That means that my face is often lighter than the rest of my body, which can look sort of weird.
I tried out these tanning drops because they got rave reviews, and they're incredibly easy to apply. Here's my review of this golden tan drops in a bottle and how to use them to get the best results.
Isle of Paradise Self Tanning Drops Review
My first thought was surprise—they come basically clear. How on earth did these provide me with a tan? I'm not sure, but I do know that they work. The biggest highlights:
incredibly easy to use
provide great, natural-looking results
they don't take up much counter space
customizable to your liking
Just a couple of days after I first started using the Isle of Paradise Drops, I was looking tanned and glowing. My skin imperfections were less noticeable and it did a serious up-level on my confidence.
I love that it didn't look fake at all, just healthy and tan, like I'd just arrived home from a tropical vacation!
Isle of Paradise Drops Comes in 3 Shades
The Isle of Paradise Self Tanning Drops come in 3 shades—light, medium and dark—which I love because everyone has totally different skin and different wants when it comes to color. I'd base it off of your natural skin-color to keep it as natural-looking as possible.
I have olive-toned skin and while I can get pretty tan, I also get pretty fair in the winter. I opted for the medium and found that it gave me a really nice, natural tan that felt like what I would look like after a trip to the beach.
For lighter skin, go with the light, and for darker, go dark. What's great about these drops is that you can add more or less to achieve the color you want. The drops themselves are actually almost clear, but the color develops within a few hours of applying.
The Isle of Paradise Self Tanning Drops are Non-Toxic
As a skincare lover, I was thrilled to learn that these tanning drops are formulated in a way so they are vegan, cruelty-free and organic. Because of this, I used them while pregnant and nursing. If you're concerned at all, always ask your doctor or just wait until you're done.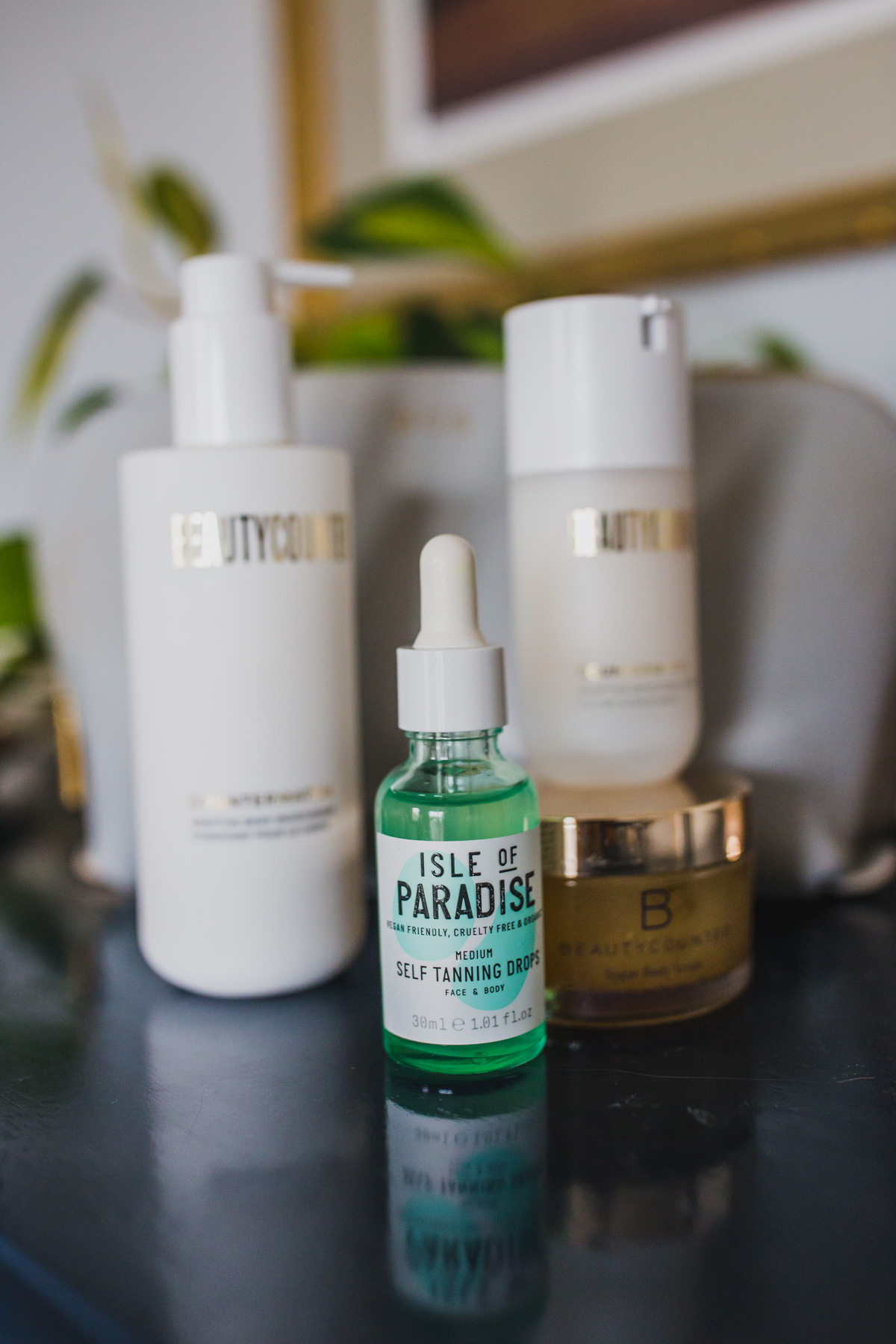 You Can Use Tanning Drops on your Face & Body
This product is designed to be used on your face and body, which is great—one less thing to buy. I also loved that these really helped reduce the appearance of dark spots and melasma for me. Not because it makes them go away, but because my skin is darker, it makes them less obvious!
If I was to sit in the sun to tan my face darker, my dark spots and melasma would also get worse, so this is a great option for anyone else who's dealing with those issues, scars or hyperpigmentation.
The Price is Right
The price for a bottle is only $32, and they go a long way. I don't use them everyday, but they have lasted me months! You only need a few drops to get the healthy tan you're looking for, so that made these an easy yes for me.
Other products, like these Tan Luxe drops which I've also heard great things about, are $50 for the same amount of product, and the reviews are similar.
Where to Buy Isle of Paradise Self Tanning Drops
You can get these online at many different retailers, and my two go-to spots are:
Amazon: If you have Prime, you can't beat that super fast shipping.
Sephora: If you're a Sephora loyalist or VIB member, snag them here

The light is in the pink bottle, blue is medium and purple is for the dark drops.
How to Properly Apply Isle of Paradise Self Tanning Drops
To apply the self tanning drops, you simply mix a few drops with your moisturizer and apply like normal.
Make sure to wash your hands after applying! I can't stress that enough. It's easy to forget since the drops go on clear. But if you don't wash it off, your hands will develop a tan too, which doesn't look so natural.
As I mentioned earlier, you can customize your tan by adding more or less drops. From my personal experience and asking around, here's what I suggest when you're first starting out.
Isle of Paradise Self Tanning Drops for your Face
To get the best, most consistent results, I found that applying tanning drops on my face about 2-3 times per week allowed me to maintain and even, healthy glow.
When you first start, you might want to apply them for 2 days consecutively to achieve the color you want. Then spread out your application to every other day or more. I found that the tan showed up faster than I was expecting, so you might not need to do that.
When I first tried them, I started with one drop mixed with my daily moisturizer—I'm hooked on this clean one, but didn't notice much of a difference. I asked around and most people said 3 drops, so I tried that, and felt like it was too much. My husband even noted that I looked like I'd been hitting the tanning bed.
The Perfect Amount for Face
After some trial and error, and an overly tanned face, I found that two drops mixed with my moisturizer about 2-3 times per week was ideal. I've also noticed that my tan looks best when I apply the drops the morning or night after I've exfoliated.
I typically give it at least a half hour to absorb before applying makeup, longer if I can, but I didn't notice any issues with streaking or splotchiness after applying makeup. If anything, the natural glow makes my makeup look better and more even. And, it makes it easier for me to go makeup free!
How to Apply Isle of Paradise Tanning Drops for your Body
Since you're covering more surface area when tanning the rest of your body, you'll want to use more drops per area.
Knowing how much was right for my face, I upped it for my body. I started with 3 drops per area (leg, stomach/chest, arm) mixed with my body moisturizer and that did the trick for me. Just to clarify, that means 3 drops per single leg or single arm.
Best Tips for Applying Tanning Drops to your Body
Dry brush before applying your drops, or use a good scrub in the shower to exfoliate—I LOVE this non-toxic one.
This will slough away dead skin cells and give you a more even and more natural-looking tan. Shaving your legs before applying is also a great idea because it naturally removes the top layer of dead skin cells.
If you want a darker tan, add more drops to get the look you're after, or opt for a darker shade.
I found it was best to avoid showering for at least 4 hours and stick to looser fitting clothing while the tan develops. On nights I'm going to use it, I'll take an early shower and just wear baggy sweatpants or my robe until bedtime and I haven't had any issues with it staining my sheets.
To make your tan last longer, make sure to regularly moisturize your body too.
What If You Go Overboard?
The good thing is that if you overdo it, it won't last forever. After my initial face-tanning test that ended in a super tan, I simply didn't apply it for 3-4 days and it looked normal very quickly.
If you need a little extra help, do some gentle exfoliation with a cleanser like this one for your face, or use a body scrub, I love this Lemongrass Scrub, to help lessen the intensity. And, be patient! It'll fade over a few days.
This is also a good reminder to not test out tanning drops for the first time before a big event. Try them out a few weeks before to make sure you find the right balance for your body and skin color.
If you're looking for a healthy, tan glow without the sun, I highly recommend you try these out. I think you're going to be as obsessed as I am!
BTW, how to easily clean your makeup brushes, and a DIY hair oil for healthy growth.