Who else is excited that it's finally summer?! In the winter, I often ask myself why we live here, then summer arrives and I remember exactly why I love the Windy City so much. With summer here, I'm finding myself in shorts and dresses that show off my arms and legs every single day.
And, I love that, summer is this Texas gal's season! But, after several months of grey skies and cold weather, my skin definitely doesn't look its best.
One wellness practice that I've made more regular in the past few months is dry brushing. It's one of those easy things that you can do in the morning before you shower and it has a whole host of benefits that can make your skin look so great! It doesn't require any fancy equipment, is super relaxing and will help your whole body with detoxification.
What is Dry Brushing
Dry brushing aims to exfoliate your skin with a dry brush on dry skin. Your skin is your body's largest organ and many toxins are excreted from our pores. This practice helps to keep our pores unclogged and remove toxins that have built up in our skin.
Dry Brushing Benefits
It might be hard to believe that something as simple as brushing the skin could have so many perks, but this simple wellness practice is one that packs a punch! Another upside? This skin care practice feels like you're getting a spa treatment before you shower. Who doesn't want that?! Here are a few more benefits.
Lymphatic Drainage
Your lymphatic system is responsible for ridding your body of unwanted toxins, but every now and then things get stagnant and they need a little push. I first realized the power of lymphatic drainage massages after a facial I had that incorporated that type of massage. A week after the facial, my skin was glowing! I'm talking the clearest it had been in months! Did she use any crazy topical ingredients? Nope, it was a simple organic facial, but that massage did so much good!
If it can do that much good for your face, imagine what it can do for the rest of your body. Dry brushing helps to reinvigorate the lymphatic system and get things moving and help to detox your skin and body.
Unclogs Pores
Clogged pores make it harder for our bodies to detox and lead to things like breakouts and uneven skin tone. The dry bristles gently remove dead skin and encourage the growth of new cells to reveal healthy, glowing skin.
Exfoliating helps to clear clogged pores which makes them appear smaller over time and keeps your skin looking clear and beautiful! It also helps get rid of ingrown hairs!
Clearer & Smoother Skin
I'm all about doing anything I can to keep my skin as clear as possible. Dry brushing has been a huge help in keeping my skin—on my face and the rest of my body—clear. If you struggle with breakouts on your chest or back, dry brushing those areas will be a huge help! I've seen a huge improvement in my own skin when I'm dry brushing regularly.
If you're wondering, yes, you can dry brush you face! It's easier to do with a smaller dry brush. Make sure you brush extra gently as this sensitive area is just that—sensitive!
Reduce Cellulite
Okay, this one is hotly debated. Technically, there's no way to reduce cellulite for good (unless you want to do liposuction), but dry brushing can help reduce the appearance and give your skin a more even, full look.
According to this article, cellulite typically forms around the back of our thighs, bums, arms and stomachs and it's frequently the result of fluid retention and poor circulation. Dry brushing increases circulation throughout your body. That increased circulation helps to remove toxins from your body, resulting in smoother, plumper skin which can make those pesky, dimply areas look better!
Detoxification
All of the above benefits sort of point to this one, but it's worth mentioning detoxification anyway. Boosting your lymphatic system and sloughing off dead skin cells makes it easier for your body to get rid of toxins. Less toxins means a healthier you.
Makes it Easier to Absorb Nutrients
After dry brushing, your skin can more easily absorb nutrients and hydration from skincare products. After dry brushing, I always give my skin a healthy dose of hydration from my favorite Advanced Clinicals products. First I use their body oil and secondly, a layer of lotion if needed!
Body Brush for Dry Brushing
There's so many brushes out there, but I recommend you opt for a body brush with natural, firm bristles instead of a synthetic material. I also suggest getting one with a long handle for those hard to reach areas like the middle of your back! Often, you can find them in sets! The set I purchased had a long one as well as a small one for your face.
How To Dry Brush Your Body Correctly
The key to dry brushing correctly is starting with dry skin! Brush before you shower so that you can rinse off all the impurities and dead skin cells off afterward.
Now, onto how to actually brush! I start at my feet and move upwards towards my heart. I typically set a timer for five minutes to make sure I do a thorough job. It might sound like a long time, but I promise it goes by quickly, plus it's super relaxing and feels a bit like a spa treatment. Five minutes of self-care can go a long way!
Step One: Feet & Legs
Use small circular motion on your feet and then move up towards your legs using upward strokes. You want to use a little pressure, but don't go too hard. If it hurts, you're brushing too hard.
Make sure to get the front and back of your legs and then move onto your hips and butt. I felt funny brushing my bum, but honestly, it has made my skin so much softer and smoother which is great since it's now summer and I'd like my bum to look as good as it can in a swimsuit! I use upward strokes here. The upward motion helps push and toxins and fluids in the same direction as your legs. Brushing downwards can also stretch your skin in the direction we don't want it to go! I also dry brush the area just under wear my underwear hits. If you're susceptible to ingrown hairs, this might be a great solution for you.
Step Two: Torso
Next is your torso. More upward strokes on your stomach and sides. When it comes to my back, I'm a little less strategic simply because it's harder to reach so I just try to get it as best as I can. This is when that long handle really comes in handy.
Make sure to dry brush your chest and your breasts—the skin here is thinner, so be gentle. Move in circular motions here! You can also dry brush your armpits if you feel like it too.
Step Three: Arms & Shoulders
Work on your arms and shoulders next. Use those long upward strokes. If you get those little red bumps on the back of your arms, I've heard that dry brushing can be super helpful! I also do the tops of my hands and fingers.
Step Four: Neck & Face
Lastly is your neck and face. This is when a smaller face brush is super helpful. If you're dry brushing your face, make sure you've removed all your makeup and cleansed your face first. If it's still dirty, dry brushing will just push those impurities and dirt back into your skin.
Instead of starting at the bottom and working up, start at your forehead and work down to push anything down towards your neck. Be extra gentle and do small circular motions all around your face. Use upward strokes on your neck, making sure to gently massage your lymph nodes to help detox your body.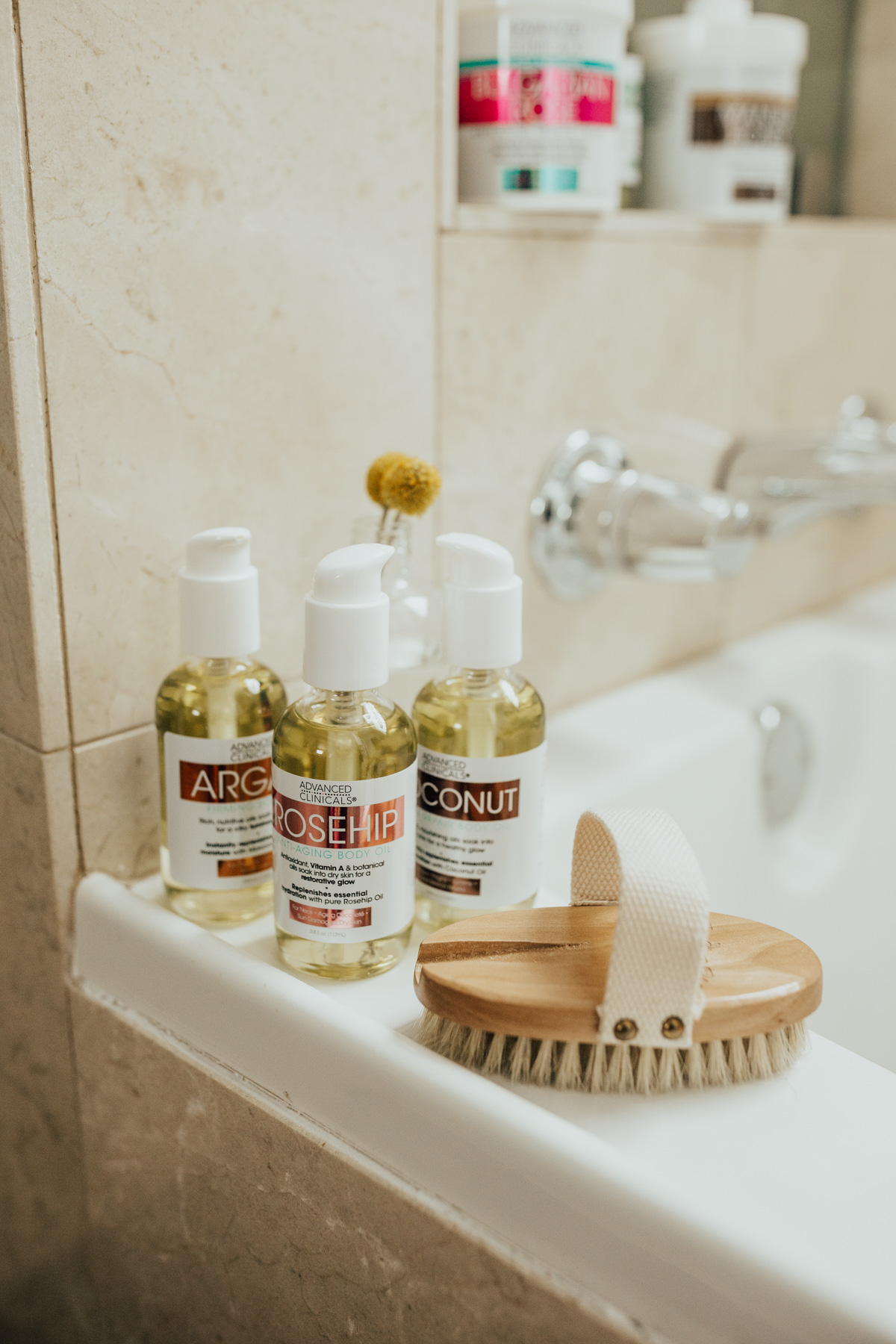 What to Do After you Dry Brush
What you do after dry brushing is just as important. Once you've gotten rid of all those dead skin cells, you'll want to give your skin a good dose of moisture. I find that after dry brushing, my skin absorbs body oils and lotions faster and my skin looks so much better.
After dry brushing, you're primed and prepped to absorb nutrients and moisture! I gently dry off my body and lather on Advanced Clinicals body oil all over my body. I have several different varieties and love switching it up every few days. I love that their oils are especially designed for specific needs, so depending on what your skin needs, you can choose accordingly.
A few of my favorites are the anti-aging Rosehip, Coconut Oil (smells amazing), Collagen for keeping everything tight and youthful looking, and Argan, which is firming!
After I let that fully absorb, my skin sometimes needs another layer of hydration. I swear, the older I get, the drier my skin is getting! I'll put a layer of lotion like this Bulgarian Rose Anti-Aging Rescue Cream—it's super hydrating and smells really nice too. The double layers of moisture make my skin super soft!
How Often Should You Dry Brush?
So, now you know how and why you should dry brush, but how often should you do it?!
If you can get in a dry brushing session daily, do it! It such a great way to keep your skin looking healthy and to help keep your whole body detoxified. That being said, dry brushing your skin a few times a week can be hugely beneficial too! I'll be honest, I don't dry brush everyday—I don't have the time. With Owen and a job, sometimes I forget or I'm simply too tired to take those extra five minutes to do it. I aim to dry brush 2-4x a week and can tell a huge difference in my skin when I'm regularly brushing.
Now that it's summer, I'm more diligent about it since my skin is out in the open. I swear it makes my tan last longer, which is awesome since we don't spend that much time sitting in the sun when we're with Owen. Dry brushing has a cumulative effect too—the more frequently you do it, the better the results.
If you have really sensitive skin, be gentle! And pay attention to how your body reacts. Daily dry brushing might be too much for you. Watch and dry brush accordingly!
Have you practiced dry brushing before? What benefits did you see? What are you favorite wellness practices?
Thanks to Advanced Clinicals, a brand I love and trust, for sponsoring this post! Partnerships like this help make The Fox & She possible!
BTW, 4 ways to naturally detox your body, and 5-minute detox pesto.