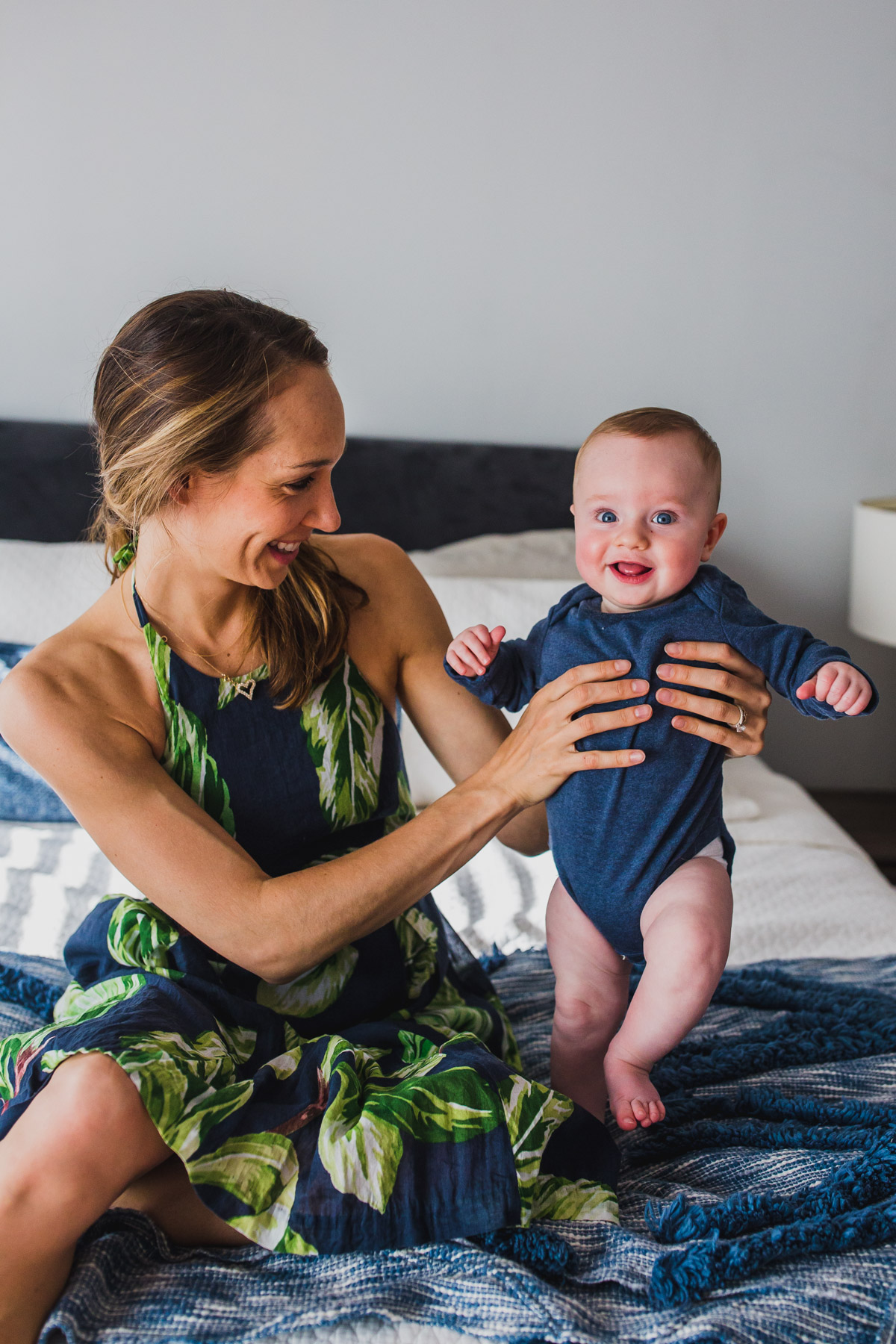 This probably doesn't come as any surprise, but over the past year, I've turned into a total skincare junkie. I'm sort of embarrassed by how many products sit on our counter. At least I have them displayed on a pretty tray?! Rob doesn't get it, but hopefully some of you can empathize with my obsession.
Anyway, one question I get all the time from breastfeeding and expecting moms is "is this product safe for pregnancy?!" I asked myself that question so many times during my own pregnancy. My doctor suggested that I stay away from retinoids as they have been linked to birth defects, so I stayed away from those during my pregnancy. A good rule of thumb is that if it's not safe for pregnancy, it's probably not safe for nursing.
For the most part, my skincare routine was already pretty safe, but if I had any doubts, I'd check the label for toxic ingredients or ask my doctor! I recommend you do the same if you're wondering about a specific product or ingredient. It's always best to consult with your doctor and trust your gut!
Since I get this question so often, I did want to share a few products that I used throughout my pregnancy and through breastfeeding (still going, though we're slowing down).
Skincare Product Safe for Pregnancy & Breastfeeding
Makeup Remover & Cleanser
It wasn't too long ago that I discovered cleansing balms and since then, my nightly skincare routine always starts with that! They do a superior job of removing makeup, dirt and grime. My all-time favorite cleansing balm is this one from Beautycounter. Cleansing balms can be a littler pricey, but they last forever! You don't need much each use, so it actually works out to be a pretty good deal! Another one I love is this Elemis Pro-Collagen Cleansing Balm. Both are gentle, and leaves your skin feeling super soft! If you don't want a balm for removing your makeup, I highly suggest this eye makeup remover and these makeup removing wipes! The wipes are especially great for travel or keeping in your gym bag.
Once my makeup is fully removed, then I use a cleanser to actually clean my skin. I went through several over the course of the past year and my favorites include Juice Beauty's Blemish Clearing Cleanser, Indie Lee's Brightening Cleanser (my sister loves their rosehip cleanser), Tata Harper's Regenerating Cleanser that is a good exfoliator too.
Toner
I used to use a very astringent toner and realized that it was causing more damage than good. I switched to a gentle one that works well for my oily, breakout-prone skin. I love this charcoal balancing mist! It's lightweight, helps soak up extra oil and leaves my skin feeling balanced and even.
I also like this Coconut Rose Toner from Kopari. It's light, refreshing, leaves my skin feeling balanced and hydrated and smells really nice too!
Serums pack a powerful punch and can contain some potent ingredients, but after looking through labels, I found plenty that weren't safe! One I used throughout my pregnancy was Tata Harper's Concentrated Brightening Serum. I was getting dark spots on my forehead and this helped to manage those. It's an investment though, but well worth it!
I've since been using this resurfacing peel for the past month and I'm obsessed! It's been one of my most loved products in a long time because it just works that well. It helps clear clogged pores and my skin is continually looking clearer and smoother than it has in a long time. It does have some powerful ingredients, but it says it's pregnancy safe online—if you're concerned, always ask a doctor!
Moisturizers & Night Creams
I used a variety of different things because I love trying new products. Some of my favorites are Countermatch adaptive moisturizer and the men's oil-free moisturizer. I've stolen my husband's since he has drier skin than me!
Every other night I like to use a facial oil for extra hydration and I love this one. It actually helps balance oil production which curbs breakouts!
Masks & SPF
I love a good mask and have quite the collection! I really love Herbivore's Blue Tansy, Tata Harper's Resurfacing Mask, Fresh's Umbrian Clay Mask and Beautycounter's Charcoal Mask! Some people have told me to be aware of BHA in products while pregnant or breastfeeding, but I didn't find out about that until the very end of my pregnancy and had no issues—but just want you to be aware!
As for SPF, I use this Coola primer on my face every day and I absolutely love it! It's light and makes me skin look smoother. Now that summer is here, I'm picking up this Supergoop! Everyday SPF!

Whenever you're in doubt, just ask your doctor or a sales person about the safety of ingredients. One reason I love Beautycounter is that all their products are safe for pregnancy! Credo is another great place to find clean beauty.
What products did you swear by while pregnant?
BTW, what's in my summer clean beauty bag, and is microneedling worth the hype?!