If you're looking for some Thanksgiving desserts recipes that are unique and unexpected, these 15 recipes will hit the spot.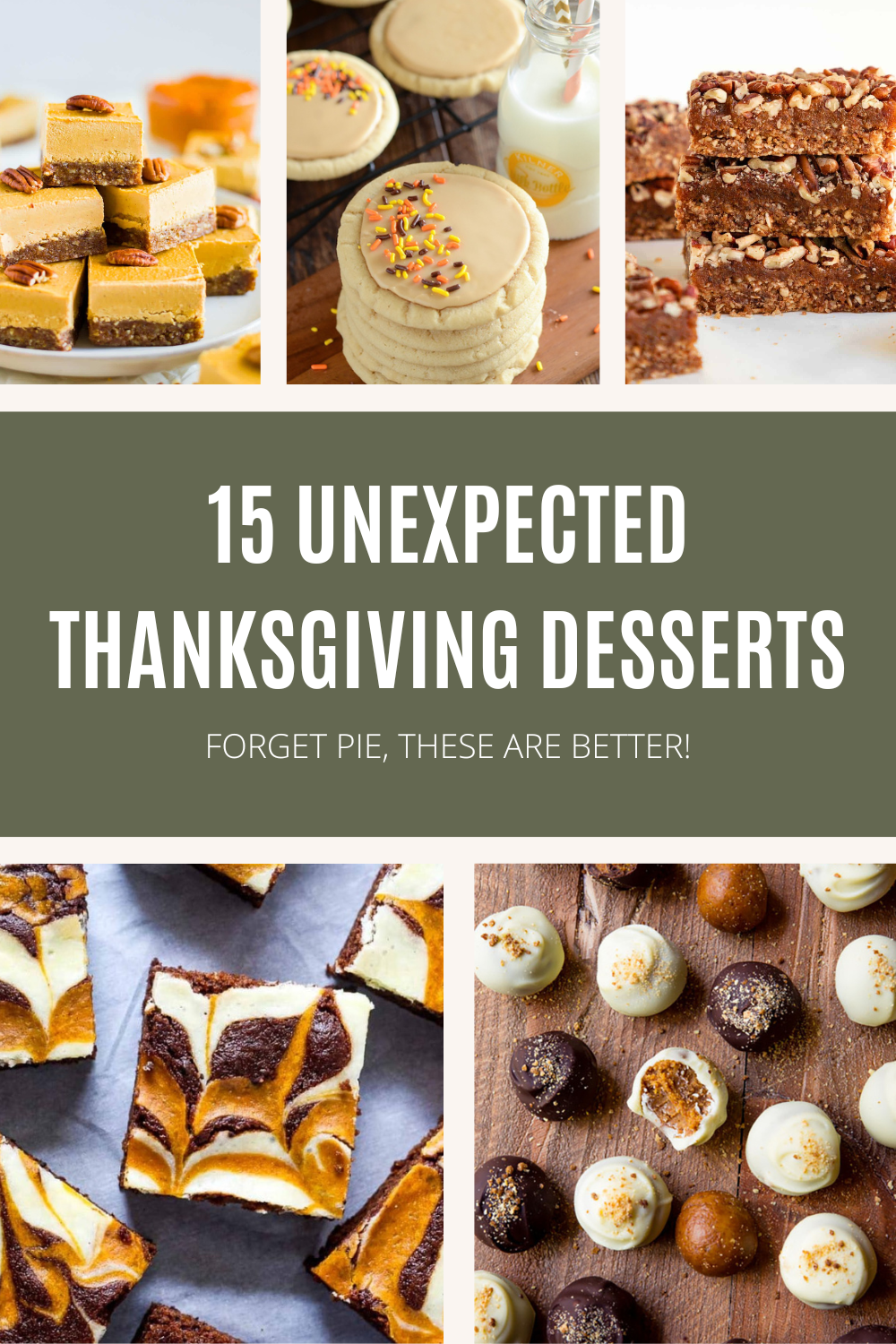 November is nearly here, which in America means Thanksgiving is almost here! I have to say, Thanksgiving is one of my all-time favorite holidays. I think I love it so much because there's not quite as much pressure as there is with Christmas. It's really just a big, fun day with my family and amazing food.
We switch off families every year, but no matter where we end up, I always like to help out and bring something or take on some major cooking.
When it comes to dessert, our family usually has two pies, pumpkin and pecan—sound familiar? Probably, and there's nothing wrong with them. In fact, pecan is my favorite and pumpkin is Rob's favorite! But, it's fun to switch things up and have a fresh take on dessert (or any part of your Thanksgiving feast).
These Thanksgiving desserts that aren't pie are a refreshing take on the final course of your feast. While these desserts might not be the most traditional for Thanksgiving, they look so delicious right?!
Number 7 and 14 are both high on my list this year—which one would you make?
15 Unexpected Thanksgiving Desserts Recipes You Need to Try
1. Chocolate Cream Pie
image & recipe: How Sweet Eats
Admittedly, I'm not a big chocolate gal myself, but all your chocolate lovers? Rejoice! This decadent chocolate cream pie is not only beautiful, but looks scrumptious.
2. Cranberry Almond Chocolate Chip Cookies
image & recipe: Tastes of Lizzy
Cookies aren't your typical dessert, but these are perfect for a dessert station. Or send your guests home with cute bags full of these! Almonds and cranberries are such a yummy combination here.
3. Berry Crisp
image & recipe: The Veg Life
I'm a huge fan of crisps, one with fresh berries—yum!!! Also, how cute are the little leaves on top. If you're looking for those pie crust cutters, you can find them here.
4. Chocolate Bundt Cakes
image & recipe: Regan Baroni
These bundt cakes are simple, and so beautiful! The powdered sugar dusting looks like fresh snow.
5. Pumpkin Spice Truffles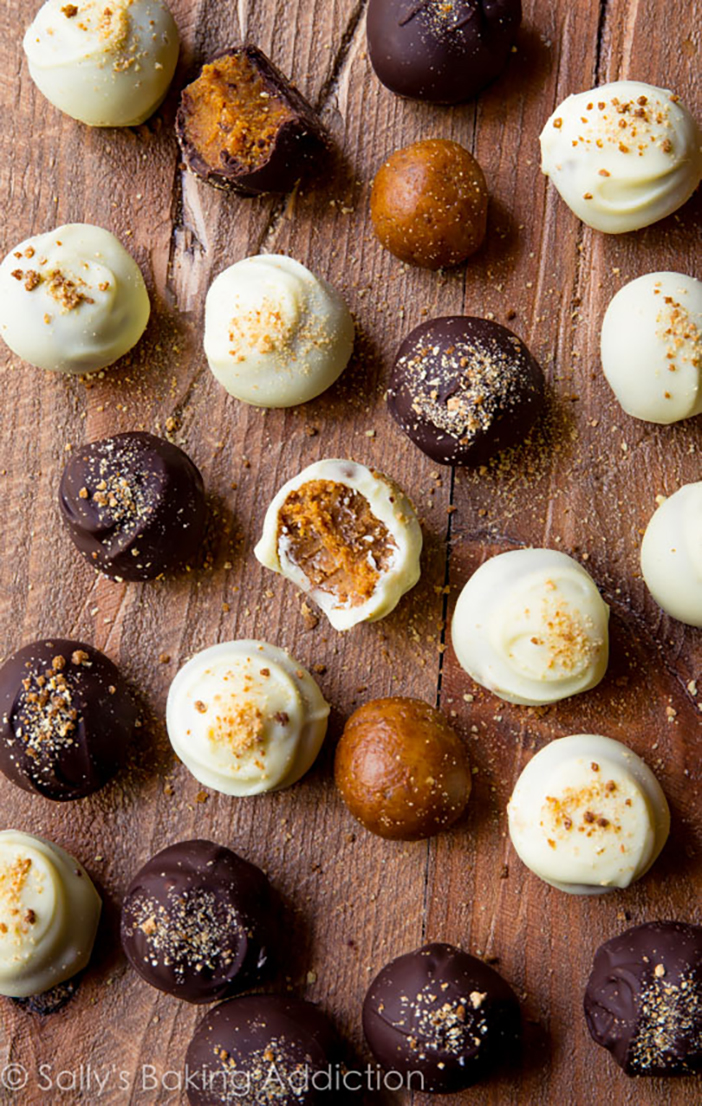 image & recipe: Sally's Baking Addiction
I'm always so full after the meal, but these would be the perfect little bite at the end of a meal! If you're looking for ideas for Thanksgiving desserts that aren't pie, this one fits the bill!
6. Pear Tart
image & recipe: Entertaining With Beth
What I love about this easy dessert is that it looks so simple and elegant! Perfect for newbie bakers!
7. Apple Caramel Cake
image & recipe: Boston Girl Bakes
Umm, pretty much everything about this sounds delicious! Caramel and apples in a cake? Sign me up! It's definitely decadent, but would be such a nice change from pie.
8. Applesauce Cake
image & recipe: Red Velvet NYC
Rob's not a big fan of icing, so a simple drizzle over a bundt cake is perfect! I love how simple and elegant this Thanksgiving desserts recipe is!
9. Cranberry Sauce Popsicles
image & recipe: Regan Baroni
These really push the boundaries, but look so delicious! Something cold and fresh like these cranberry popsicles would be such a refreshing dessert after a big meal.
10. Maple Sugar Cookies
image & recipe: The Novice Chef
Again, cookies aren't the most traditional, but these flavors are spot on! Try all white sprinkles for a really elegant look! I know my kids would love these so much.
11. Pecan Pie Cheesecake
image & recipe: Giraffes Can Bake
Like I mentioned, I love pecan pie, but pecan pie cheesecake—WHAT?! I have a strong feeling that I would really love this one!
12. Apple Crumble Pie
image & recipe: Sally's Baking Addiction
Lastly, an apple crumble pie! Apple pie is traditional, but adding a crumble topping instead of the traditional lattice top makes this one a bit different. I made it for our Friendsgiving last weekend and it was a big hit! The crumble topping added a nice crunch on top and all the spices are so delicious! I swapped steel cut oats for the walnuts because Rob is allergic to them and it was delicious!
13. Vegan Pumpkin Cheesecake Bars
image & recipe What Molly Made
I'm not a vegan, but these still look insanely yummy! They'd definitely be lighter after a big meal too. I'm a big fan of pecans, so this one is on my list to try!
14. No-Bake Pecan Pie Bars
image & recipe Purely Kaylie
I've been looking for this exact Thanksgiving desserts recipe for a while! I love pecans, but pecan pie can be so sugary and overly sweet. These bars fit the bill. Plus, no bake? Yes please!! One less thing to do makes this recipe a yes in my book!
15. Pumpkin Cheesecake Brownies
image & recipe Chocolate with Grace
These not only look delicious, but also so beautiful. Such a fun combo of some of my favorite desserts with the fall twist of pumpkin.
What is your family's go-to dessert for Thanksgiving? Which of these easy holiday desserts looks most appetizing to you?!
BTW, 15 healthy Thanksgiving recipes to try this year, and the best roast chicken EVER.