Can you guys believe it's November. I don't know what it is about this year, but it's flown by! Since we were in Italy last year for Thanksgiving, I'm really looking forward to being at home and celebrating with the traditional turkey and stuffing feast instead of pasta, even though the pasta was amazing!
When it comes to dessert, our family usually has two pies, pumpkin and pecan—sound familiar? Probably, and there's nothing wrong with them. In fact, pecan is my favorite and pumpkin is Rob's favorite! But I like to switch things up occasionally! A few years ago I put a twist on mashed potatoes by adding garlic and rosemary, and this year, I'm thinking about something new for dessert! These might not be the most traditional Thanksgiving desserts, but they look so delicious right?!
1. Chocolate Cream Pie
image & recipe: How Sweet Eats
Chocolate lovers rejoice! This decadent chocolate cream pie is not only beautiful, but looks scrumptious.
2. Cranberry Almond Chocolate Chip Cookies
image & recipe: Tastes of Lizzy
Cookies aren't your typical dessert, but these are perfect for a dessert station. Or send your guests home with cute bags full of these!
3. Berry Crisp
image & recipe: The Veg Life
I'm a huge fan of crips, one with fresh berries—yum!!! Also, how cute are the little leaves on top. If you're looking for those pie crust cutters, you can find them here.
4. Chocolate Bundt Cakes
image & recipe: Up Close & Tasty
These bundt cakes are simple, and so beautiful! The powdered sugar dusting looks like fresh snow.
5. Pumpkin Spice Truffles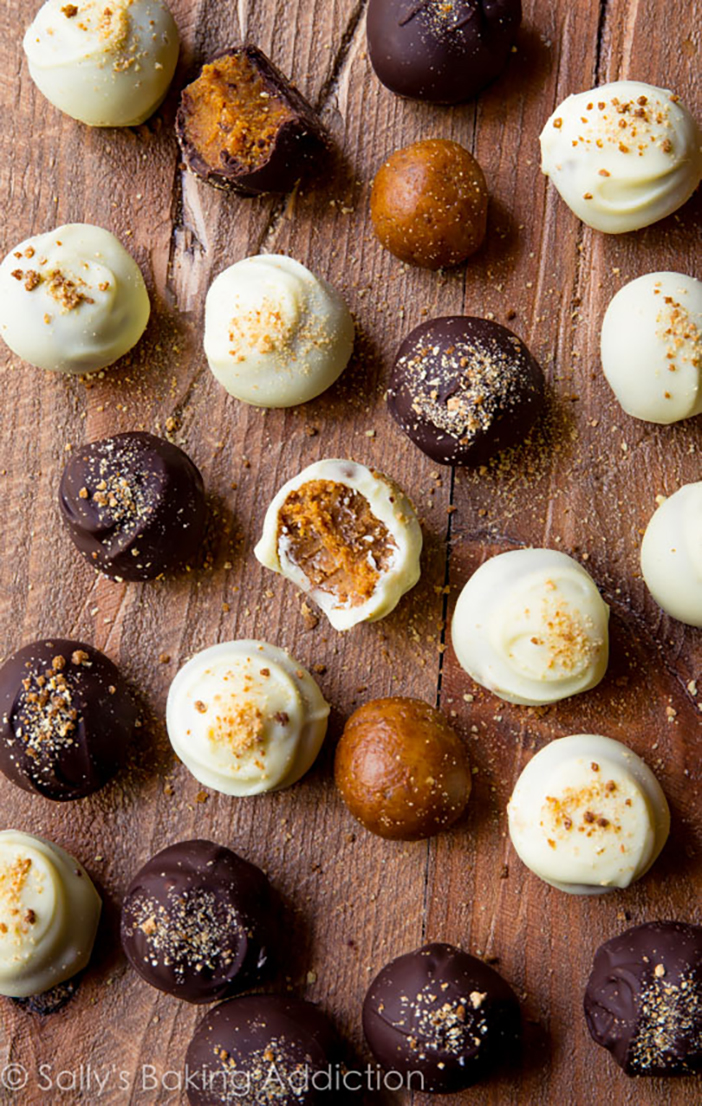 image & recipe: Sally's Baking Addiction
I'm always so full after the meal, but these would be the perfect little bite at the end of a meal!
6. Pear Tart
image & recipe: Entertaining With Beth
What I love about this easy dessert is that it looks so simple and elegant! Perfect for newbie bakers!
7. Apple Caramel Cake
image & recipe: Boston Girl Bakes
Umm, pretty much everything about this sounds delicious!
8. Applesauce Cake
image & recipe: Red Velvet NYC
Rob's not a big fan of icing, so a simple drizzle over a bundt cake is perfect!
9. Cranberry Sauce Popsicles
image & recipe: Up Close & Tasty
These really push the boundaries, but look so delicious! Something cold and fresh like these cranberry popsicles would be such a refreshing dessert after a big meal.
10. Maple Sugar Cookies
image & recipe: The Novice Chef
Again, cookies aren't the most traditional, but these flavors are spot on! Try all white sprinkles for a really elegant look!
11. Pecan Pie Cheesecake
image & recipe: Giraffes Can Bake
Like I mentioned, I love pecan pie, but pecan pie cheesecake—WHAT?! I have a strong feeling that I would really love this one!
12. Apple Crumble Pie

image & recipe: Sally's Baking Addiction
Lastly, an apple crumble pie! Apple pie is traditional, but adding a crumble topping instead of the traditional lattice top makes this one a bit different. I made it for our Friendsgiving last weekend and it was a big hit! The crumble topping added a nice crunch on top and all the spices are so delicious! I swapped steel cut oats for the walnuts because Rob is allergic to them and it was delicious!
What is your family's go-to dessert for Thanksgiving? Which of these easy holiday desserts looks most appetizing to you?!
BTW, peach and blackberry galette, and the best roast chicken EVER.