When it comes to fall and winter, ankle boots are easily some of my most-worn pair of shoes. They pair well with just about everything and are a wardrobe classic that everyone needs, so let's talk about how to style ankle boots with different types of outfits so you feel confident no matter what the occasion—everything from work, school drop-off, lunch with friends, dinner out and more, plus which styles look best with different outfits and body types.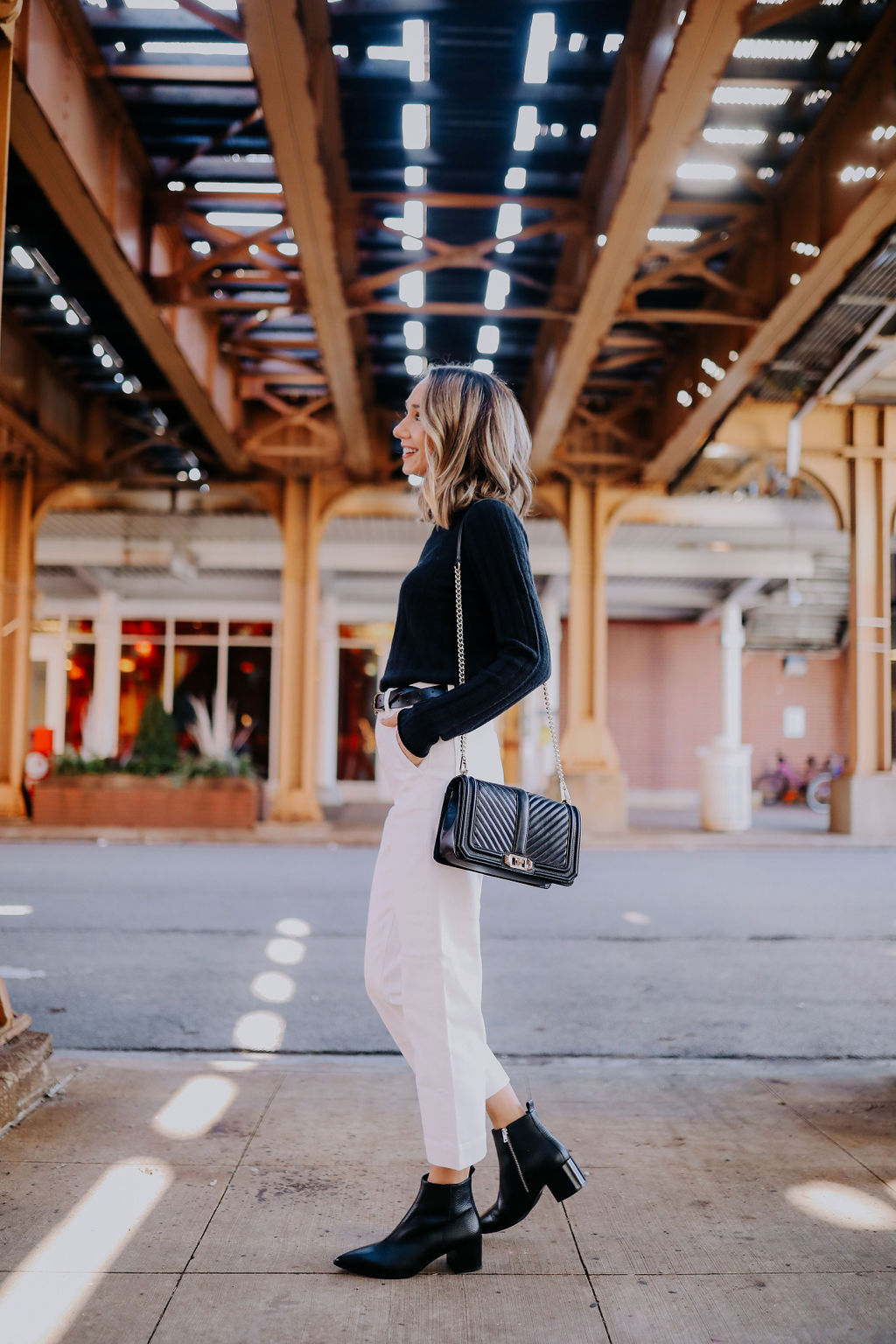 No matter what your personal style is, there's a place for ankle boots in your wardrobe and with plenty of your outfits. Whether you want to achieve a sophisticated and polished look or a more edgy and casual vibe, I've got you covered.
Why Ankle Boots are a Must-Have in your Wardrobe
Ankle boots are more than just a practical choice for keeping your feet warm and protected. They are a versatile and stylish footwear option that can instantly elevate any outfit. Whether you prefer a classic leather ankle boot or a trendy suede option, ankle boots are a great investment for fall and winter.
When selecting ankle boots, consider the heel height and shape that best suits your personal style and comfort. Chunky heels like lug sole ankle boots offer a more casual and edgy look, while stiletto heels add a touch of sophistication. Flat ankle boots are perfect for a relaxed and effortless vibe.
When picking a color, I always recommend looking at your closet to decide which color will complements your wardrobe best. For me, that's always a good neutral—brown, tan and black—and opt for quality materials that will stand the test of time like leather and suede.
When choosing ankle boots, consider factors such as heel height, material, and color that will complement your personal style. What works with one outfit, won't always work with another. For example—wide leg ankle boots with wide leg pants? Probably not the best combination. Wide leg pants with an ankle boot that's narrow at the ankle will create better balance and shape.
That's why it's great to have several pairs to fit with different looks so you can get the most use out of all of your favorite pieces in your wardrobe.
Types of Ankle Boots to Add to your Wardrobe
Flat Ankle Boots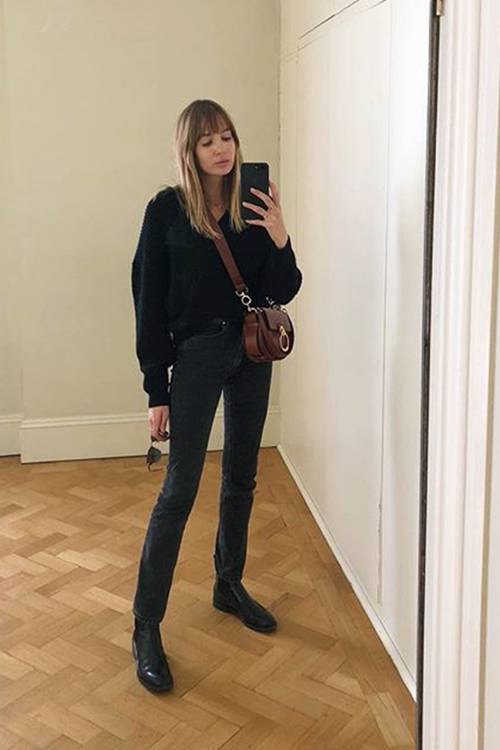 These are great for everyday wear with jeans, leggings, dresses and more. These can be thin-soled, or thick soled like the popular lug sole boots I keep seeing. Flat boots can have a classic look or an edgy look depending on the style you pick, so consider your own personal style when selecting a pair so they get lots of use.
Winter Ankle Boots
If you live somewhere cold like we do—Denver, having a pair of ankle boots that's warm, cozy and has good traction is not only a good idea, but totally essential. There's nothing like wearing boots with no traction and completely sliding through ice and snow!

When buying a pair of winter ankle boots, I always look for thicker boots, even with faux fur lining, good traction and waterproof or water resistant materials. Some of my favorite pairs are the ones that lace up the front, almost like a chic hiking boot. If they're not waterproof, you can always spray them with Scotchgard to make sure they last long and don't get destroyed by all the gross weather.
Heeled Ankle Boots
These are my go-to for a little added fashion and style and length to your legs. What I love about heeled ankle boots is that they come in so many different heights. As a mom, I'm usually opting for a 2-inch heel or below because they're easier to walk in, far more comfortable and practical, but still comfortable enough to wear all day walking around town.

You can opt for a more pointed, narrow heel for a elevated, chic look, or a chunky heel for a modern look. Personally, I prefer a chunky heel because I find them easier to walk in and more comfortable for longer wear.
Different Toe Shapes
There are several different toe shapes that are pretty common for ankle boots—round toe, pointed toe and square-toe boots. The square-toe boots are definitely trending this year, but I think boots are pretty classic and I wouldn't toss out your old ones simply becaise they're not that style.
A pointed toe boot is still very stylish and one of my personal favorites as I think they look classic, chic, edgy and elongate your legs.
If you're looking for one to avoid, this year, I'd skip out on buying round toe boots. If you have a pair you love, who cares—wear what you love, but I'm not seeing these as much right now.
How to Style Ankle Boots with Different Outfits
Paired with Jeans, Pants & Trousers
Ankle boots are the perfect companion to your favorite pair of jeans and this is how I'm wearing mine most of the time. In the past, I'd wear them with skinny jeans, but for the most part, my skinny jeans are sitting on the shelf this year in lieu of wider leg styles.
The key to a stylish and flattering look is to ensure that your jeans or trousers are the right length. They should hit just at or above the ankle, allowing the boots to peek out and create a seamless transition.
Straight Leg Jeans
Straight leg jeans are a great pair for skinny jeans. Opt for an ankle boot with narrow ankle so they sit under your jeans smoothly and create some shape. You can wear heeled or flat boots with these. To balance out proportions, make sure create definition at your waist. I love throwing a oversized coat over it all.
Wide-Leg Trousers or Jeans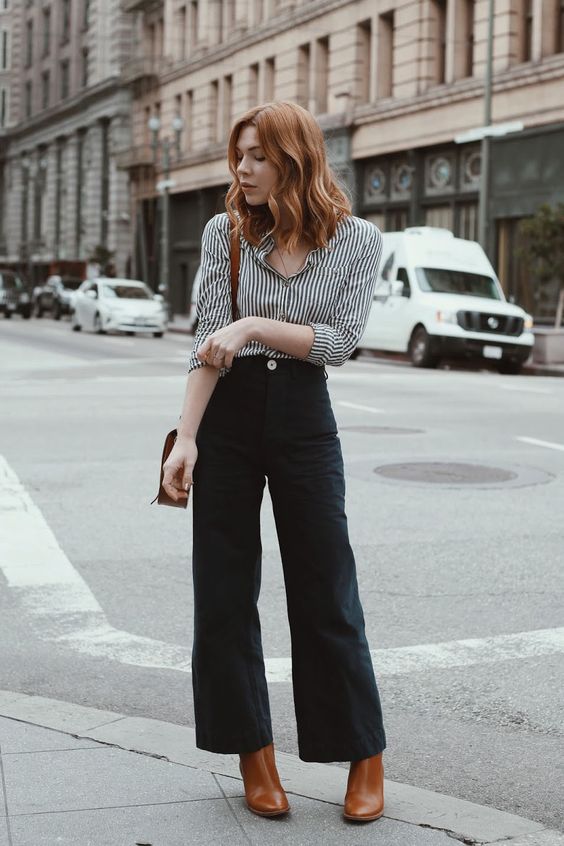 Wide-leg trousers are a chic and sophisticated choice for pairing with ankle boots. Opt for a high-waisted pair to create a flattering silhouette. Tuck in a fitted blouse or shirt and add a belt to define your waist. When wearing with a sweater, tuck the front of your sweater in to create some definition at your waist. For wide-leg styles, I like to pair pointed ankle boots to create length and balance out the volume of the pants.
Cropped Pants or Jeans
Cropped trousers are perfect for showcasing your ankle boots. The shorter length allows the boots to take center stage. Experiment with different styles of ankle boots, from sleek and minimalistic to bold and statement-making. Add a blazer or oversized coat to complete the look.
Skinny Jeans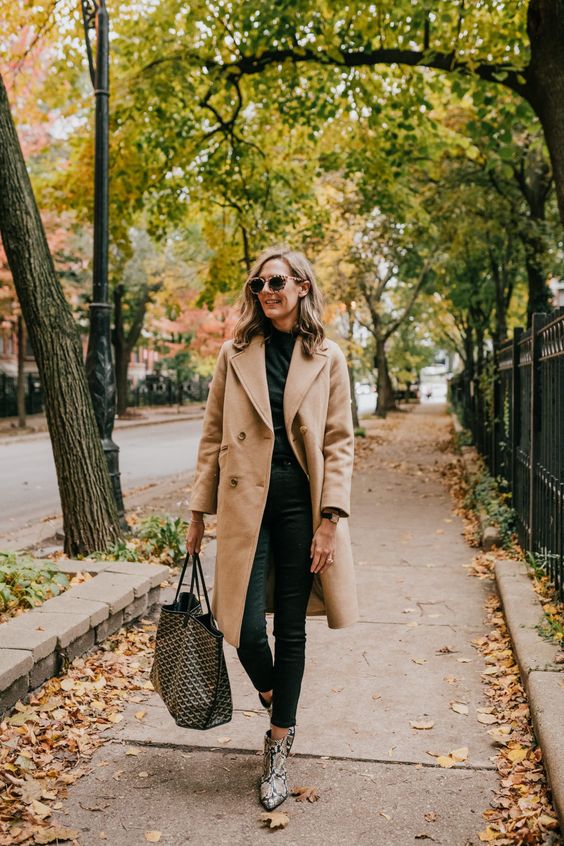 I know I'll get some flack for this because the internet has made it very clear that skinny jeans are out, but if you love them, you do you. I do think that for this season, I'm mostly wearing skinny jeans with taller or slouchy over the knee boots, but I also still think this above outfit is so cute.
Remember, the key to pairing ankle boots with jeans and pants is to create a balanced and proportionate look. Choose the right length and fit of the jeans or trousers to complement your ankle boots. Play with different styles and silhouettes to find the combination that works best for your personal style.
Paired with Dresses & Skirts
Ankle boots are not just for pairing with jeans and trousers, they can also be styled with skirts and dresses to create a chic and fashionable ensemble. The key to mastering this look is to find the right balance between the length of your skirt or dress and the style of your ankle boots.
For a feminine look, pair ankle boots with a flowy midi skirt or a bohemian-style maxi dress. If it's cold, throw on a sweater over a summer dress and cinch it at the waist with a thin belt. This combination adds an unexpected edge to an otherwise girly outfit.
To create a more polished and sophisticated look, opt for a fitted pencil skirt or a tailored dress paired with ankle boots. This combination is perfect for the office or a formal event. This would be a great time to wear pointed, fashion-forward boots.
Midi Skirts or Mid-Length Dresses:
I love a midi skirt and love a fuller fully skirt paired with heeled ankle boots. Opt for a skirt that hits mid-calf to just above the ankle to create a flattering silhouette. Tuck in your top or define your waist with a belt.
Maxi Skirts or Dresses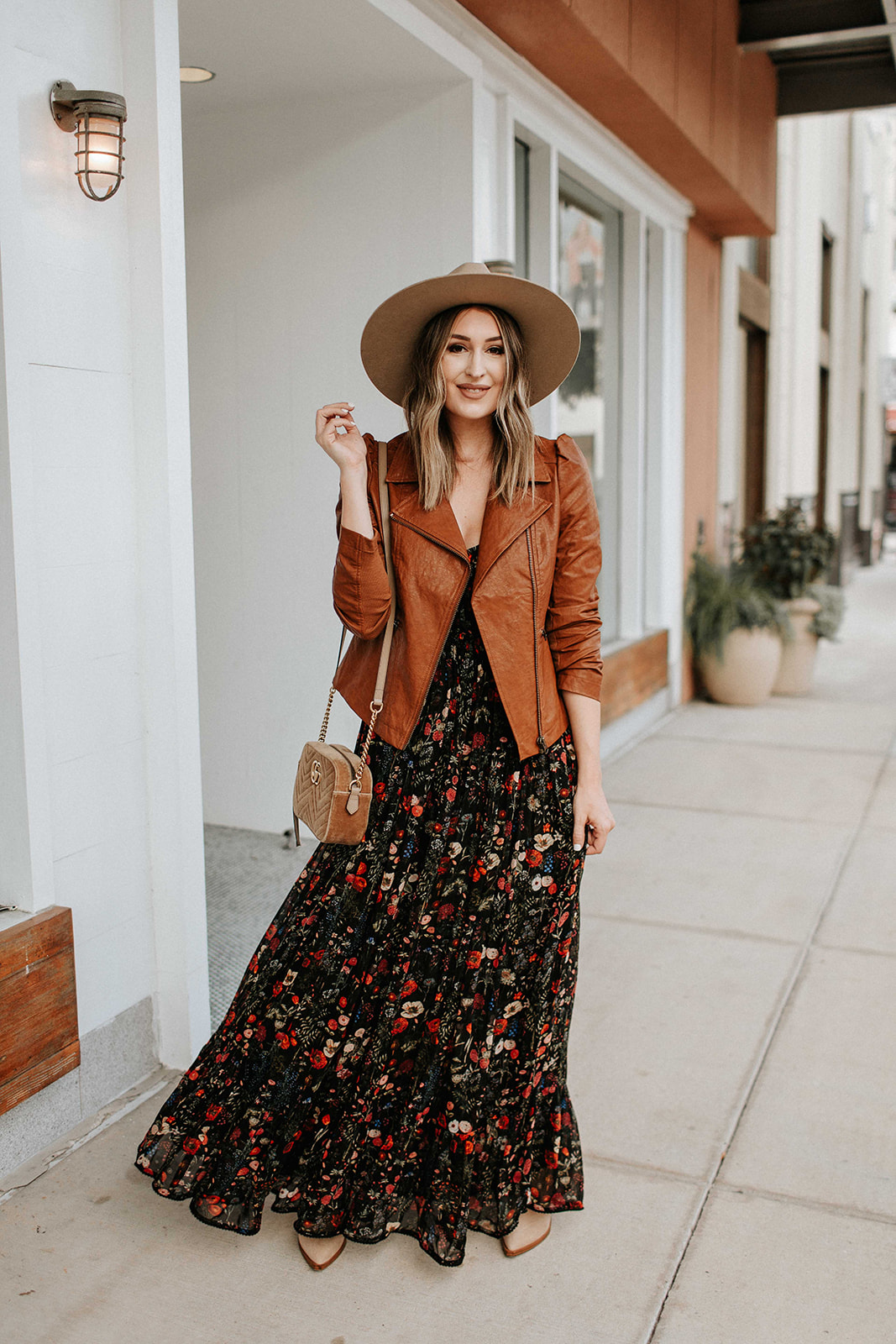 Ankle boots and maxi dresses create a bohemian and effortlessly cool look. Opt for ankle boots with a low heel or a flat sole to keep the focus on the dress. Or, add a simple heeled pair for a little height. Add a denim jacket or a leather moto jacket to add a touch of edge.
Remember, the key to pairing ankle boots with skirts and dresses is to create a balanced and harmonious look. Choose the right length and silhouette of the skirt or dress to complement your ankle boots. Experiment with different dresses and skirts and ankle boot styles to figure out what you feel most confident in.
How to Wear Them for Different Occasions—Casual, Work, and Night out
Ankle boots are a versatile footwear option that can be worn for various occasions. Whether you're going for a casual brunch with friends, a day at the office, or a night out on the town, ankle boots can be styled to suit any event. Here's how to wear ankle boots for different occasions:
For Everyday and Casual Wear
For a casual and laid-back look, opt for a pair of flat ankle boots. Pair them with skinny jeans or leggings and a cozy oversized sweater. Add a beanie and a scarf for a cozy and stylish outfit. If you prefer a more bohemian vibe, pair ankle boots with a flowy maxi dress and a denim jacket.
For Work
Ankle boots can be a stylish and professional choice for the office. Opt for a pair of ankle boots with a mid-height heel and a sleek silhouette. Pair them with tailored trousers or a pencil skirt. Add a blouse or a blazer for a polished and put-together look. Stick to neutral colors like black, brown, or navy for a professional vibe.
For a Night Out
Ankle boots can instantly elevate your night out look. Opt for a pair of ankle boots with a stiletto heel or a bold embellishment. Pair them with a little black dress or a sequin skirt for a glamorous and eye-catching outfit. Add statement jewelry and a clutch to complete the look.

Remember, the key to wearing ankle boots for different occasions is to choose the right style and silhouette. Consider the dress code of the event and adapt your outfit accordingly. Don't be afraid to experiment with different styles and textures to create a unique and personalized look.
How to Care for your Boots to Keep them Looking Great
To ensure that your ankle boots last for years to come, it's important to take proper care of them. If I've worn them somewhere dirty, I always make sure to clean the dirt off so it doesn't ruin the material or look dirty for the next wear.
I just use a soft, damp cloth to clean them. You can apply a leather conditioner or waterproof spray like Scotchgard to protect your boots from stains and water damage. Store your ankle boots in a cool and dry place, away from direct sunlight, to prevent them from fading or cracking.
When you take good care of them, a classic pair can last you years! I still have so many of my favorite pairs from years past, simply because I take care of them.
The Best Boots for Different Body Types
When it comes to choosing the right pair of ankle boots, it's important to consider your body type. Certain styles of ankle boots can flatter your figure and create a more balanced and proportionate look.
For those with shorter legs, opt for ankle boots with a low-cut front or a pointed toe. This will create the illusion of longer legs and make you appear taller. Avoid ankle boots that cut off at the widest part of your calf, as this can make your legs look shorter.
If you have wider calves, look for ankle boots with elastic panels or adjustable straps. These features will ensure a comfortable fit. Avoid ankle boots with bulky details or embellishments, as they can add volume to the boot.
For those with longer legs, almost any style of ankle boots will work well. Experiment with different heel heights and shapes to create different looks. Ankle boots with a higher shaft can also add a touch of drama and sophistication to your outfit.
Remember, the key is to find ankle boots that make you feel confident and comfortable. Try on different styles and silhouettes to see what works best for your body type. Don't be afraid to step out of your comfort zone and try new things—fashion is all about experimenting and expressing your personal style and wearing what makes you feel amazing!
BTW, how to style an oversized sweater, and how to wear overalls.