How to Wear a Spring Dress When It's Still Cold
This has been one of the mildest winters I've ever experienced in Chicago. My very first winter here was the only other easy one I can recall. I remember standing in the front room of my apartment painting over the disgusting shade of green on the walls. The sun was pouring through the windows and I had music blasting. If this was winter in Chicago, I could handle it! I'd opened all the windows because I was getting so hot inside—it was the first week of March and it was 80 degrees. Unfortunately, not all of Chicago's winters are as quick and painless as that one, but I'll take it when I get it!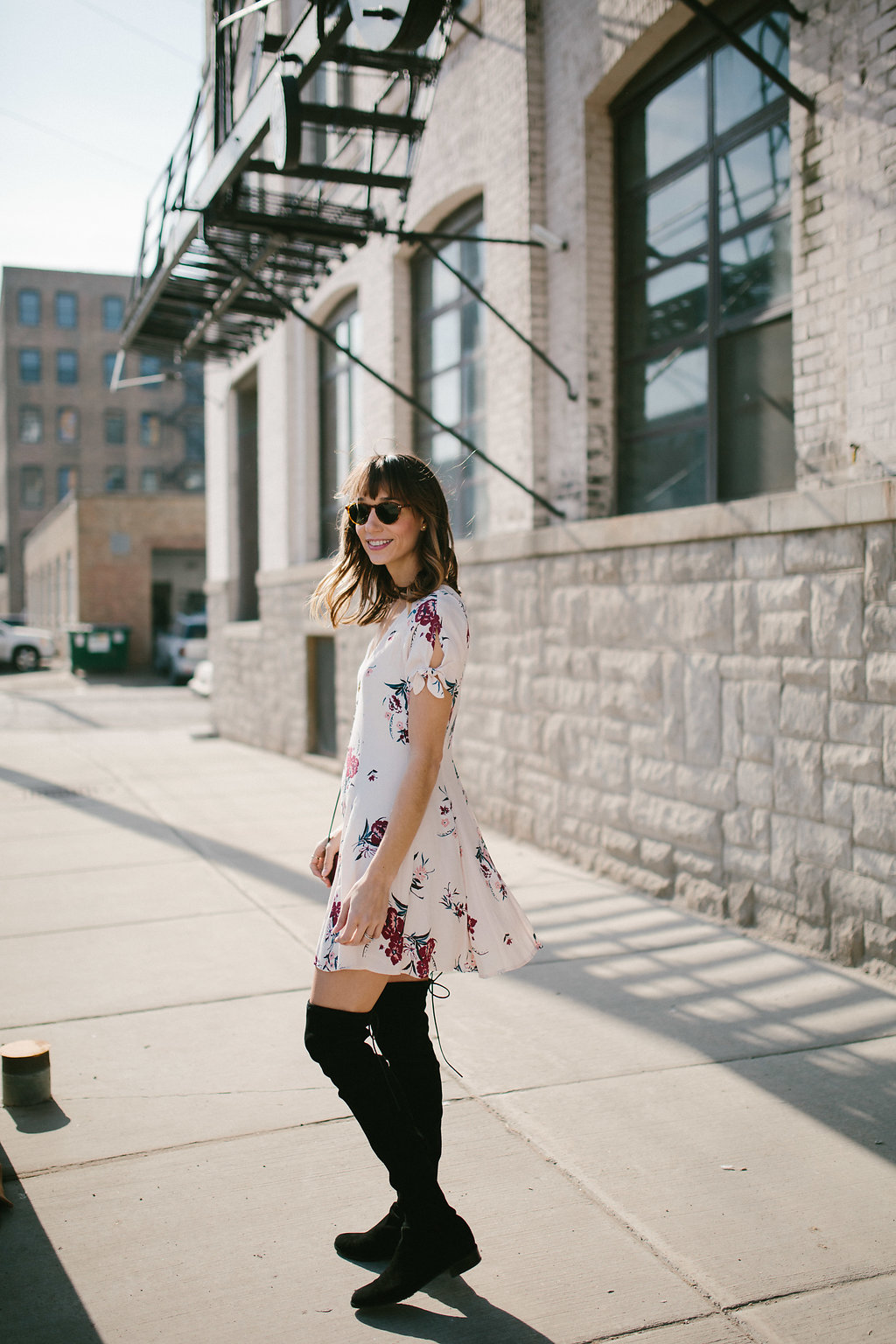 All of this mild weather has really had me wanting for spring. So much so that I've somehow managed to convince myself that spring is almost here, and I've started acting and dressing accordingly. I did some shopping a few weeks ago and picked up this dress, which is only $69, to wear during some upcoming trips. We're going to Austin and California in March and I can't wait for warm weather. As excited as I am for the trips, I didn't want to wait that long to wear my new spring dress, so I winterized it.
FLORAL DRESSES

Instead of pairing it with wedges (I need this pair!) or sandals, I pulled on my Lowland boots that Jess lovingly refers to as boot pants and added a long coat. Just like that, my spring dress was now totally appropriate for this mild winter! If you've considered the Lowland boots, I know they're expensive, but they've easily been one of my best investments ever. I get so much use from them from fall through spring and they actually keep your legs warm. They also fit better through the leg than other over the knee boots I've tried on. I have narrow calves, and these actually fit my legs—they're not tight—but they're not super baggy like other pairs I've tried! So, if you're on the fence, I tell everyone who asks that they're 100% worth the splurge!
Do you start getting the itch for spring weather this time of year? How do you like to winterize your spring pieces?
BTW, how to survive winter in Chicago, and are you a coffee or tea drinker?