Bauble Knit Red Sweater—wearing a small, fits loosely | Velvet Stripe Jeans, runs big, wearing one size down from my normal size
I'm someone who likes to wait until Thanksgiving's had it's day to get into full on Christmas and holiday mode. Thanksgiving is one of my favorite holidays and I don't like it to be outshined by Christmas. But, now that it's passed and it's officially December, we're in full on holiday mode over here!
We spent the weekend finding the perfect tree, setting it up and decorating it as well as getting the rest of our house ready for the holidays! In the past I haven't done nearly this much, but since we spend so much time at home these days, it's really fun to have it all looking festive.
We've got several holiday parties coming up soon—two are this weekend, so I figured you probably have some too! So, today's post is all about two ways to holiday! I've partnered with Evereve, a store I absolutely love, and their holiday campaign is holiday your way, so I'm styling two looks for the holidays—one dressed up and one a little more casual, but still festive! For me, I wear both festive and casual looks throughout the holidays, so this is how I holiday—what about you?!
The first look, a sweater and jeans with strappy heels, is perfect for those holiday parties that aren't super dressy or fancy, but still require some festive attire. This red sweater is so comfy and I love the pom detail on it! It says orange online, but it's red in person!
The real winner of this outfit though? These velvet striped ankle jeans. Guys, I am so obsessed with them. For someone who usually sticks to simple, plain jeans, I was surprised at myself when I picked these up to try on. I had no intention of leaving with them, but then I put them on. Not only are they incredibly comfortable, the dark color makes them dressier and the velvet detail makes them even more perfect for this season.
I put them on when I was home for Thanksgiving and my mom immediately asked where to get them. Then I walked downstairs and my sister said, "I want those!" And then I turned the corner and my other sister asked where she could get them, ha! I've never worn something that got that good of a reaction!
Holiday Sweaters & Plaid

They look amazing with just about any sweater, and with a turtleneck and a blazer like this outfit. I know I'll be wearing
these jeans
a ton over the next few months—even after the holiday parties are over. It just adds the perfect amount of detail to make the whole outfit look super special!
Chenille Pullover Sweater, fits loosely, wearing an XS | Sequin Midi Skirt, wearing a small
The second look is just as adorable, and perfect for those fancier parties, like Rob's work party that we have coming up this weekend. I'm typically more of a casual gal day to day (hence the first outfit), but the holidays are the perfect excuse to get dressed up and wear sparkly pieces that I wouldn't wear on a normal Monday.
This skirt fits like a dream! As soon as I put it on, I knew I was coming home with it. It has just the right amount of stretch and a slit on one side that doesn't go up too high. You could easily pair this with another top for New Year's Eve and get double use out of it! It also looks really cute with plaid shirts for a little unexpected pairing for the holidays.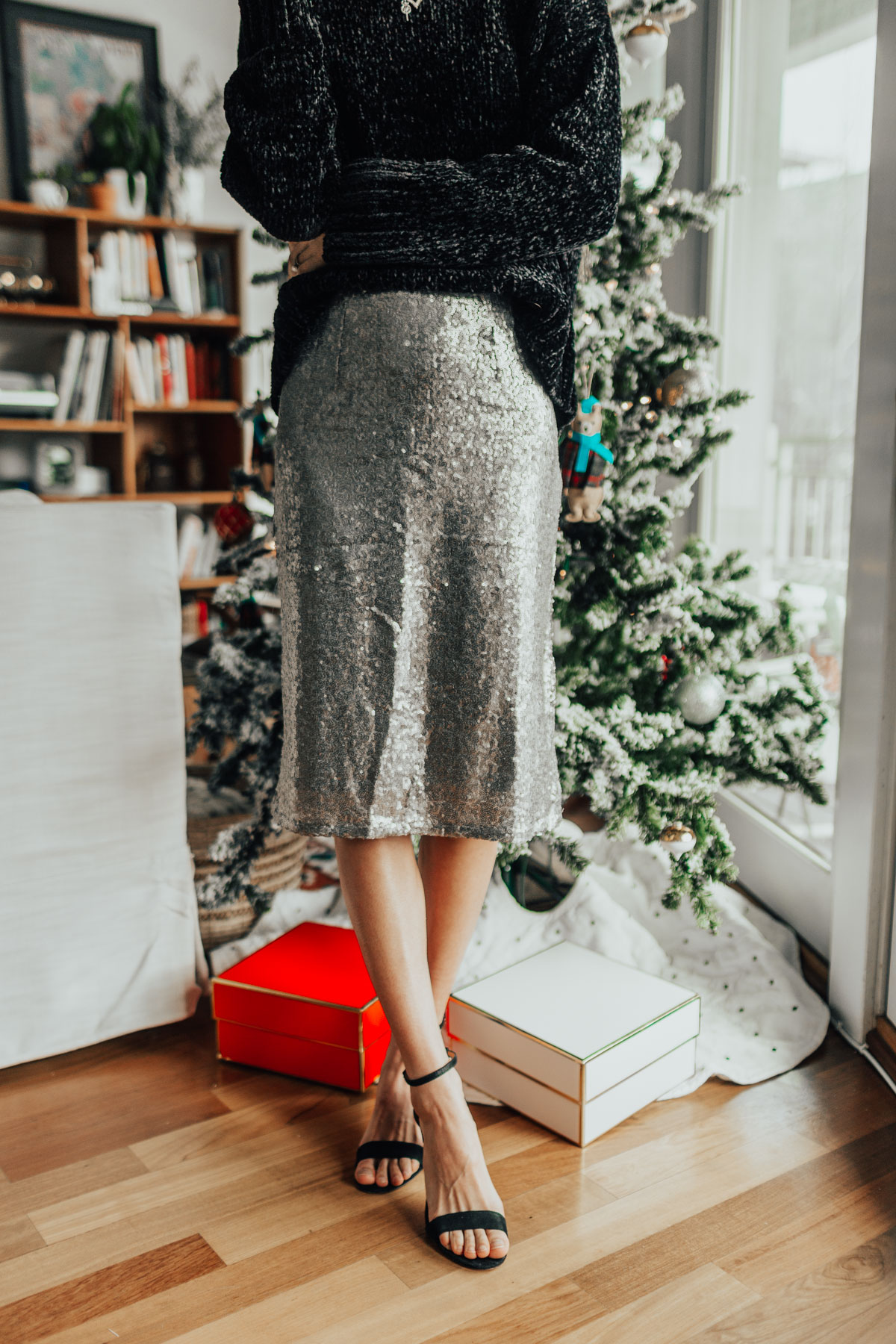 I paired it with this super soft chenille sweater that has little shine to it as well! I hate being cold when going out in winter, which is why I styled the skirt with a sweater! Speaking of this sweater, I've been wearing it SO much because it's warm, looks really pretty and is seriously the softest thing I've ever put on. I wore it with the velvet striped jeans over Thanksgiving too!
Holiday Tops

To make it your own, pair with some festive statement earrings like
this pair
or
this pair
!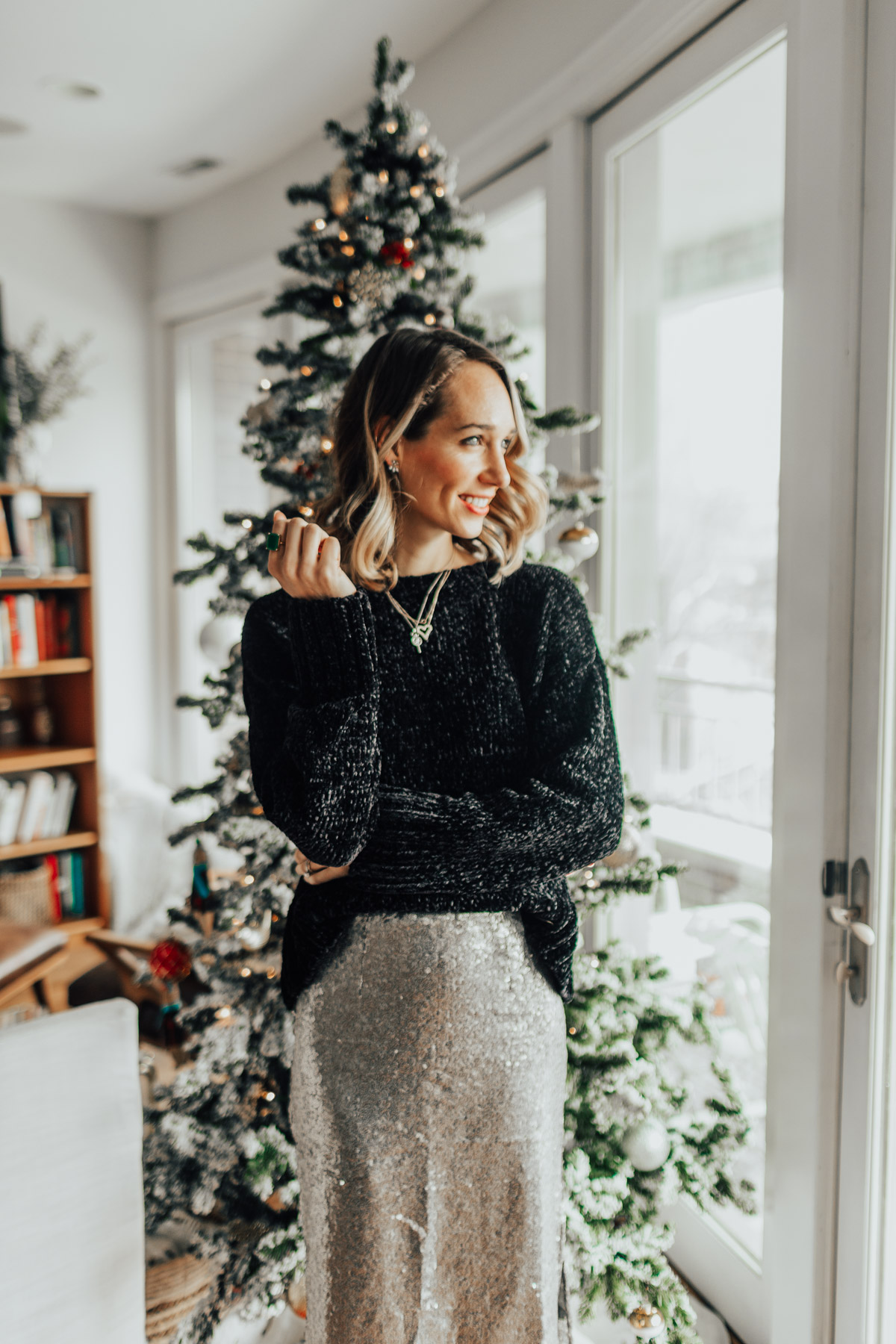 If you get a chance, I highly recommend popping one of their stores this holiday season! They make shopping so much more fun by helping you pick outfits and styling them. And, if there's not one near you, pop over to Evereve's website!
P.S. Check out my stories later today for my try-on sesh of everything I put on in-store, plus the items from my TrendSend box! I'll highlight them too in case you miss them the day of!
BTW, gifts for the wellness-obsessed, and 7 cozy outfit ideas to wear this season.
Thanks to Evereve, a brand I love and trust, for partnering on this post!