Luxe Sateen Hardcore Bundle | Lightweight Down Comforter | Lorimer Quilt | Lorimer Shams
Sleep has become my obsession these past few months.
Everything from how to get more of it, how to get better quality rest each night, to the details on bedtimes, our circadian rhythms and what our body does while we're snoozing. Honestly, it fascinates me! Sleep is totally and 100% essential to our health and well-being. Our body works to repair our organs and cells as well as build up our immune system, which is why plenty of rest is what the doctor always suggests when you're sick!
So, why not focus a little more of our efforts on making sure we're getting the best possible sleep we can?
For me, I know that when I get more sleep and better sleep, I feel like ahh-mazing. Especially when I get multiple nights of good sleep in a row! My skin looks better, I have more energy, I make healthier choices, and generally I'm a nicer person to be around.
Plus, sleep feels amazing. I mean, is there anything better than crawling into bed and feeling the heavy weight of your eyelids and drifting off to bed?
That feeling ranks pretty high for me, but one thing that does make that whole process even better? Good, comfortable, cozy sheets that feel silky soft on your body and make you look forward to getting in bed so much that you go to bed early. We got the Luxe Sateen set from Brooklinen a few weeks ago and have been loving them ever since! We actually got the Hardcore Bundle which includes a fitted sheet, flat sheet, 2 pillowcases, a duvet cover and two extra pillowcases. The first time we got in them, we just looked at each other in awe, like we get to sleep on these cloud-like sheets?! Heck yes!! Needless to say, we've been sleeping pretty pretty good!
We got the simple white set, but I'm already looking at getting another set because it's just nice to have two pairs so you don't have to immediately do the laundry when it's time to wash them. I'm loving the fun little patterns they have like the Window Pane and the Gold Prisms for a fun little pop of color!
If you're still not convinced that nice sheets can change your life, consider this: you spend about a third of your life sleeping. One-third! That's a lot of time! So, why not invest in a nicer pair? You'll definitely get your money's worth! I promise, as soon as you sleep in these once, you'll understand and know that nice sheets are totally worth it.
We took the opportunity to refresh the rest of our bedding too and got this super soft and warm Lorimer Quilt in navy and matching shams, as well as a simple white comforter. We opted for the lightweight down because Rob tends to get hot and it is plenty warm! I'm always freezing and it keeps me toasty warm. Brooklinen also has a bunch of gorgeous throw blankets—I love this simple grey one and this cute black check throw!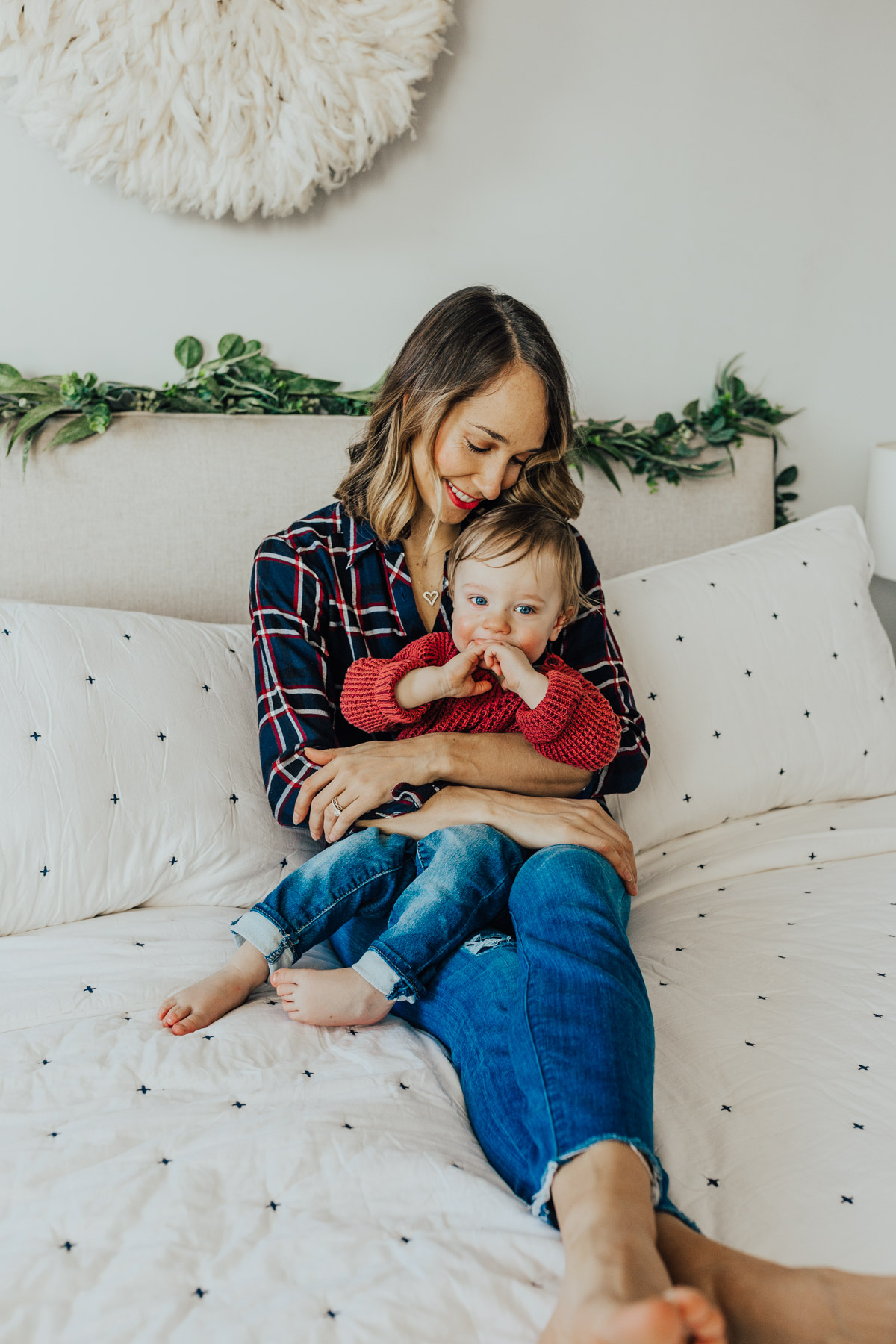 All this talk has got me looking forward to going to bed already! Especially after a long day of mom-ing, it feels like such a little treat to snuggle into these sheets every night.
Have you invested in nice sheets? And, have you tried Brooklinen?! If you're ready to try, they've generously offered my readers a discount code for $20 off plus free shipping! Just use code BLAIR20 at checkout!
Thanks to Brooklinen, a brand I love and trust, for sponsoring this post!
P.S. My tips for getting a great night's sleep, and how to stay healthy during the holidays.