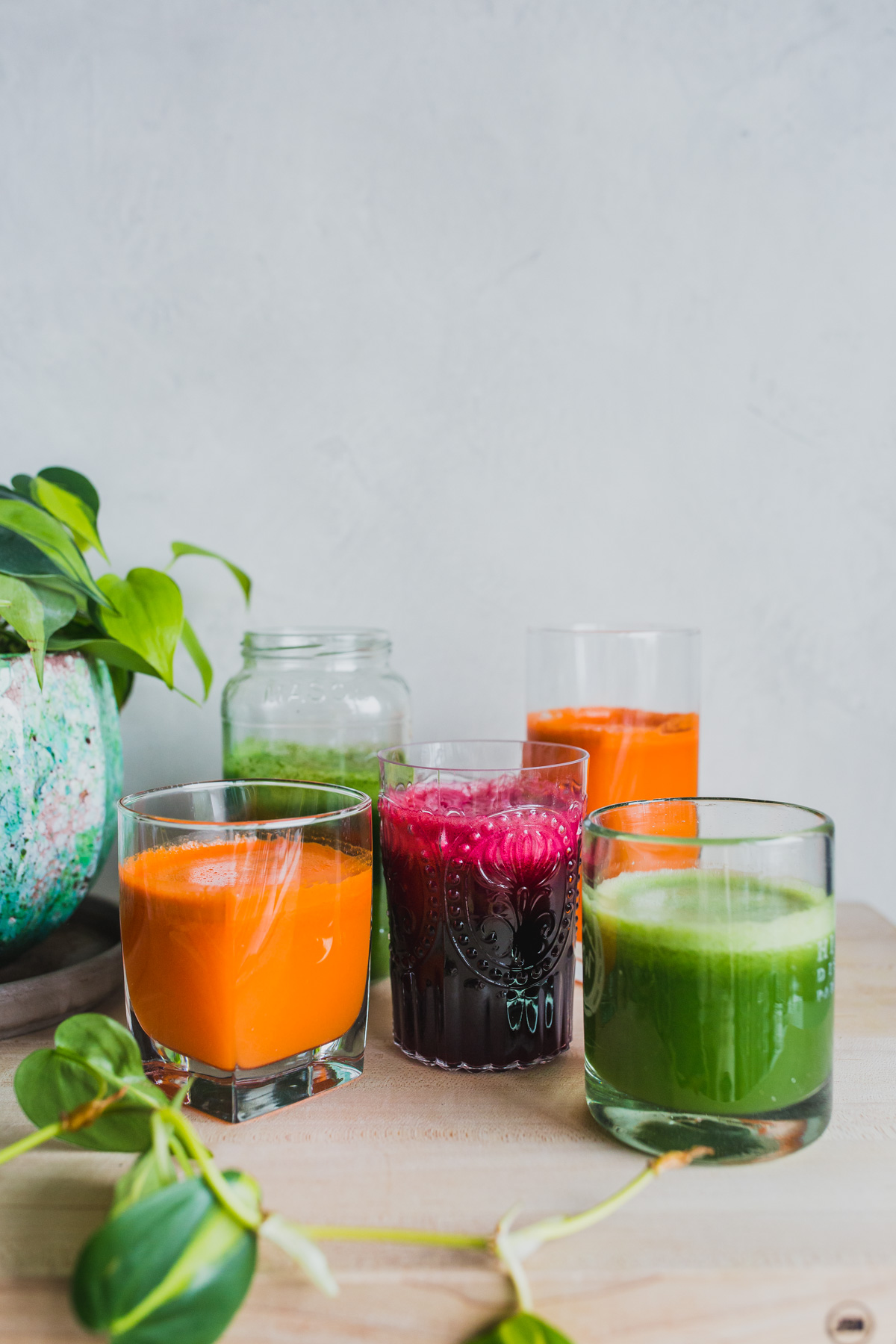 If I've learned one thing about maintaining clear skin, it's that staying well-hydrated is absolutely key. Water is obviously amazing for you, it detoxes our body naturally and can give our skin a huge boost, but fresh juices can also make a major impact.
Fresh juices are not only hydrating, after all, most fruits and vegetables are made primarily of water, but you also get the added benefits of the nutrients, vitamins and minerals that are within those fruits as well!
From my experience, when my skin needs a boost, adding a juice or two per day gives it such a fresh, glow that water alone doesn't seem to accomplish. And, because of all those added nutrients, vitamins and powerful antioxidants, you're giving your body exactly what it needs to help boost your immune system and stay healthy year-round.
I know that I talk a lot about beauty products and which ones are the best to keep your skin looking clear and healthy, but at the end of the day, the health of our skin starts within.
If you want a healthy glow that lasts, you have to make healthier changes to your diet, add more fruits and veggies, and stay hydrated. Juice is great for boosting your hydration and giving more antioxidants, nutrients and vitamins than you can get from water alone.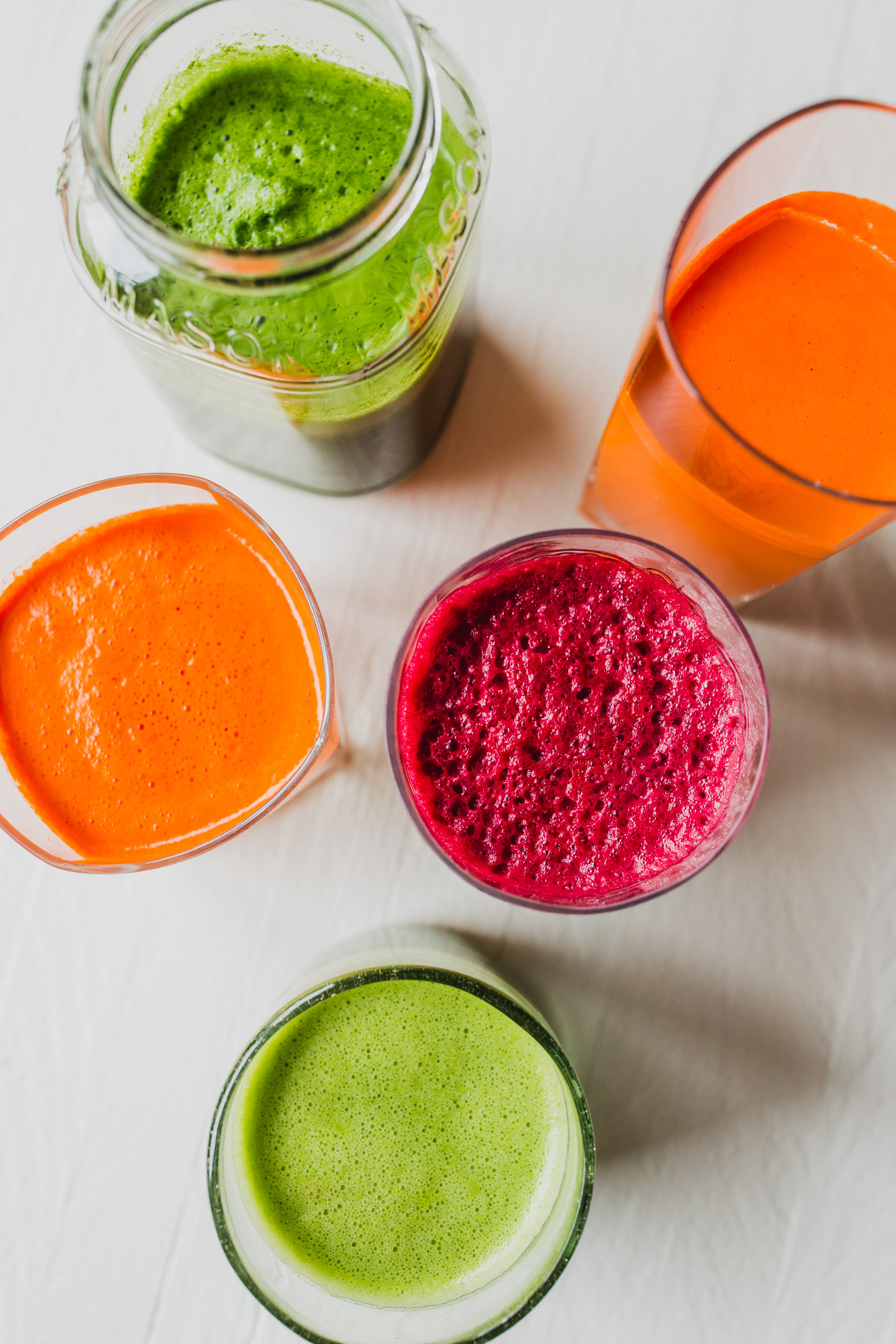 You can make juice in a high-powered blender and then strain the pulp, but I find that it's easier to just get a juicer. I tried the blender method and it was just too much work!
I bought this one from Amazon well over a year ago for about $55 and it's still making incredible juices! You can put the parts in the dishwasher too, so clean up is a breeze. I included a few more here that I've heard great things about and all are under $150.
Best Juicers

I find this especially helpful in the colder months when we're more prone to illness and colds. For the most part, celery juice, or some sort of green juice is my go-to, but I wanted to share a few more that I've made that are also great for you!
Easy-to-Make Fresh Juice Recipes For Clear Skin
These recipes aren't exact, that's what makes juices so easy to make. You don't worry about exact measurements! Before juicing, make sure that all of your produce is cleaned very well!
Glowing Green Juice
3 stalks celery
1/2 cucumber
1 cup spinach
3 leaves kale
1/2 green apple
1/2 lemon, peeled
3 sprigs parsley, optional
The main ingredient in this green juice recipe is celery and cucumber. This is my favorite juice for glowing skin! Both of these ingredients are very water-dense and super hydrating.
You get the added benefits of extra leafy greens for a skin and immunity boost, plus the zing of lemon that makes it extra yummy! Parsley is a great ingredient for detoxing your liver, so I love adding that in when I have on hand, but it's not necessary.
Immunity Booster Juice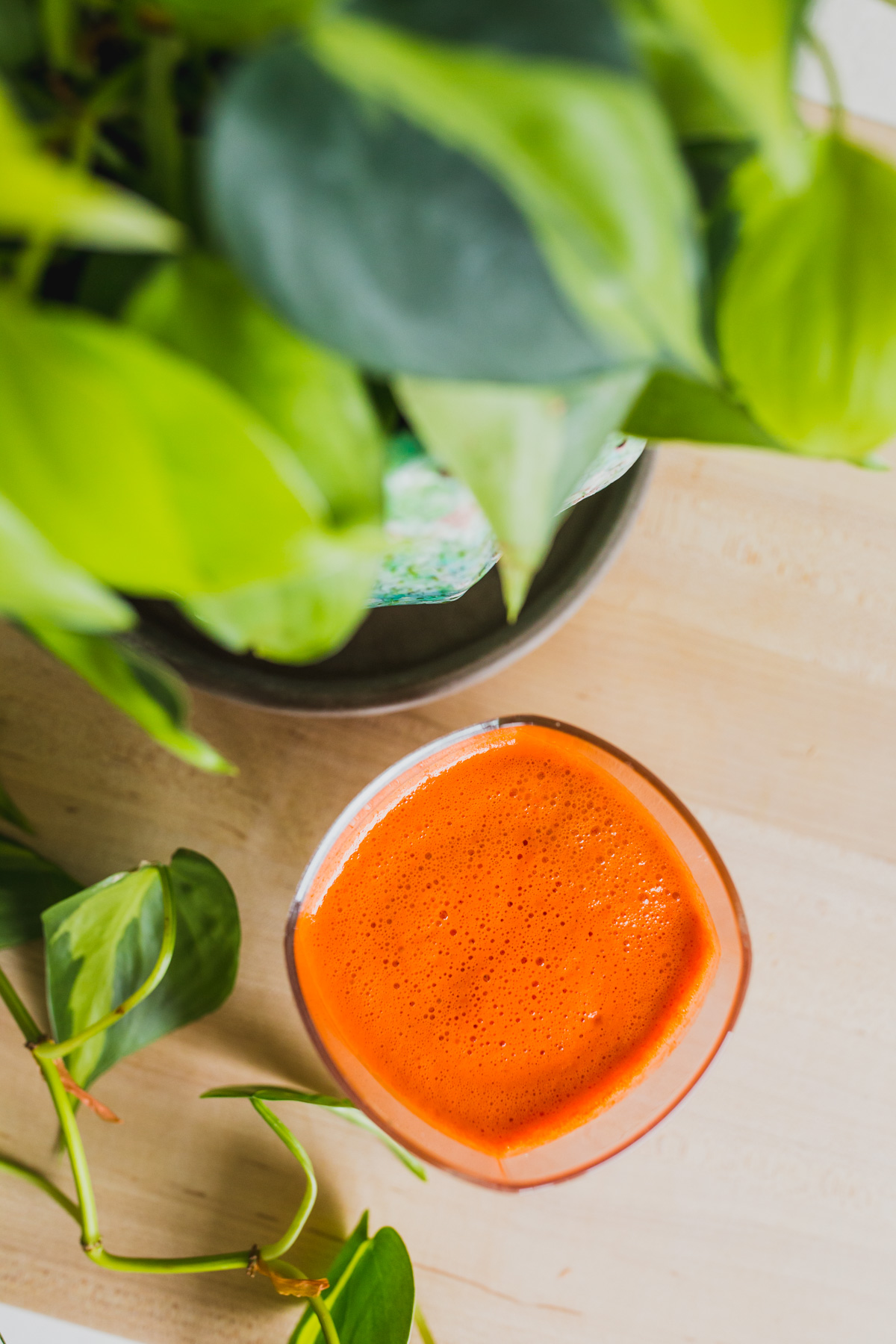 1 orange, peeled
3 carrots
1/2 inch ginger
1/2 inch turmeric
This juice is packed full of beta-carotene and vitamin C which is great when you need an immune boost. I love making this one when it's cold and flu season. It tastes great, and ginger and turmeric are both great for reducing inflammation and boosting your immune system as well! When your immune system is in tip-top shape, your skin will look it's best too!
Liver Cleanse Juice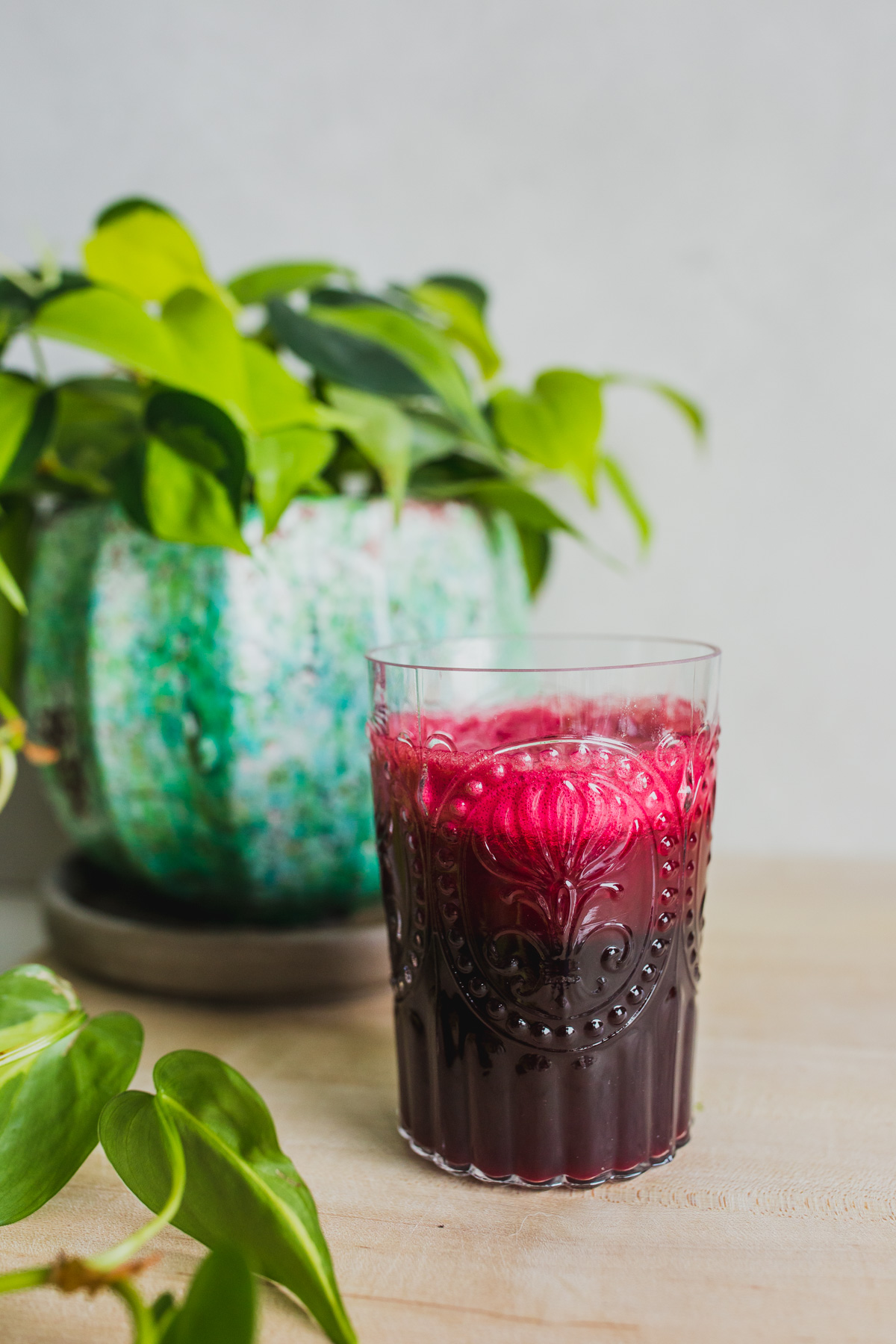 1 raw red beet
1/2 green apple
3 stalks celery
1/4 cup pomegranate seeds
This deep red juice is great for a deep cleanse of our system. You get the added benefits of hydration from the celery and antioxidants from the apple and pomegranate seeds. Beets, the main ingredient, and what really gives this juice its deep red color, are great for blood flow and detoxifying our livers.
Skin Glow Lemonade
1 lemons, peeled
2 carrot
1 inch ginger
1/2-1 cup filtered water
squeeze of raw honey, optional
This juice is so refreshing, hydrating and energizing. The vitamin c from the lemon and beta carotene from the carrots are amazing for your skin, and the ginger gives you anti-inflammatory benefits and aids in digestion. It's a great one year round, but especially refreshing on a hot summer day!
The raw honey is optional, but if it's too tart for your liking, you can mix a little bit in.
Pineapple Calming Juice
1 cup pineapple
2-5 mint leaves
1 cucumber
Pineapple is a great anti-inflammatory ingredient and the star of this juice. It's also got tons of vitamin C which can help slow our body's natural degeneration process. This juice is also very hydrating. I love adding a bit of turmeric for the added anti-inflammatory benefits, and some spinach for some extra greens!
8 Essential Ingredients For Clear Skin
You can of course use all kinds of fruits and vegetables in your juice recipes, but these are some of the essential ingredients I keep on hand for healthy skin and overall health.
Cucumber
What I love about cucumber is that it's deeply hydrating, and gently detoxifying. It's also one that's easy to grab, cheap and gives you a lot bang for your buck. One cucumber makes a lot of juice because it has so much water in it. All that extra hydration is so amazing for your skin.
Spinach
Spinach is rich in vitamin K, and is a great green to add to any juice. Unlike kale, it has a milder flavor, and blends well with just about everything. It's also a great source of calcium and vitamin C. The more greens you can get in, the better your overall health will be too.
Spinach is also a good source of folic acid (this is true of other leafy greens too), and plant-based omega 3 fatty acids.
Carrots
Carrots are high beta carotene which can give you a great boost of energy. It can help improve skin disorders (YAY!) and also increase your metabolism.
Carrot juice has anti-cancer properties, and if you struggle with constipation, carrot juice can help you out too 😉
Related: 8 Things that Have Transformed My Skin
Kale
Kale is packed with antioxidants which can help with the anti aging process by slowing it down. Obviously great for our skin! It's also high in vitamin A which is great news for our skin, nails and hair.
Dark leafy greens have also been known to help improve skin elasticity, which helps our skin look younger and healthier for longer.
It does have a slightly more bitter taste, so I always like mixing this in with cucumber and a citrus to help mask the strong flavor.
Beets
Opt for the deep red beets which can aid in liver detoxification. Our liver is our body's main form of detoxification, but it can get backed up. So, giving it a little love, is just another way to improve your skin and stay healthy.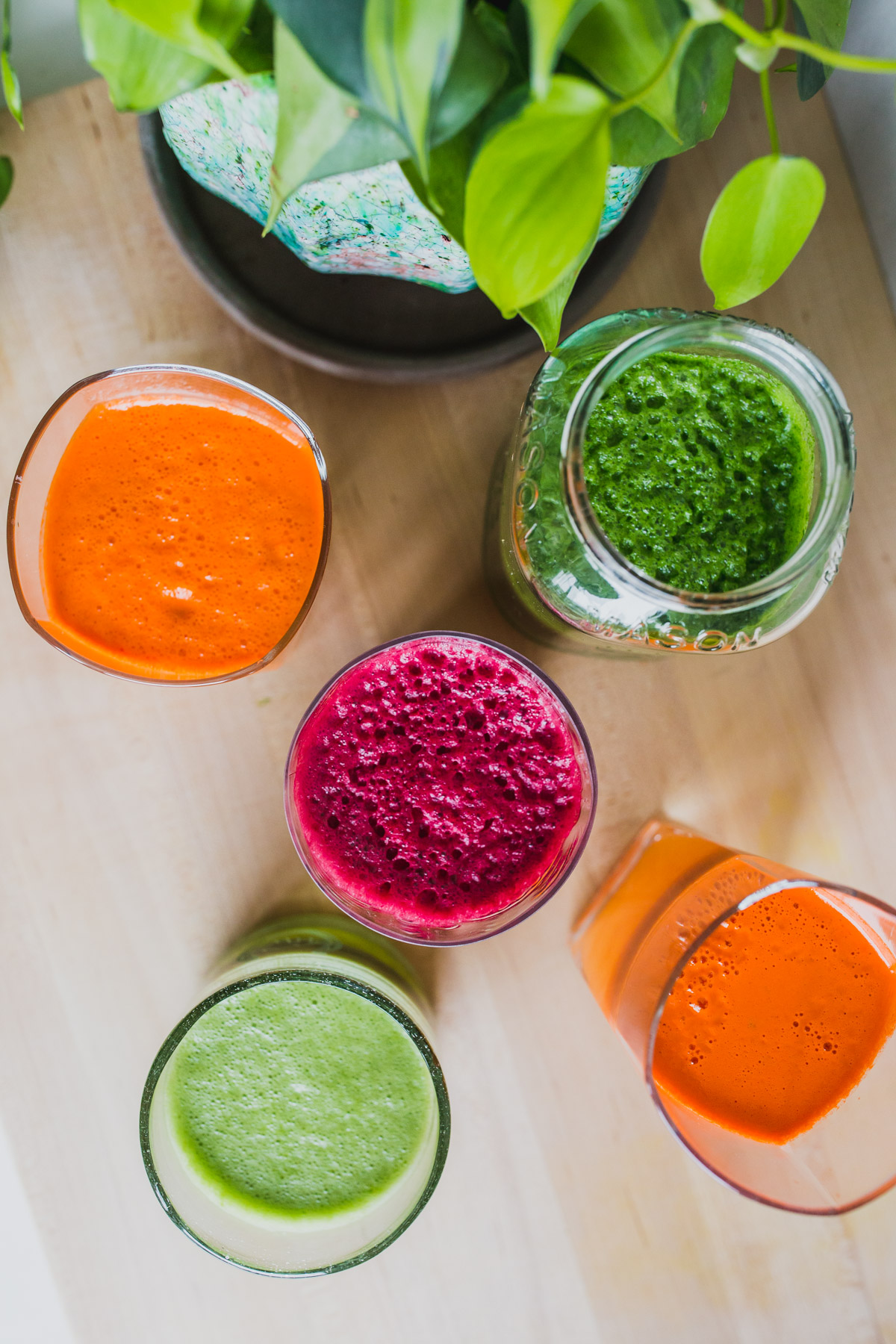 Ginger
Ginger is a powerhouse ingredient and a little goes a long way. It's a great way to add a little spice or zing to your juice and the benefits are endless. It can aid in digestion, easy a cold, calm an upset stomach and reduce inflammation.
It's so good for your gut, and since gut and skin health are so closely tied together, you know it's going to be a good ingredient for skin.
Lemon
Lemons are often overlooked, but they're great ingredients in juice. They're cheap, add great flavor and are packed full vitamin C and are very hydrating. Lemon is known to improve your skin, which is why I also squeeze half a lemon into my 32oz. water bottle every morning, and aids in digestion.
They're such a versatile ingredient and can be used on fish, chicken, vegetables, salads, etc. So, start making use of this skin-clearing ingredient more often!
Turmeric
Another ingredient that's a quick add to any juice. Turmeric looks a lot like ginger, just smaller and deeper yellow-orange in color. The flavor isn't overly strong like ginger though, which makes it a great one to add.
Turmeric is known to help with heart disease, calm inflammation, improve your immune function and can improve symptoms of depression. Add an 1/2-1 inch of this powerful stuff to any juice you like.
The best part about making juice is that you can tailor it to your tastes! I always try to get more veggies than fruit in my juice because fruit can spike your blood sugar. Start with a fresh green juice in the morning once a day, and I promise in a month you will notice a big difference!
BTW, celery juice benefits: a game-changing health hack, and 8 quick tips for clear skin.