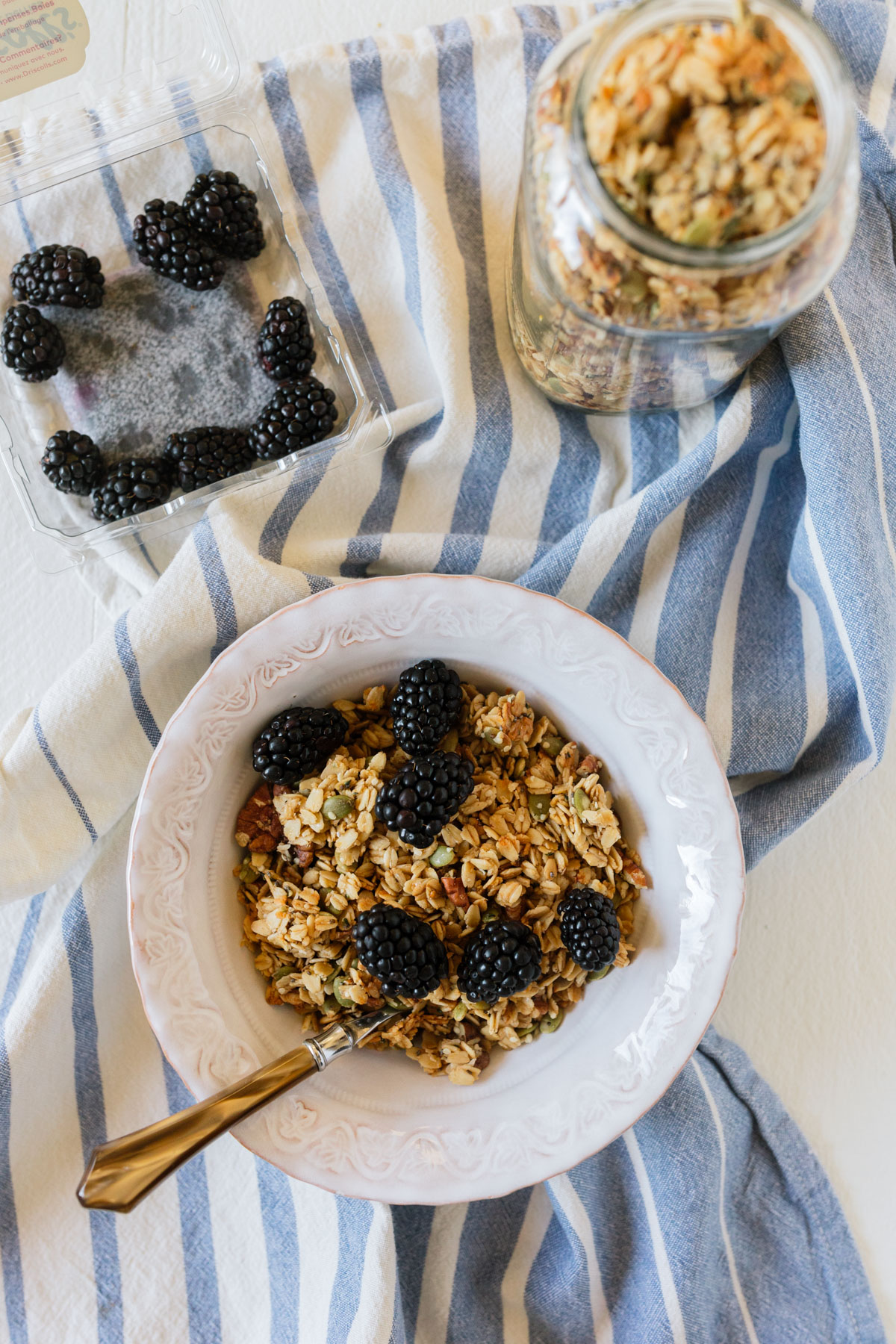 One of my favorite breakfasts or afternoon snacks is a small bowl of granola with fresh berries and almond milk. Yes, I realize it's basically just a bowl of cereal, but I love cereal and it totally hits the spot.
I used to always by Kind's granola, which is delicious, but its also like $7 for a small bag. Like, come on, really?!
A few years ago, my sister had made the most amazing granola, so I decided I should try my hand it. I took her basic recipe and tweaked it to my liking. What I ended up with was something that was even better than the store-bought version. The best part is that you control the sugar—one ingredient that can be really high in granola without realizing it (Kind's is low, btw).
You can change the recipe to your own personal liking too. Want more nuts? Add them! A different nut? Go for it! Dried fruit mixed in? Do your thing!
For my version, I added more seeds and skipped any dried fruit. Often I'm eating my granola with fresh fruit, or sprinkled over the top of an açaí bowl. If you haven't tried putting granola on an açaí or smoothie bowl, you are missing out! It adds the perfect amount of crunch and chew to the bowl.
I ended up with granola that was better than I could have ever imagined. My kids love it too, and I love that they're getting something healthier than what I can get at the store.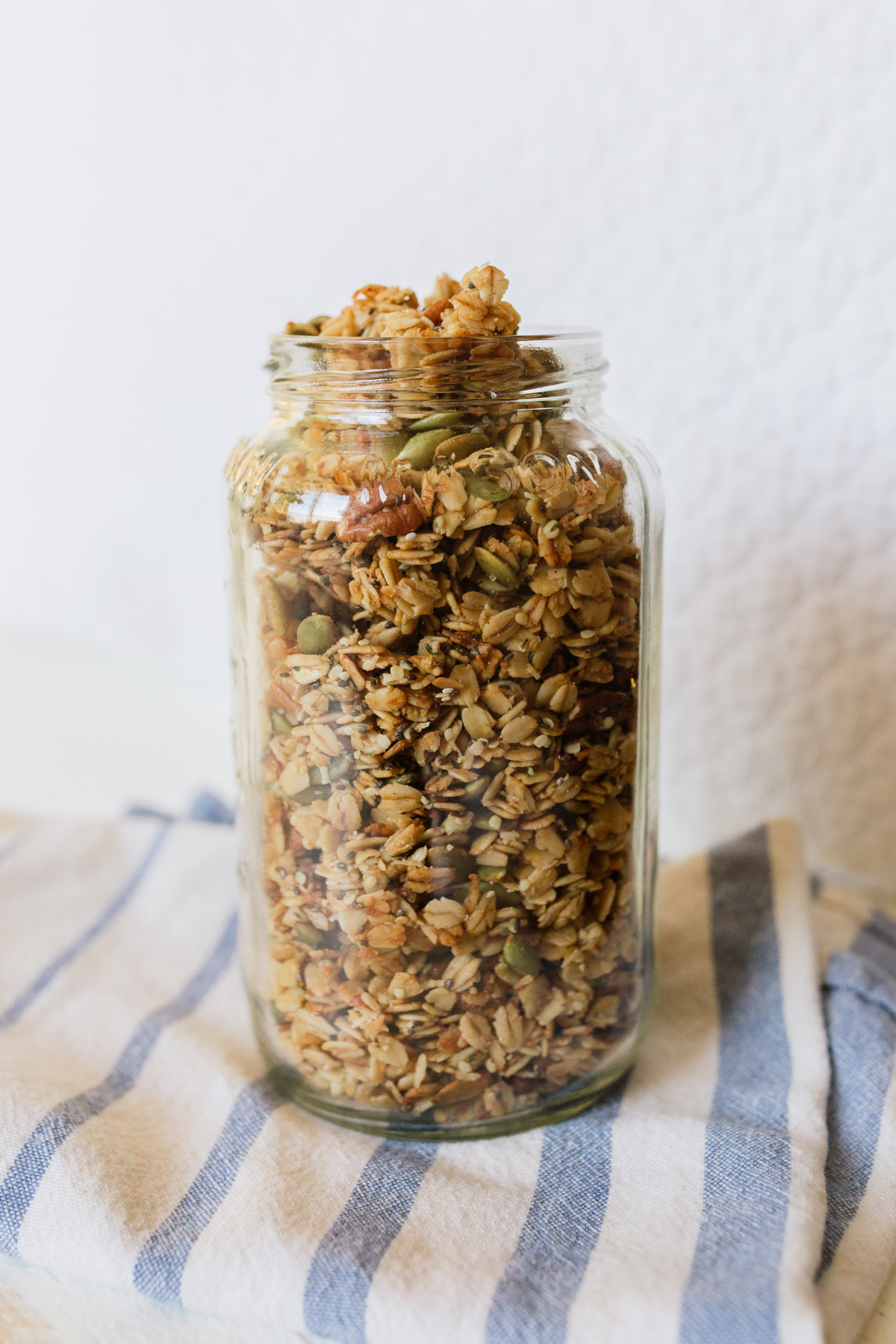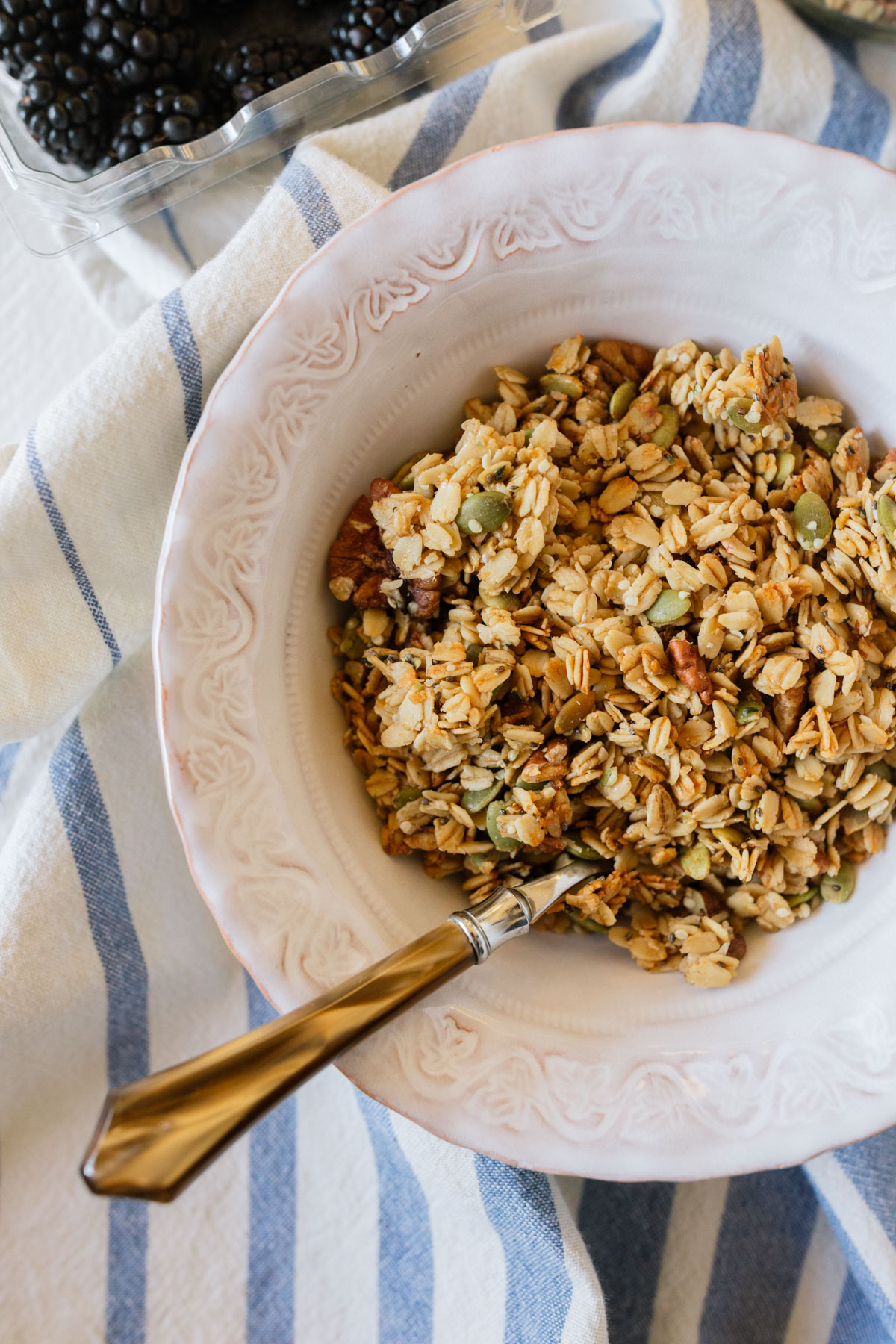 It was so good, that I make a second batch for my husband Rob and subbed almonds for the pecans because he's allergic to pecans. I would have just done all almond, but I looooveeee pecans! And, now we're both happy!
This healthy granola recipe comes together super quick. You basically just pour all the ingredients into a bowl and mix. Then you lay it out on a parchment-paper lined baking sheet and cook.
The cooking process is also pretty fast. The only thing that does take some patience is waiting for it to cool. Technically, you can eat it straight off the baking sheet, but I do recommend letting it cool completely—that's what gives you those big chunks of granola that I love so much.
Once it's all cool, you can break the bigger pieces apart with your hands and store your granola in an air-tight container like these suctioned containers or a mason jar. Really, whatever you have on hand!
It's healthier than what you can get at most groceries and again, can be customized to your liking!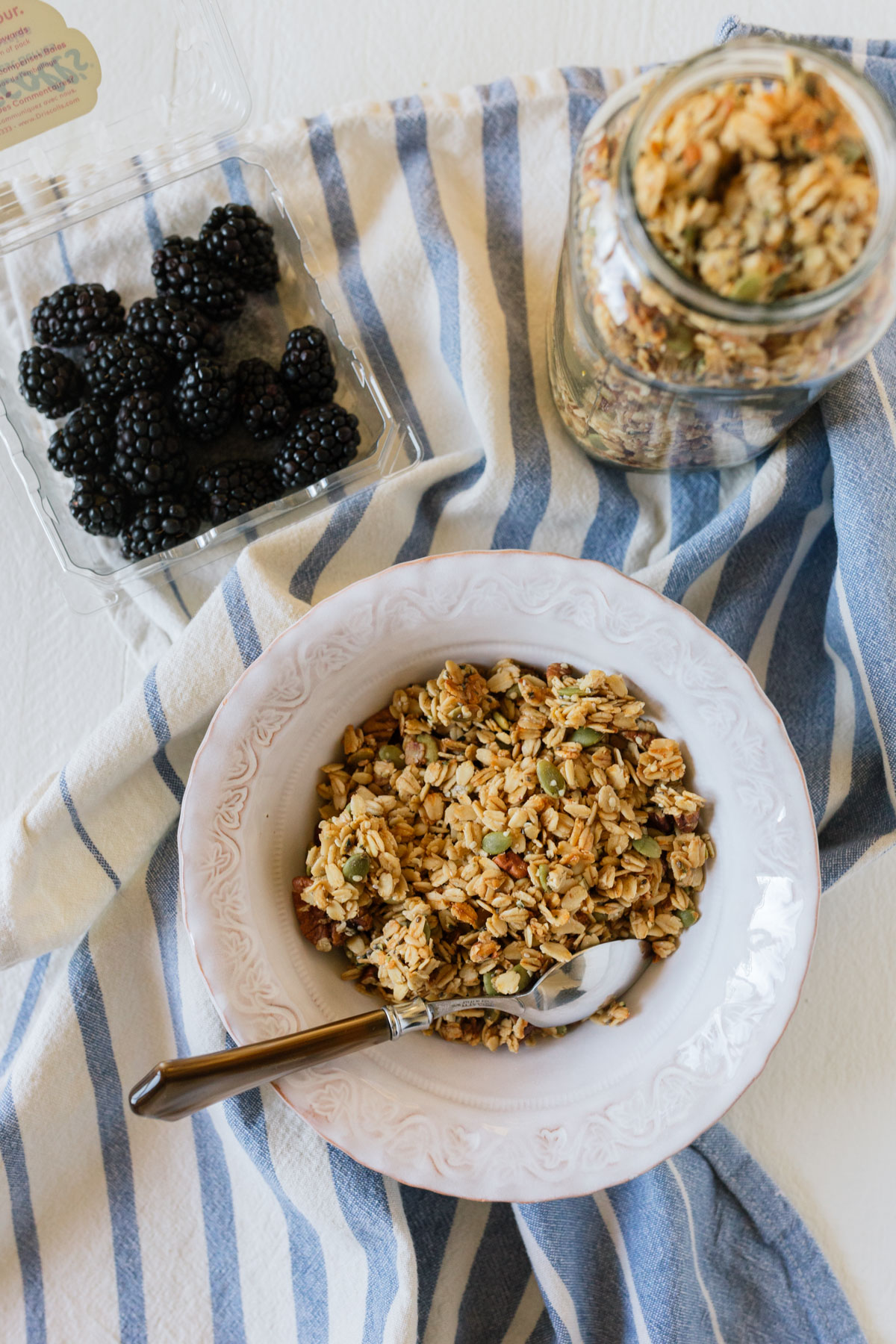 4 Simple Ways to Enjoy Homemade Granola
with milk and fresh berries, like cereal
sprinkled over Greek yogurt, berries and a drizzle of honey
sprinkled over an açaí bowl or smoothie bowl
a handful as a little snack
Here's the recipe, and remember you can change the nuts for different ones based on what you like or have available, or cut out things you don't like. For example, my mom doesn't like coconut (even though I swear you don't notice it in there!).
Healthy Homemade Granola
Ingredients
Directions
Preheat oven to 350 degrees.
In a large bowl, combine oats, nuts, seeds, coconut flakes and cinnamon. Stir to combine.
In a small bowl, combine melted coconut oil, salt, maple syrup and vanilla extract. I like to mix the salt in here because it dissolves and then you won't get any salty areas in your granola because it's evenly dispersed!
Pour liquid mixture into dry ingredients and stir to coat.
Pour onto a parchment-lined rimmed baking sheet and press down with your spatula to create an even layer. Bake for 12 minutes. Stir and press down with your spatula again and bake another 10-12 minutes.
Remove from oven and let it cool without stirring for at least 45 minutes. Once it's completely cooled, you can break apart and store in an airtight container.
Serve on it's own, over yogurt or with milk!
That's it, a super simple, delicious and easy way to make low-sugar healthy granola at home. I promise it's better than any granola you've bought at the store—enjoy!
BTW, blueberry oatmeal bowl to balance hormones, and healthy high-fiber pancakes.