Okay people, we're entering into cold and flu season and with Covid cases rising, I've been doubling down on my immune-boosting tricks. We already eat pretty healthy (my weakness for jalapeño Kettle chips runs deep though), drink tons of water, eating less sugar, exercise, get lots of sleep and get plenty of sunshine thanks to Colorado's climate, but I wanted to give us an extra little boost.
And, I wanted to start doing this before we got sick as a preventative measure instead of trying to jump on it once someone does get sick.
These homemade immunity shots are made without a juicer, you just need a blender and a few simple ingredients, plus something like a mason jar to store them in.
Homemade Immunity Shots Recipe
Ingredients
1/3 cup fresh turmeric root, roughly chopped
1/2 cup fresh ginger root, roughly chopped
3 1/2 cups unsweetened coconut water (regular water works too)
1/4 cup lemon or orange juice
1-2 Tbsp raw honey, bonus points if you use manuka honey
Directions
Add all ingredients to a high speed blender, I love my Vitamix and we use it every day for making smoothies—the recipe for my favorite gut-healing smoothie is here, or take the green smoothie challenge!
Blend until smooth, pour into a mason jar, seal and keep in the fridge.
Make sure to shake the jar well before pouring as pulp will settle on the bottom.
Lately I've been having about 4oz of this spicy elixir 1-2 times per day—once in the morning (it really wakes you up!) and once in the evening.
I also ordered us some supplements that support immune function, again I'm hoping these preventative measures help boost our immune systems and keep us healthy all winter long. In case you're curious, here's what I got for us to take daily (this goes without saying, but I am not a doctor and this is not medical advice! just sharing what we're doing):
As great as supplements are, don't forget that you can't just take a supplement and hope for the best. Getting adequate sleep, eating plenty of fresh fruits, veggies, whole grains and legumes will help keep you healthy and also help greatly with gut health. Since our immune system lives in our gut, the two go hand in hand!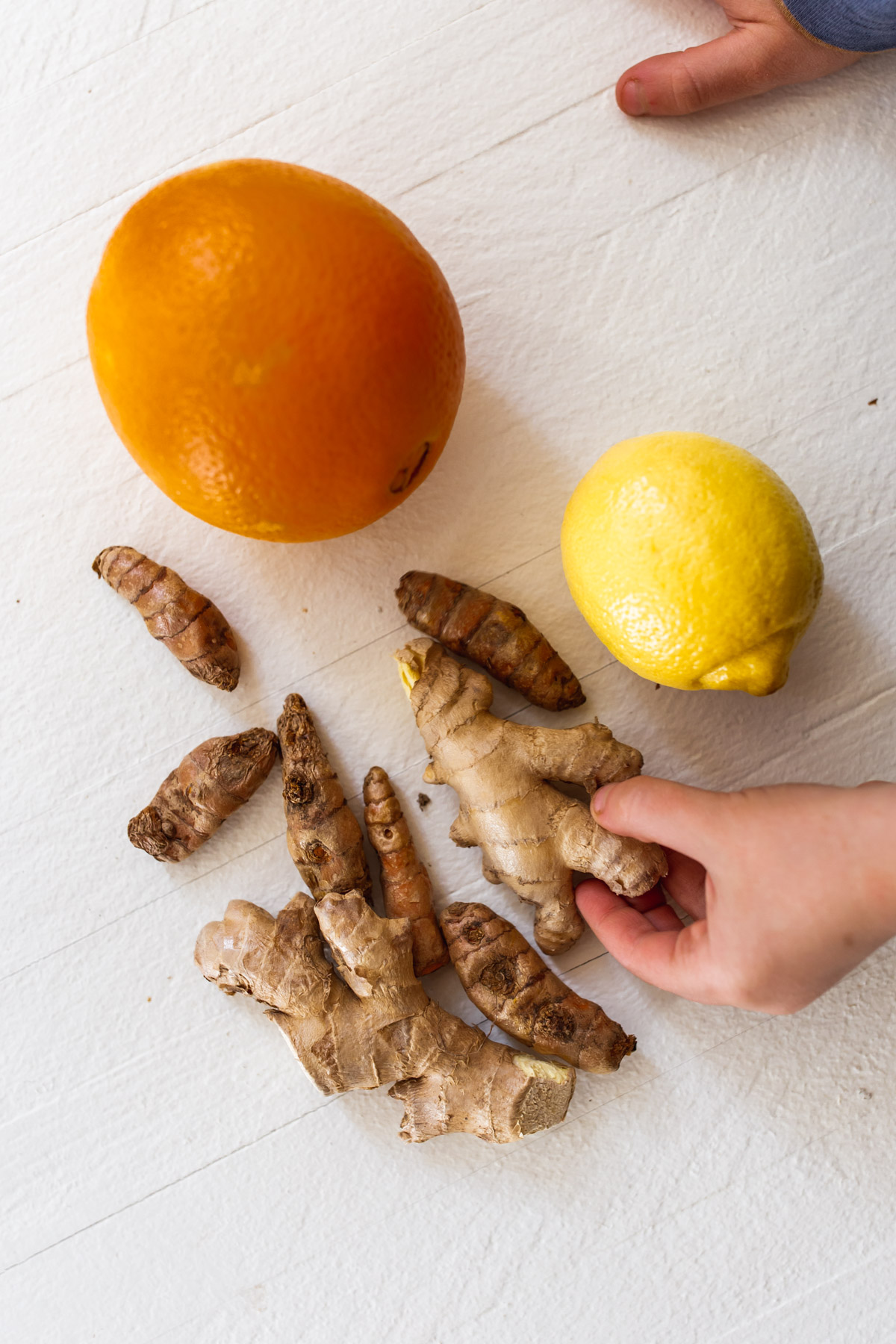 I'm also a big believer that our mindset can completely transform our health, and for me, knowing that I'm being proactive and have control in that aspect always makes me feel better!
What have you been doing to help keep you and your family health this year?
BTW, how to naturally boost your immune system, and how to heal the gut.