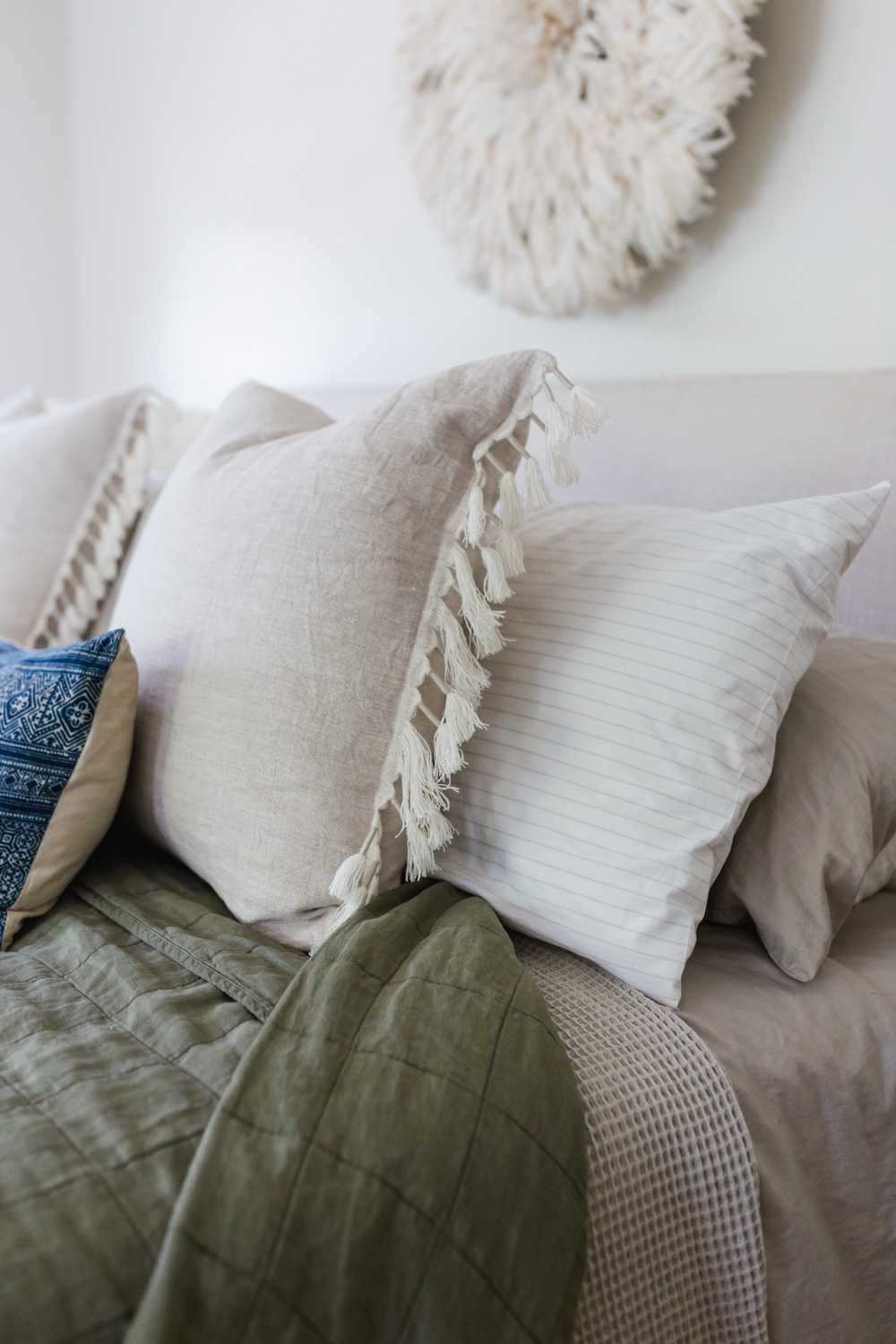 I used to have no issues with sleep, then I had kids.
Some nights I drift easily into slumber and sleep like a rock, but other nights, I have a hard time falling asleep, and/or staying asleep throughout the night. When you have kids to take care of, work to do and dinner to cook, being exhausted is the worst.
Over the past few years, I've mastered a few things that help me get a good restful night's sleep almost every night. I know how precious sleep is to all of us, so if you're struggling to get good sleep, I hope these tips help you too!
How to Get a Restful Night's Sleep
Turn off the Tech
Admittedly, this is one I'm so bad at. Last minute email checks or scrolling Instagram. Even watching a loud TV show too late can throw me off. I've been trying to do better at this, but still working on it. The big reason for this is the blue light in tech devices that turns on a part of our brain that makes it hard to fall asleep.
Stay Hydrated
The days where I drink more water throughout the day, I always sleep better. It's crazy, but I've noticed for myself that if I drink around 3 liters throughout the day, I almost always sleep like a rock. The trick is to drink it throughout the day, not a ton right before bed, because that will do the opposite and you'll be up all night running to pee!
Take a Hot Shower
Taking a hot shower before bed is proven to help you sleep. I also happen to love showers, so this is my nightly self-care and also gets me good and relaxed. It helps a lot, even if I've been watching a TV show late at night. This shower is never a long one, just a warm rinse to get me cozy before bed.
Good Sheets
I know it might sound silly, but slipping into bed into buttery soft sheets just sets the tone. We've tried so many sheets over the years, but the Signature Hemmed Sheet Set we have from Boll & Branch is easily our favorite. They are silky soft, lightweight and breathable! We also got their waffle blanket this past year and I literally can't sleep without it now. It's the best bed blanket I've ever had—it's large enough that it hangs far over the edges, stretchy, has a little weight to it which makes it extra cozy and is warm enough for winter, but still lightweight enough for summer. It's a must in my book!
Magnesium
I've been taking magnesium for a while and I swear by it for keeping me asleep and get a restful night's sleep. It helps with muscle relaxation. I take it about 20 minutes before I turn off the lights. Rob started taking it too and made the comment last week that he sleeps so much longer before waking up when he takes it.
Blue Light Glasses
If you can't avoid tech at night, grab a pair of blue light glasses. I got a pair from Amazon! They block out that triggering blue light, which is great if you have to work late at night or just know that you'll be on your devices.
Equilibria CBD Oil
I missed my Equilibria CBD so much during pregnancy and breastfeeding and have been using the drops more the past few weeks as I've struggled to fall asleep at night. For the past few weeks I've been taking half a dropper full before bed. That, plus the magnesium—sleep magic! If you haven't tried it yet, I highly recommend it! If you want to try it, use code FOXANDSHE for 15% off your first order. I recommend the mint drops as they taste better than the unflavored.
RELATED: 5 Amazing Health Benefits of CBD
Sound Machine
Lastly, the one thing that has made a huge difference in good sleep for us is a sound machine. We bought the Dohm when Owen was born and we got addicted to it, so now we sleep with it too and wow, just get yourself one and thank me later! It just drowns out all those little random night sounds that can wake you up.
Do you have trouble sleeping? What tips do you have for getting a good night's sleep?!
BTW, 10 tips for getting better sleep naturally, and why good sheets are totally worth it.