DRESS, sold out in this color & similar here | SHOES, also in tan | TOTE | BRACELET | EAR CUFF | NAILS | NECKLACES: Mini Gold Bar, Travel Compass, Matchstick Pendant
A few Wednesday's back, I had one of the busiest days I'd had in a while! It was the fun kind of busy, so I can't really complain. We spent the morning looking for a wedding dress for Jess (more on that later!) and finished it with a casual party for Shaheen's husband, Trevor, who was graduating from his residency.
Shaheen surprised with him with a casual get-together with friends, family and co-workers to celebrate at Parson's Chicken & Fish. I hadn't been to the restaurant before that night, but it will not be our last time! Rob and I share the chickpea salad, fried chicken and boozy slushies — all super delicious! They're known for their Negroni slush, but my favorite was the purple drink as it wasn't as bitter.
Parson's patio is totally adorable! They also allow dogs, so next time we'll bring Oliver. I have a feeling he won't mind all the fried chicken bits that fall from the table.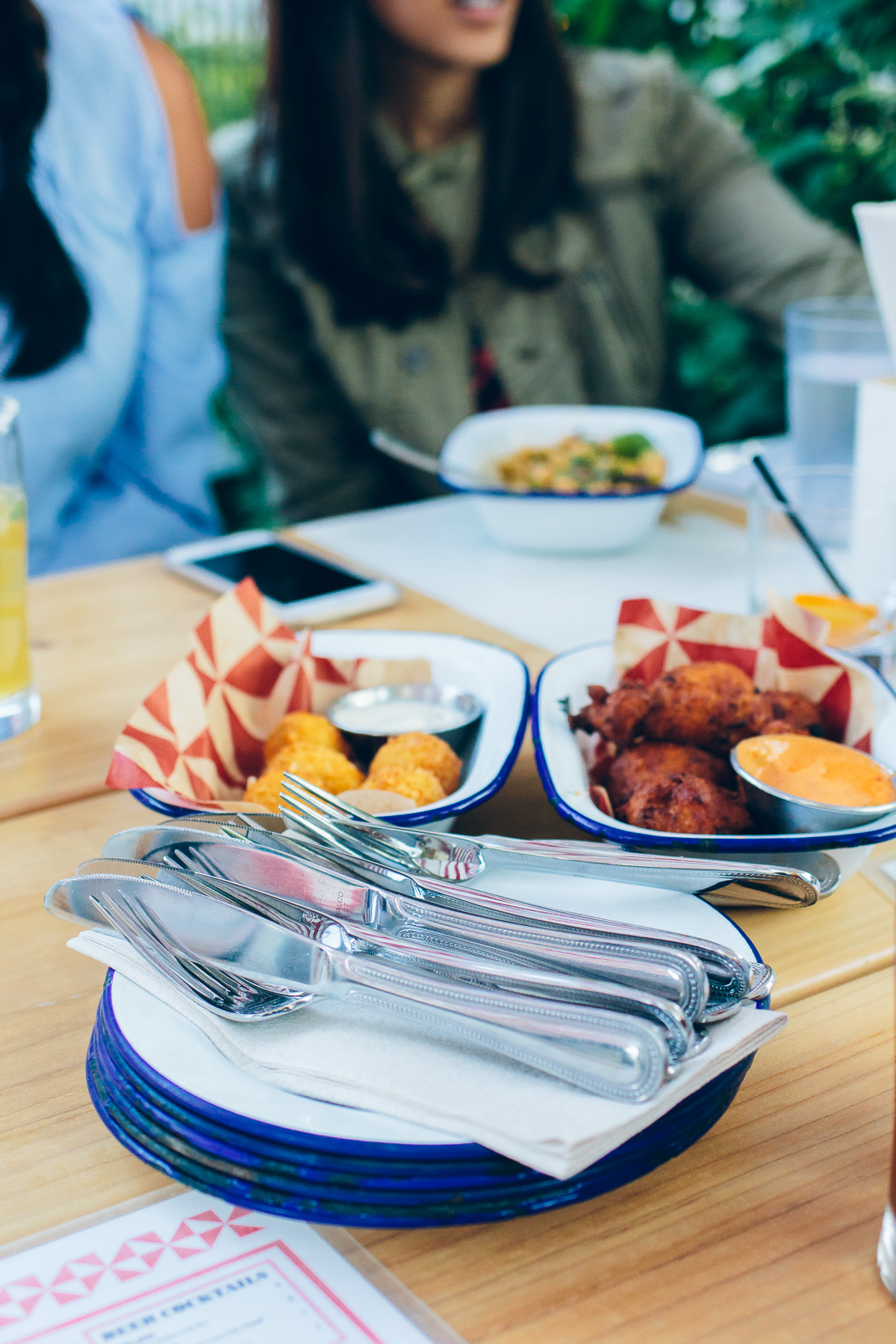 I wore this adorable ruffled dress, it just sold out in this color — boo, but it's available in this pretty nude-pink color. It's super comfortable and flirty. Lately I've been pairing any low cut tops or dresses with a simple lacy bra like this one.
After reading this story, I've started thinking about my lingerie a bit differently. Instead of it being an after thought, a pretty bra can add to your outfit. I've been on the hunt for a nice white one and this one is high on my list! Can you tell I hate underwire?!
It was cooler than we expected that night, so I wrapped up in a simple denim jacket for the rest of the night.
When Trevor arrived, he was most definitely surprised — even a bit confused, ha! After everyone had filled up on chicken and fish, the cake came out! Shaheen had it designed to look like an X-ray since Trevor is now officially a radiologist — congrats Trev!
Totally switching subjects here, but if you're a blogger or thinking about starting a blog, Jess and I are hosting several webinars this week! You can read more about them here and sign up — they're totally FREE! We hope you join us — the first one is TOMORROW!
BTW, 12 enviable closets, and a perfect (blue) party dress.