I've gotten so many questions about my workouts—what I do each week and how I got back in shape after having a baby.
First off, it is a process! I was fortunate enough to not have gained too much weight with Owen, but despite that, my body still felt so different. I felt squishy, my stomach stuck out and my butt was so flat and saggy. It was taking a toll on my confidence because I didn't feel great in my clothes and I wanted to feel more like myself again, so this past January, I put into place a much more regular weekly fitness routine and it's made a huge difference in how I look, but more importantly, in how I feel!
I have more confidence, more energy and generally just feel good about life each day. I think that's because I feel more comfortable in my body and because working out regularly just does good things for our mental health!
Here's my weekly fitness plan! It's not perfect every week, but for the most part this is what I do each week.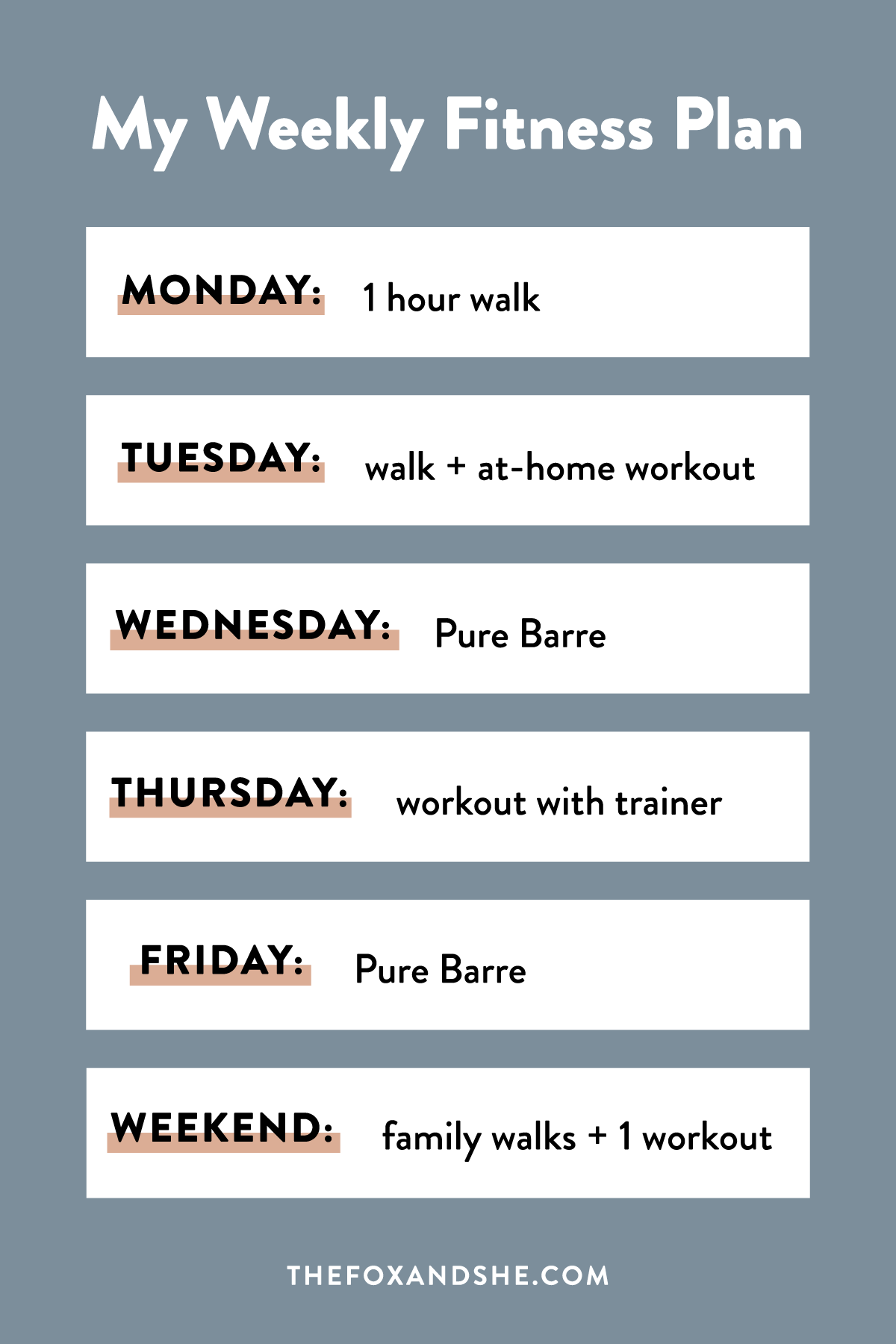 Weekly Fitness Plan
Monday
I typically reserve Mondays for getting sh*t done. I struggle if I don't feel like I get a bunch of work done at the beginning of the week, so I typically don't do an intense workout Monday. I do walk a lot though! I walk Owen to school and bring Oliver with us and then Oliver and I go for a 30-45 minute walk after that.
In the afternoon, I take Oliver for another 30 minute walk and then walk to get Owen at school. It might not seem like a lot, but don't under estimate how good walking is for you! My doctor told me it's one of the best things I do can do for my body everyday!
Tuesday
I'm home with Owen on Tuesdays, so we usually get out for a long morning walk with Oliver and then walk to the park to meet friends (sometimes twice). I don't do too much work (if any) on Tuesdays because it stresses me out trying to finish things while he naps, so I'll often do a quick workout in our living room while he naps.
My go-to is one of my at-home workouts that you can