Malibu Solid Surf Set | Slipcovered Chair | Ellington Rug
In my perfect world, I have his amazing morning routine. I wake up early, do a morning meditation, make a cup of coffee or matcha (I'm getting into matcha lattes again!) and get a few things checked off my list for work. I do this morning check-in just to get my head straight about what needs to get done that day.
All this happens before my kids wake up—again, this is my "perfect world". After we do breakfast and they're off at school and napping, I sit in my sun-filled office and get to work!
But, the reality is that our mornings look nothing like this—haha! Most mornings I'm waking up right when my kids do, and I have zero time for myself before the craziness begins. It's a phase of life, yes, but I know that my days don't have to start like this.
3 Easy Morning Rituals for Peaceful Days
Here are 3 simple morning rituals that I've been trying to put in place to make my mornings start on the right note. The first step is waking up just a little bit earlier, even just 30 minutes, and then:
1. Pray for Love
First things first, I like to stay in bed for this one, close my eyes and say a prayer to see all things in my day through the eyes of love. I also like to visualize my day, creating images of everything that's going to happen exactly how I want it to.
Basically, I create my perfect day before I get out of bed and it puts me in the BEST mood! It makes it easier to choose love all day because I know that my day is going to be amazing! It's so fun, please try this!
2. Morning Skincare Routine
I love my skincare routines, but since having kids, I find that I rush through them when they used to be these relaxing moments of self-care. When I wake up a little earlier and have the time to go through my routine slowly, I feel so relaxed and it sometimes even feel like my skin looks better.
If I have a couple of extra minutes, I'll do gua sha too! Seriously the best way to wake up your skin.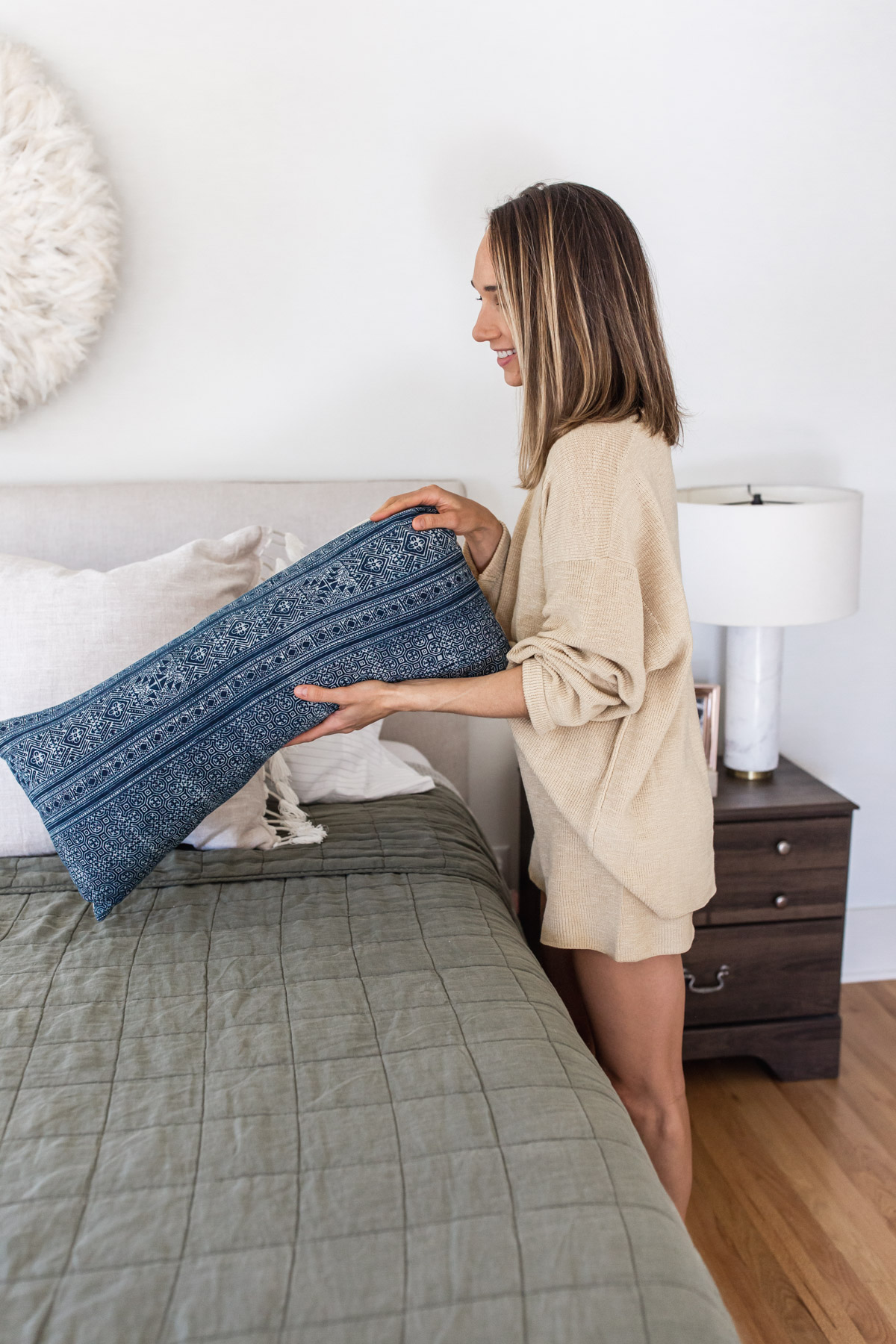 3. Make the Bed & Tidy Up
One last quick ritual I try to do everyday is make the bed and tidy up. I love love love starting my day with a clean room. It's like this big sense of accomplishment that, for whatever reason, makes it easier to get stuff done throughout my day!
I know mornings with kiddos can be absolutely insane, but we can do a few little things for ourselves before we get going, we can have such more peaceful, joyful days! What morning routines do you have for yourself?
BTW, how to do a sugar detox, and how to heal the gut.