Black Long Sleeve Bodysuit, wearing a small | Tuxedo Stripe Jeans, TTS—wearing size 25 | Teddy Sherpa Coat, mine is old, similar | Chevron Crossbody Bag | Strappy Heels, similar to mine | Lipstick in 9 to 5

I bought these jeans when I was at Evereve last week, maybe you remember them from my try-on post? They're definitely a little different, but I adore them for the holidays and winter in general, because plain ole jeans and a sweater can get old when you wear them for 6 months straight!
Most of the holiday parties, events and things we go to are somewhat casual. Not crazy casual, but like dressy casual if that's a thing. Jeans are appropriate as long as you've styled them the right way!
What I love about these jeans is that they automatically look fancier, because they are fancier. The gold stripe adds such a fun, unique twist to this pair and personally, I love it!
But, since they're different, I wanted to show you a few different ways to style them so you can feel confident rocking them for different occasions all season long!
More Tuxedo Stripe Jeans

Dressy Casual
When in doubt, throw on a bodysuit! I love that they look so effortless and chic and you're not left with bunchy fabric stuffed in your jeans. They can be a little bit of a pain when you're peeing, but really it's not that bad.
Whenever I'm going for a dressier look, I always play it simple. It looks chic and effortless with a simple pair of strappy sandals or pumps (the sandals might not be weather appropriate where you are), a gorgeous teddy coat and simple black bag—still loving this one I got!
Happy Hour
Black Lace Cami, size small | Tuxedo Stripe Jeans, TTS—wearing size 25 | Long Cardigan, wearing a small | Lipstick in 9 to 5 | Issa Leopard Booties, TTS | Chevron Crossbody Bag
This is a perfect mix of casual, cool and pulled together. Obviously a good excuse to pull out these boots again! I love the pop they add to just about any outfit. The cardigan is great for keeping you warm, but take it off once you're inside for a sassier look with just the lace cami!
I love this simple cami because it can be worn so many ways and it's only $38. I own the Cami NYC one too and I love it, but if you're just going to get one, this one is gorgeous and definitely looks more expensive.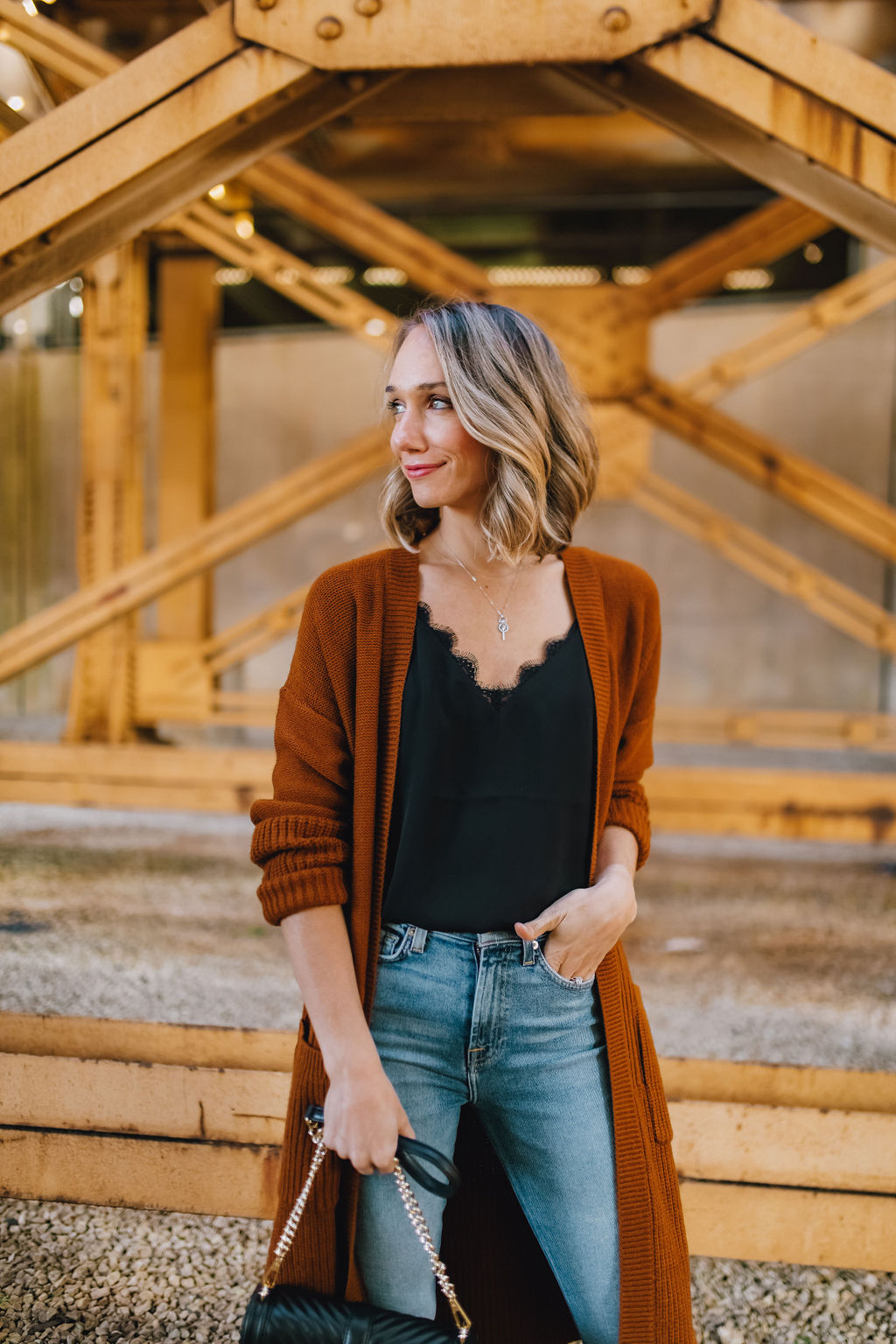 I would also wear this outfit with flats around the house, and depending on how casual your office is, you could wear this to work too.
Everyday Casual
White Sweater, size small | Tuxedo Stripe Jeans, TTS—wearing size 25 | Golden Goose Sneakers, review on them in this post | Camel Coat, just launched on Everlane! | Trapeze Satchel | Lipstick in 9 to 5
My mom uniform—elevated! I find an excuse to wear sneakers with everything. They look sporty and cool, and, well, they're comfortable!
I paired it with the fuzzy white sweater from this post of $35 and under sweaters last week if you missed it. It's so soft and is a great piece for the holidays!
If you don't have a camel coat, I personally think it's one of the best winter investments you can make. They look so chic and they're so timeless. It took me a few years to finally buy one and it's easily my most worn coat.
I know these jeans might seem a little out there for some of you, but I hope this post made them more approachable and wearable! Now that I looked through all these pictures again, I can't wait to wear them.
I had a similar pair last year, and I was shocked by how much I wore them and how many compliments I got on them. My sisters and mom were all dying for them when I wore them to Thanksgiving dinner.
Ahh, on that note, who else is SO excited for the holidays?!
photos by Hannah Schweiss
BTW, 7 cozy outfits to wear this fall, and fall capsule wardrobe + outfit ideas.