I'm so excited to be launching a new series this month, I'm calling it my how to style series because that's straightforward. Each week I'll be choosing one piece to style several different ways. Many of the pieces that I'm wearing are from my fall capsule wardrobe, and several of them, you probably already have in your closet. My goal is to help you make better use of the stuff you already own and help you to figure out which pieces are worth the investment!
Overalls

This week I'm featuring overalls and I'm absolutely in love with them. They're so fun and can be worn a gazillion ways—dressed up or down! I'm wearing this pair, but I've rounded up a few other pairs too. I just ordered this denim pair and I can't wait for those to arrive. The black is a bit easier to dress up in my opinion, but if you're a casual kind of gal, denim works just perfectly too!
4 Ways to Wear Overalls
Overalls with a Sweater
Black Overalls, I'm wearing a small | Pom Sweater | Day High Heel
This first look was probably my favorite, but they're all pretty good. I love the heel paired with the overalls because it makes it more grown-up, but still fun! These day high heels from Everlane are so comfortable and higher than their day heel which I also love!
I got this sweater during my shopping day at Evereve and I'm so in love with it! Heads up, it's REALLY warm, so it'll be perfect when the temperatures really drop. I love the color paired with the black overalls too.
My final tip for sweaters and overalls—don't go too chunky because then it'll make your midsection look bulky when you try to tuck them in!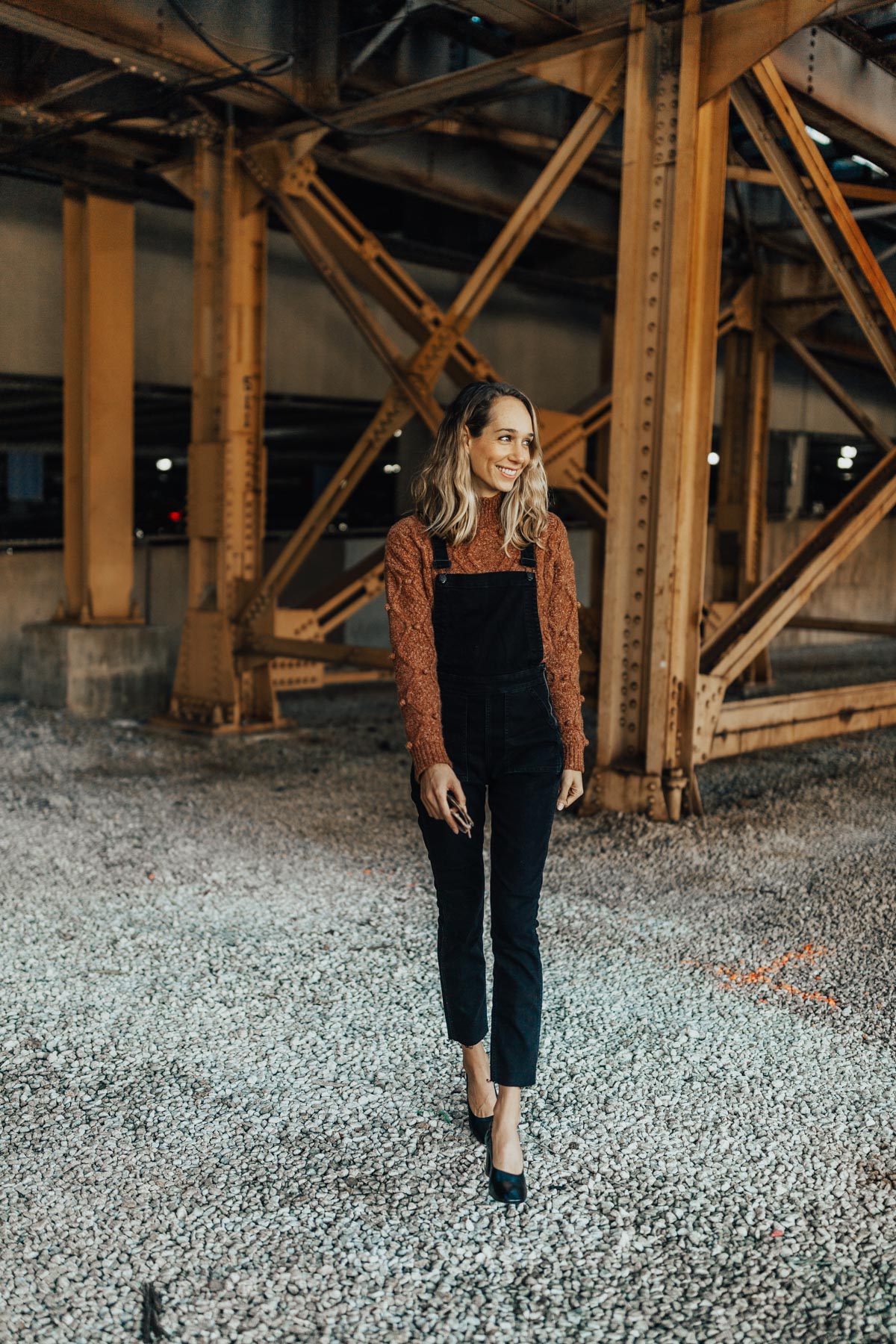 Overalls with a Tee and Cardigan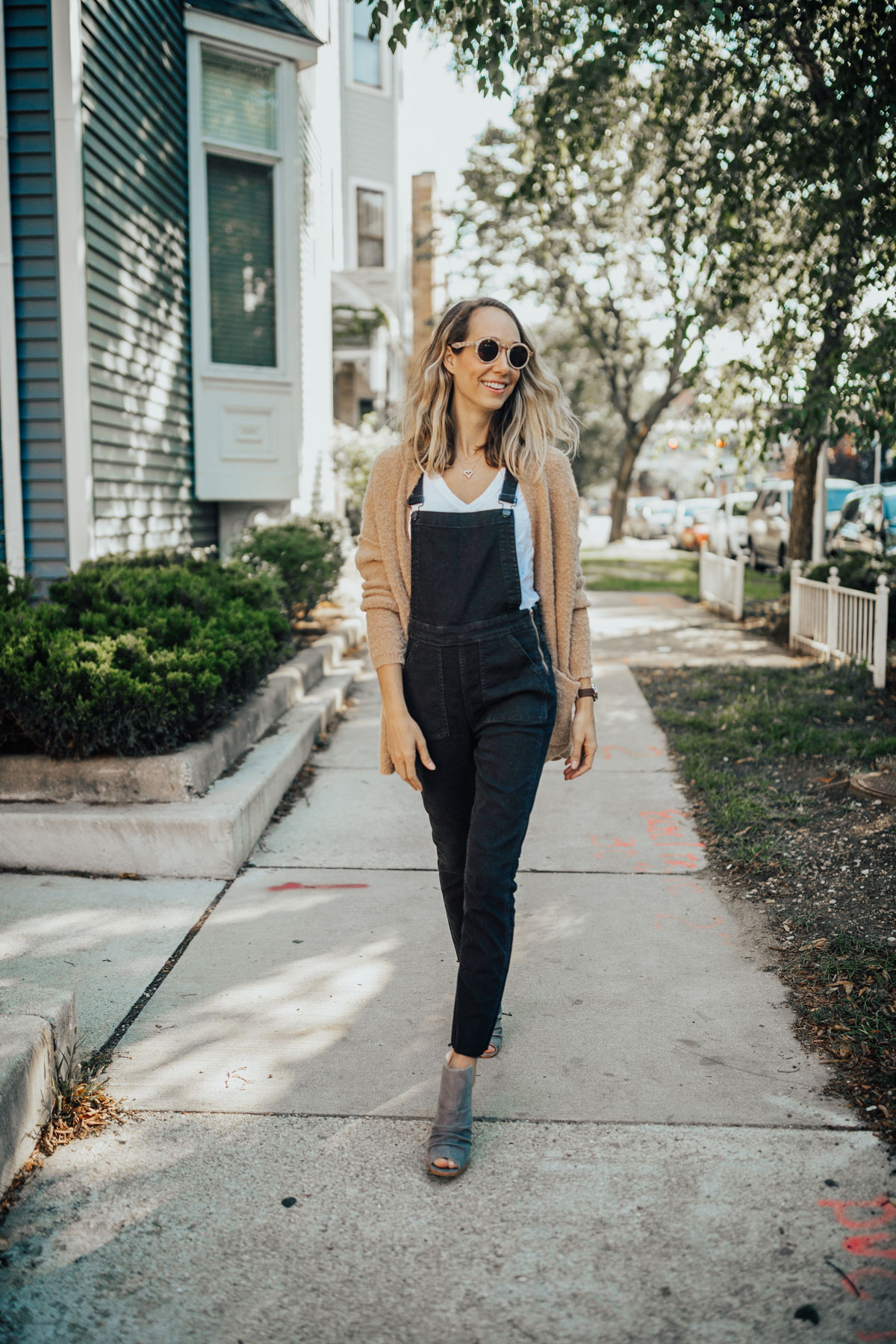 Black Overalls, I'm wearing a small | V-Neck Pocket Tee | Camel Cardigan | Lash Heel | Retro Sunglasses
I feel like if I worked at a tech start up, this would be an appropriate work outfit. This would also be a perfect mom uniform if I swapped out the heels for sneakers. At the end of the day, you can't go wrong with a simple white tee and a camel cardigan!

Overalls with Chambray
Black Overalls, I'm wearing a small | Everyday Chambray Shirt | Brown Suede Boots with Tortoiseshell Print Heel | Retro Sunglasses
I love a good chambray shirt and this one has been my favorite for years—I'm so happy J.Crew is still making it. Black jeans and denim are a favorite look of mine already and it looks extra cute with the overalls.
I paired it with these new brown suede boots, but any pair of booties would work! It would also look cute with this short sleeve chambray shirt!

Overalls with Stripe Tee & Flats
Black Overalls, I'm wearing a small| Stripe Tee | Bow Mules | Retro Sunglasses
Last, but not least! This look is actually tied for my favorite! It's so simple, but proves that black and white doesn't have to be boring at all. I think most of us probably have a striped tee in our closet, so get creative and mix and match with different colored stripes too!
These bow mules from Ann Taylor are SO good. I know I talked about them a lot, but it's because they really are that comfortable! They're true to size too!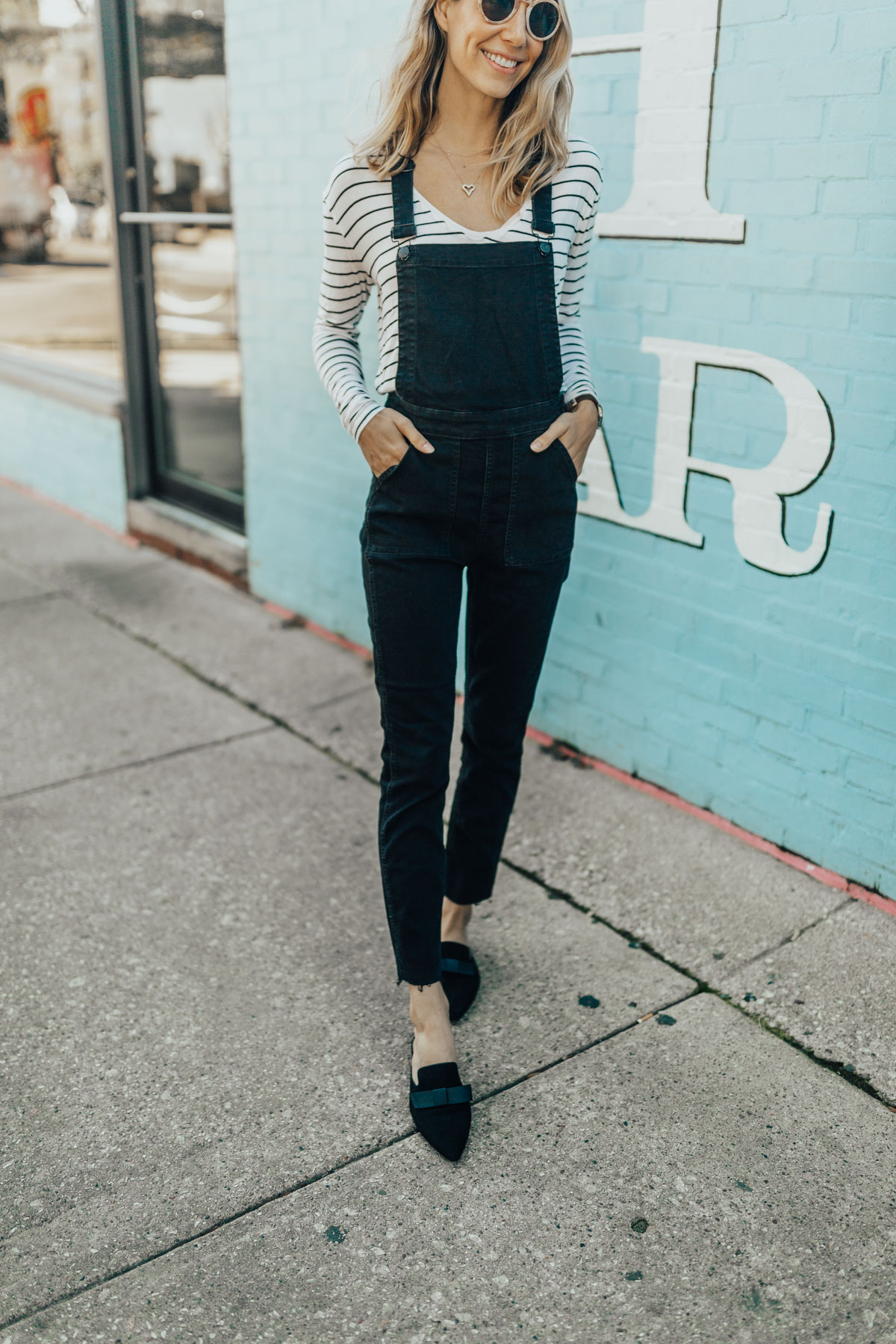 I hope I've inspired you to start wearing your overalls more, or finally get a pair!
BTW, 5 styling tips for wearing oversized sweaters, and cozy outfits to wear this fall.