The Adidas Gazelle shoes are the perfect blend of comfort and style and look great with so many outfits. Let's talk about sizing and how to style them.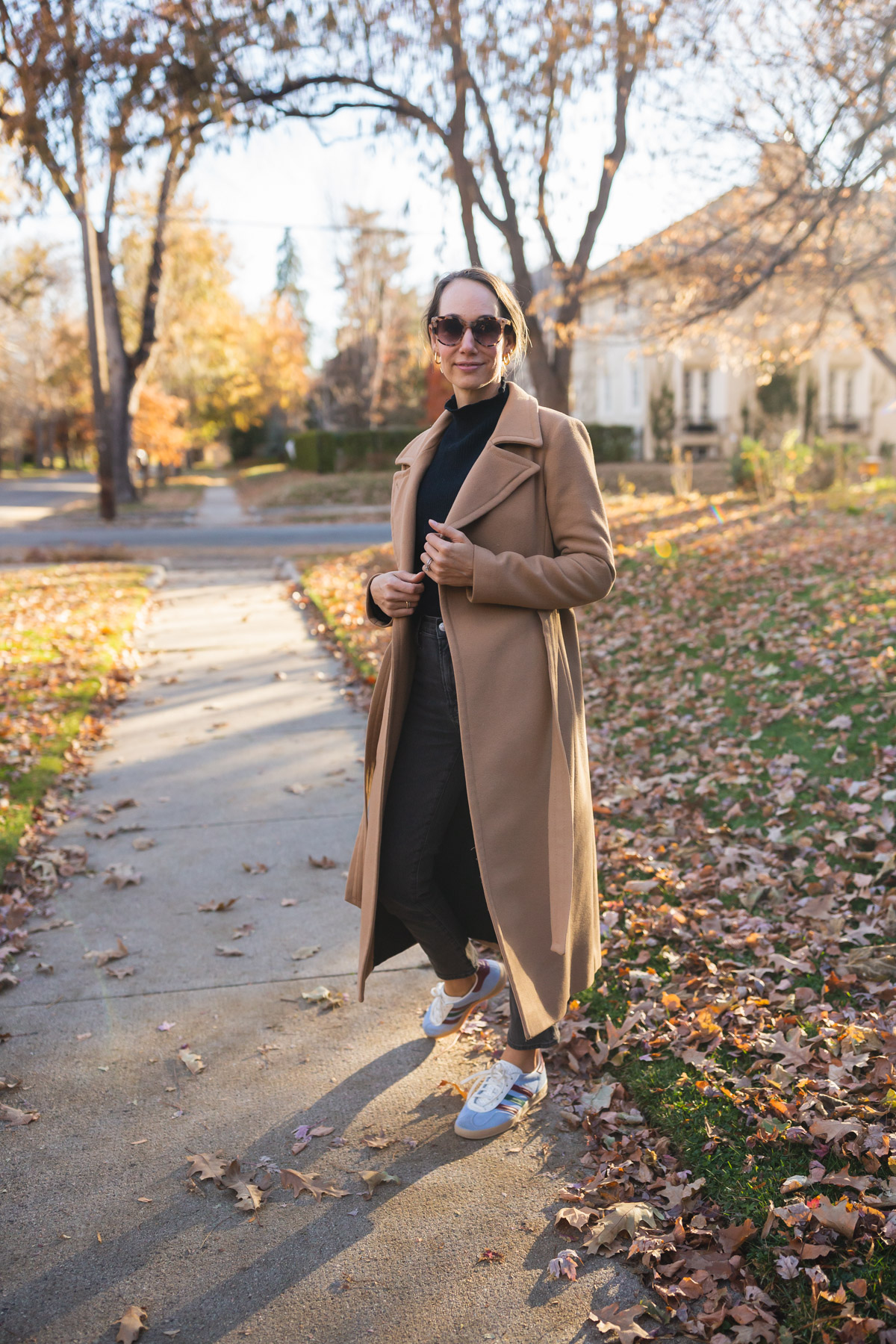 Whenever I'm looking for new shoes, my top priorities are a combination of comfort and style. As a mom, most of my days are a mix of meeting, errands and chasing after my kids, having several pairs of shoes that both look great and are comfortable enough to wear around all day is so important.
One of new favorite pairs are my Adidas Gazelle shoes—these are nothing new, but has seen a resurgence lately. Their iconic design and timeless appeal, these make for a great option for style-conscious women who want to stay on trend without sacrificing their feet. They're great for casual wear and even dressed up for a cool-girl look. And just because I'm a mom doesn't mean I'm not cool 😉
The Adidas Gazelle shoes are not just a fashion statement, they are also incredibly comfortable. Constructed with high-quality materials, they provide excellent support and cushioning, ensuring that your feet stay comfortable all day long. Whether you're running errands or going for a night out, these shoes will keep your feet feeling good and looking great.
Okay, so you get it—these shoes are not only comfy & stylish, but they also boast a wide range of colors and designs to suit any taste. When I was looking for a new pair, I had a hard time deciding which ones I wanted because there were so many options. Everything from classic black and white to vibrant shades of pink and blue, there's a Gazelle for everyone.
The Adidas Gazelle shoes are the perfect companion for women who value both fashion and comfort. Let's talk about how these shoes fit because sizing is a little funny and give you some ideas on how to wear them this season and beyond!
History & Design of Adidas Gazelle Shoes
The adidas Gazelle shoes have a rich history that dates back to the 1960s. Originally designed as training shoes for athletes, they quickly became popular among the general public for their sleek design and comfort. Seems like that's happened a lot over the years with different styles—they start with a purpose then eventually turn into a fashion statement.
The design of the Gazelle shoes is characterized by their low profile, suede upper, and the iconic three stripes on the sides. The shoes feature a rubber outsole that provides excellent traction, making them suitable for various terrains.
Over the years, the design of the Gazelle shoes has evolved, with new colorways and materials being introduced. Now there's even a platform version that would not be great for sports, but look super cute. Overtime, the classic silhouette and timeless appeal have remained unchanged, making them a staple in the fashion industry.
How to Wear Adidas Gazelle Shoes for Women
How to Choose the Right Size of Adidas Gazelle Shoes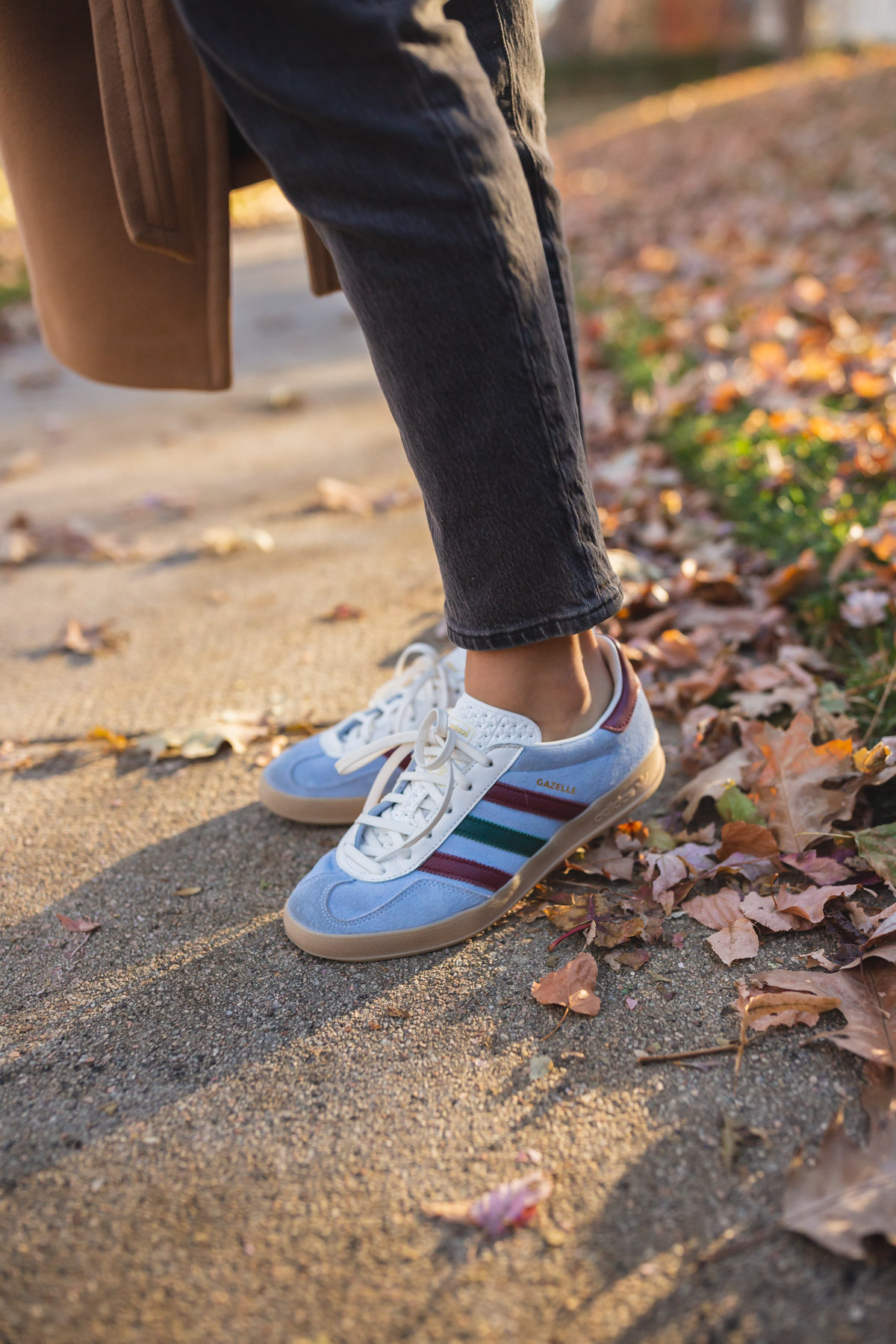 Choosing the right size and style of Adidas Gazelle shoes is essential to ensure the perfect fit and maximum comfort. The shoes are unisex so they typically show both men's and women's sizing online. What I've found with both of my pairs of Gazelles over the years is that they run big! I'm normally a 8.5-9 and always order the women's 8 for a perfect fit.Here are some tips to help you make the right choice:
1. Measure your feet: Use a measuring tape or ruler to measure the length and width of your feet. Refer to the Adidas size chart to find your correct size. Remember to measure both feet as they may differ in size.
2. Try them on: If possible, try on the Gazelle shoes in-store to ensure the perfect fit. Walk around and check for any discomfort or tightness. Even if they don't have the exact ones you want in store, you can feel confident knowing you know your correct size.
3. Consider your style: Think about the outfits you plan to wear with the Gazelle shoes. Consider the color, material, and design that will complement your wardrobe. Whether you prefer a classic suede pair or a more modern leather version, choose a style and color that resonates with your personal style.
I find that I wear more neutrals with pops of color, so I opted for this colored pair that looks great with most of my neutral outfits. I love that the blue fabric is suede and the alternating stripes are leather.
Neutral Pairs

Colorful Pairs

How to Style Adidas Gazelle Shoes with Different Outfits
One thing that I love about fashion sneakers these days is that the shoes can be dressed up or down depending on the occasion. I've worn mine with skirts and dresses as well as with jeans and a sweater. I love the youthful and playful vibe they give to any outfit.
The wide range of colors and designs available allows you to express your personal style and create unique looks. Whether you prefer a classic black pair for a sophisticated look or a bold color for a statement outfit, the Gazelle shoes have got you covered.
Now, for some outfit inspiration to keep you feeling confident and stylish with a variety of different looks.
With Jeans & Pants
Probably the most common way to wear your Adidas Gazelle sneakers is with jeans or pants. I love the casual look of them paired with jeans and a sweater or tshirt, or paired with dressier trousers for an unexpected look that not only looks great, but is more comfortable than wearing heels.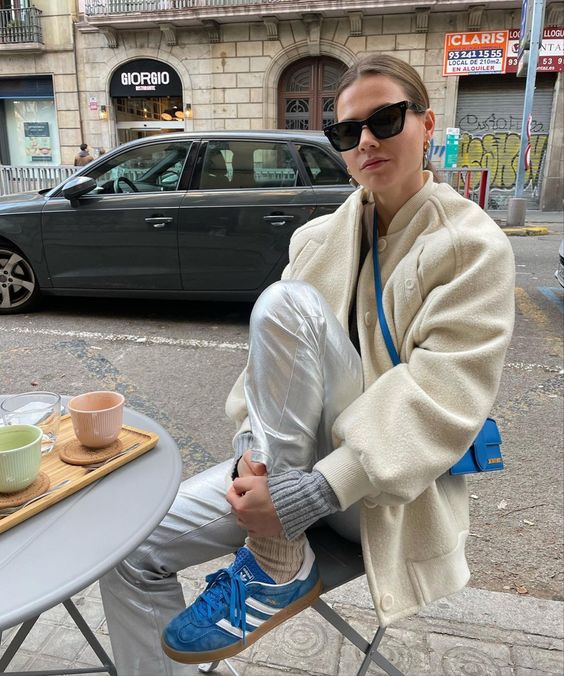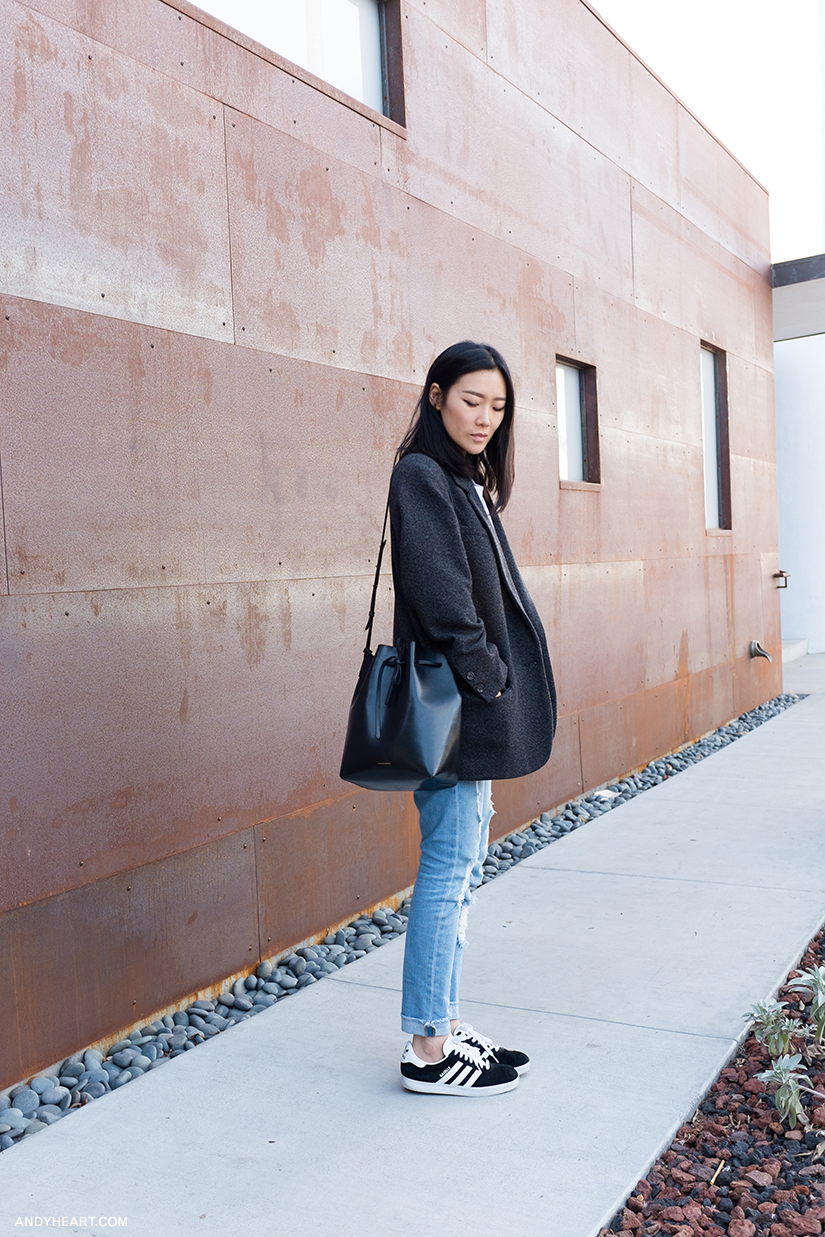 With Skirts & Dresses
Pairing the your sneakers with a dress or skirt is such a fun way to mix in a bit of playfulness to your outfit. It makes any dressed up look more comfortable and gives your outfit an edgy and unexpected look.
How to Care for and Clean Your Sneakers
To keep your Adidas Gazelle shoes looking their best, make sure you follow these simple tips for keeping them clean so they last a long time. Here are some tips to help you care for and clean your shoes:
1. Regular cleaning: Wipe off any dirt or dust from the shoes using a soft cloth or brush. For stubborn stains, use a mild detergent mixed with water and gently scrub the affected area. Personally, I love Branch Basics as it's all naural. Avoid using harsh chemicals or abrasive materials that may damage the shoe's surface.
2. Drying: After cleaning, allow the shoes to air dry naturally. Avoid placing them near direct heat sources as this may cause the materials to warp or shrink. Never put them in the dryer!
3. Protection: Apply a waterproof spray or suede protector to the shoes to prevent stains and water damage. This will help extend the lifespan of your Gazelle shoes and keep them looking new. This is especially important if you live in a place that has a lot of rain or snow.
Remember to follow the care instructions provided by Adidas for specific shoe materials and styles to give them the longest lifespan possible.
Real Customer Reviews
As a sneaker-lover, the Adidas Gazelle shoes are not only a stylish pick, but they're comfortable and available at a great price point. They come in so many different color too so there's something for you no matter your style.
There's great neutrals for something more understated and bold colors for those who like to stand out. They don't take long to break in and are great for everyday wear, as well as trips where you'll be walking a lot, bu still want to look pulled together.
If you're not convinced, here are a few other testimonials and reviews from women who wear Adidas Gazelle shoes:
"I absolutely love my Gazelle shoes! They are the perfect combination of style and comfort. I can wear them all day without any discomfort." – Sarah, 28.
"The Gazelle shoes are my go-to sneakers. They go with everything and are so comfortable. I highly recommend them!" – Emily, 32.
"I've been a fan of adidas for years, and the Gazelle shoes did not disappoint. They are stylish, comfortable, and versatile. I can't imagine my wardrobe without them." – Jessica, 35.
If you are a sneaker lover like myself, make sure that you grab a pair of these ASAP! They've been selling out fast and for good reason. Take into consideration the fact that they run big when purchasing and look through your closet before buying to see which color will work best with what you currently own.
Mix and match with different jeans, pants, skirt and dresses for unique looks that make you feel confident!
BTW, how to style ankle boots with different outfits, and how to wear loungewear and still look chic.