Are any other grand-millennial moms struggling with pants ever since skinny jeans became uncool? Thankfully I came across these Anthropologie Wide Leg pants, also known as the Colette pants and they are a new favorite of mine! They're so good that I know have FOUR pairs.
Denim Colette Pants | Daphne Topcoat
I've been on the hunt for a pair of pants that I like the look and fit of for what feels like a year, and when I came across these Anthropologie wide-leg pants, I only wished I'd found them sooner.
Anthropologie Wide Leg Pants Styles & Colors

If you're like me, you've been on the hunt for a comfortable and stylish alternative, and the Anthropologie Wide Leg Colette pants just might be the answer to our fashion prayers. These wide-leg pants have been making waves in the fashion world for their unique design and impeccable quality.
They look amazing on every body type I've seen them on, and I love them too, hence the dedication of an entire post to these pants. You'll probably be convinced by the end that you too need a pair!
While I was looking, I wanted something with loose legs, but still had some shape in the booty area, because I'm just not into the overly baggy pants—sorry, not sorry. I didn't want them to be too long, for whatever reason, long baggy pants were putting me back in my high school bell-bottom days and I just don't know if I can go back there.
Colette Pants: Anthropologie Wide Leg Pants Review
A Versatile Addition to Your Wardrobe
One of the first things that will strike you about the Anthropologie Wide-Leg Colette Pants is their versatility. These pants are designed to seamlessly transition from casual to formal occasions. The wide-leg silhouette exudes an effortless elegance that can easily be dressed up or down. Whether you're headed to the office, a weekend brunch, or a special event, the Colette pants can adapt to your needs.
Plus, they come in so many different fabrics—denim, linen, corduroy (read my note on sizing below before ordering!), fun formal patterns and more! Seriously, you can't convince me these won't work in every situation. I'd wear them to the park with sandals in summer, booties or sneakers in winter, and some swanky heels for a fancy party this holiday season.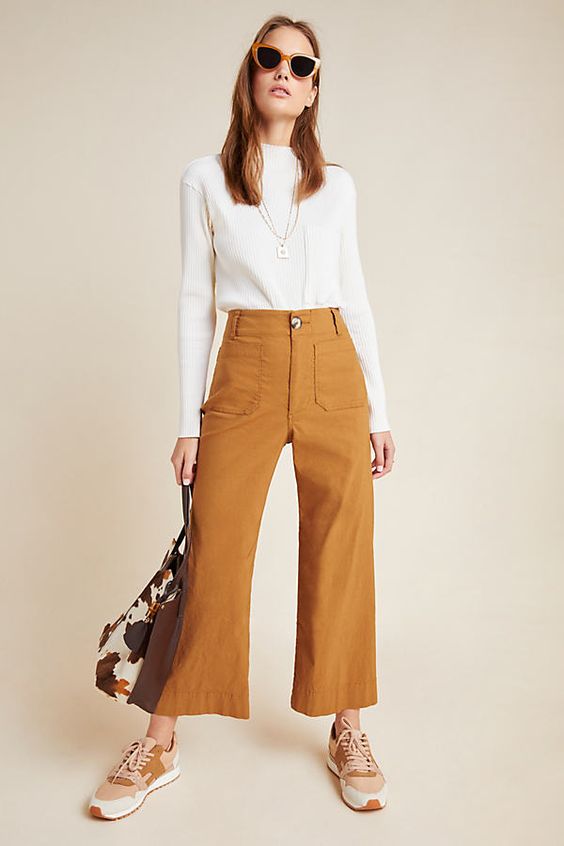 Comfort is Key
What sets these wide-leg pants apart from other fashion choices is their comfort. Constructed from a blend of high-quality materials, the Colette pants are a dream to wear. After having kids, I'm kinda over the super tight pants that cut into my stomach when I sit down.
The fabric drapes beautifully and feels soft against the skin. The wide-leg design ensures that you have plenty of room to move around, making them a go-to choice for busy days when you need both style and comfort. No more tugging at too-tight waistbands or feeling constricted – these pants allow you to breathe and move freely. Trust me on this!
An Ideal Fit for All Body Types
Anthropologie is known for its inclusive approach to fashion, and the Colette pants are no exception. Available in a range of sizes, they cater to various body types. The wide-leg cut can be flattering on just about anyone, creating the illusion of longer legs and a more balanced silhouette. Whether you're tall, petite, or somewhere in between, you can find the perfect size for your frame.
The pants themselves come in a variety of sizes: standard, tall, petite and plus— so helpful!
A Stylish Statement
Beyond their comfort and versatility, the Colette pants are a stylish statement piece. They feature a high waist, which not only adds to their contemporary look but also offers excellent tummy control. The wide-leg design is modern and on-trend, making a bold fashion statement without sacrificing comfort.
The pants come in various colors and patterns, allowing you to express your unique style. Pair them with a fitted blouse and heels for a chic, office-ready ensemble, or dress them down with a casual tee and sneakers for a relaxed weekend outfit.
The Durability Factor
Investing in quality clothing is an essential part of building a sustainable and long-lasting wardrobe. The Anthropologie Wide-Leg Colette Pants are crafted with durability in mind. The high-quality materials and impeccable construction mean that these pants are built to last. They won't lose their shape or color after a few wears, ensuring you get your money's worth.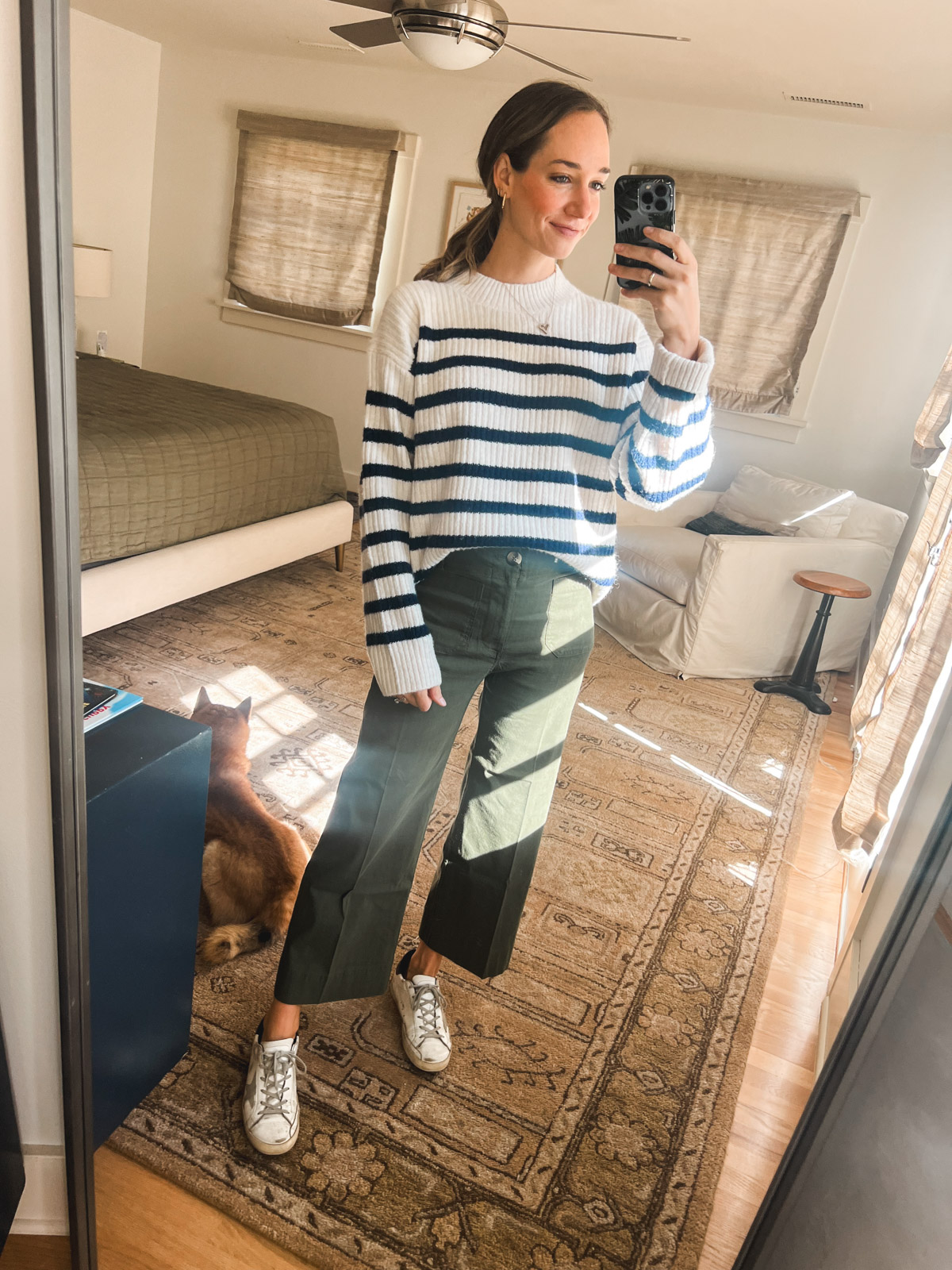 Anthropologie Colette Pants Sizing
I read LOTS of online reviews that said they run large and I found that to be true, but only for certain fabrics. The denim and linen pairs do run large and I ordered a size down. The corduroy pair however ran true-to-size to almost a little small! I ended up in one size larger than my normal size because they didn't have my normal size, and either would have worked as they do stretch as you wear them.
I haven't tried the patterned styles yet, but recommend ordering 2 sizes to see what works best for you.
If you're looking at the full-length Colette pants, not the cropped ones, I found them to run a little short. I'm 5'8″ and the regular length was too short for me. Especially if I plan on wearing with heels or boots.
The Verdict
In the end, the Anthropologie Wide-Leg Colette Pants are a must-have addition to any woman's wardrobe.
They tick all the boxes: comfort, style, versatility, and durability. Whether you're dressing for a casual day out or a formal occasion, these pants have got you covered. With a wide range of sizes and styles to choose from, you can personalize your look to suit your individual taste. So, if you're ready to embrace fashion that's both comfortable and chic (pretty much all I look for these days), the Colette pants from Anthropologie are a perfect choice. Say goodbye to uncomfortable clothing and hello to stylish ease with these wide-leg wonders!
BTW, my honest Dyson Supersonic hairdryer review, and how to wear oversized sweaters and look chic.