These loungewear outfits will give you tons of inspiration for waring your favorite cozy pieces in a whole new way.
A few weeks ago, I realized that I'd gone 4 days wearing the same sweatpants and suddenly felt disappointed in myself. I realize that sounds a bit ridiculous, but I have a closet full of clothes I love that I rarely wear. Meanwhile, my oversized fleece-lined leggings (honestly though, these are amazing if you're walking outside on a cold day) and stained sweatshirts were working overtime. 
After the pandemic, so many of us have transitioned from working in an office to working full-time at home. Which means that our go-to workwear now sits in the closet collecting dust, while our comfy clothes get worn on the regular.
Honestly, I'm here for it!
I do love getting dressed up, but when I'm sitting at my desk for hours at a time, I'd rather my zipper not be cutting into my stomach.
After catching a glimpse of my sad, baggy groutfit on the way to pick up the kids from school, I decided it was time to up my loungewear look and find ways to wear my cozy pieces that felt comfortable and easy for a full-day of working at home, but also made me feel pulled together and confident.
Thankfully, there is no shortage of inspiration for a chic loungewear outfits that are easy to wear. In fact, you might already have some version of these pieces in your closet already.
And, if you're like me and in a bit of a rut, then these outfit ideas will give you tons of inspiration for how to wear your cozy pieces and look like you walked out of the some cool spot in L.A. next to Hailey Bieber. 
Best of all, your confidence will be boosted, while living that comfy life.  
6 Tips for Wearing Loungewear Outfits Stylishly
Opt for Neutrals
When in doubt, go for neutrals. They have a way of making anything look more elevated and refined. Seriously, the looks below will have you convinced. Mix and match shades of black, white, tan and grey for an effortlessly chic outfit.
Try a monochromatic outfit too for a simple upgrade to your loungewear. Black on black is a classic, but camel on camel, white on white and grey on grey all look equally as clean. When you mix neutrals, you can easily mix in different pieces you already own and mix in nicer pieces to give your outfit a trendy, cool vibe.
Try adding different styles of shoes, fancier handbags and overcoats to get the look you want.
Matching Loungewear Sets Are a Yes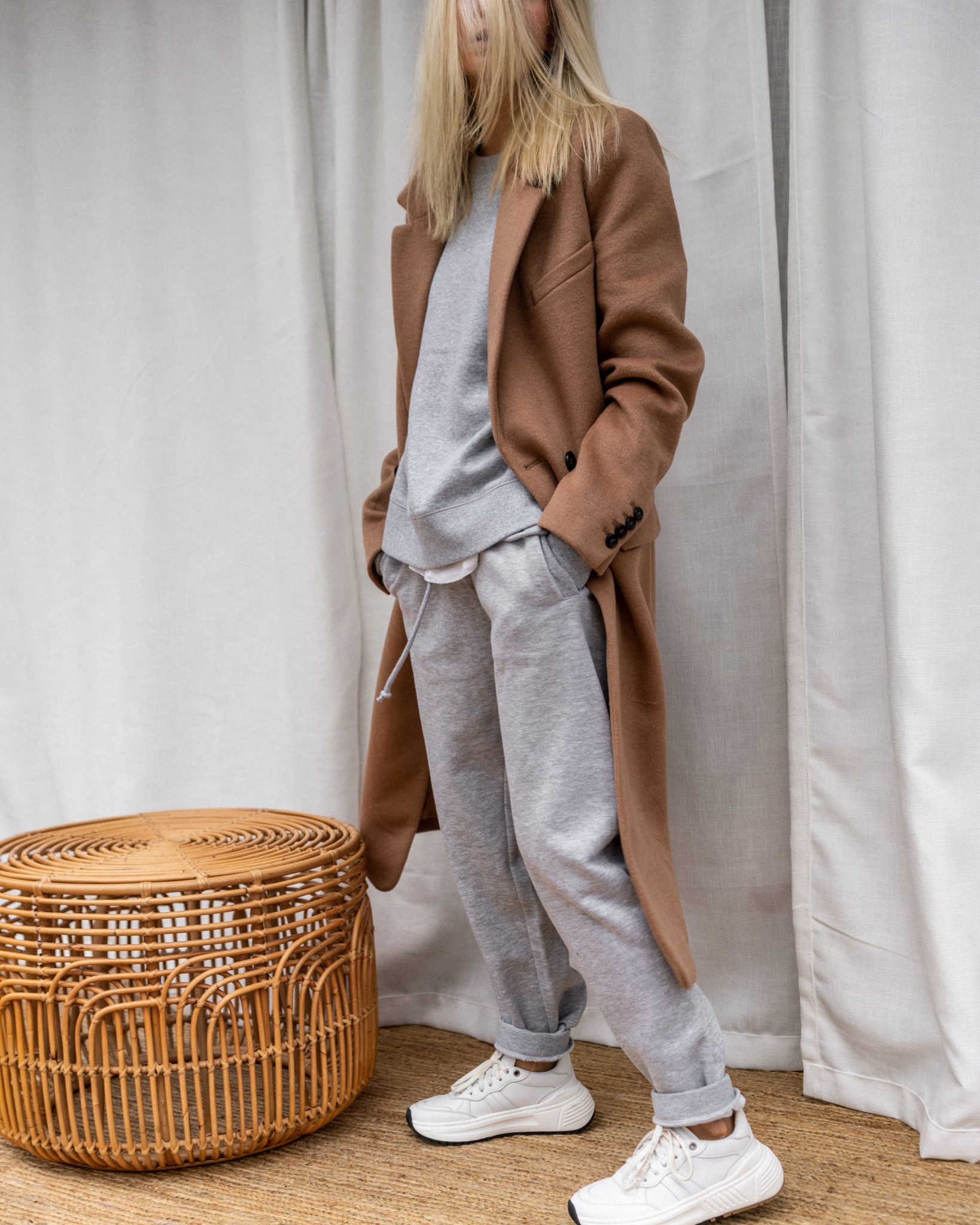 When in doubt, a matching set automatically looks so stylish. Pair it with some simple sneakers for a well-rounded look that's both comfortable and cute.
Mix & Match High and Low Pieces
Throwing on a sweatshirt and leggings paired with your nice camel overcoat—we're here for it. This makes for the perfect outfit that's chic and comfortable for brunch, running errands or school drop-off. Throw on a hat to hide dirty hair if necessary.
RELATED: 3 Best Non-Toxic Dry Shampoos for Gorgeous, Healthy Hair
Or, dress up your loungewear with pointed heels or flat mules for an elevated look that's just as comfortable as it is beautiful.
Balance Proportions
The quickest way to look totally frumpy is to go super baggy on top and bottom. If you're wearing a baggy top, opt for bottoms that are slightly more tailored. It doesn't have to be leggings, but narrowly cut joggers would look awesome. 
Or go the opposite and wear loose bottoms with a fitted or cropped top above. She also does a great job of mixing and matching high and low pieces.
Invest in Well-Fitting Loungewear
If you're spending most days wearing loungewear, isn't it worth having some nicer pieces that actually fit and look decent? You don't have to go crazy, but not everything needs to be cheap. I love a good Amazon find, but I also invest in pieces that I wear a lot because I know they'll last longer than my $25 items.
A few great places to look for cute loungewear:
Add a Jacket or Coat
Adding a non-loungewear coat or jacket instantly transforms your outfit into something that looks cool and chic. For an edgy look, a leather jacket looks so cool and easy.
For something that's warmer and more chic, opt for a long overcoat. A nice coat over a comfortable outfit instantly elevates into something cool and purposeful.
Lastly, an oversized denim jacket looks awesome over a sweatshirt like the one above.
BTW, styling tips for how to wear oversized sweaters and look chic AF, and how to take your outfit from the gym to lunch.