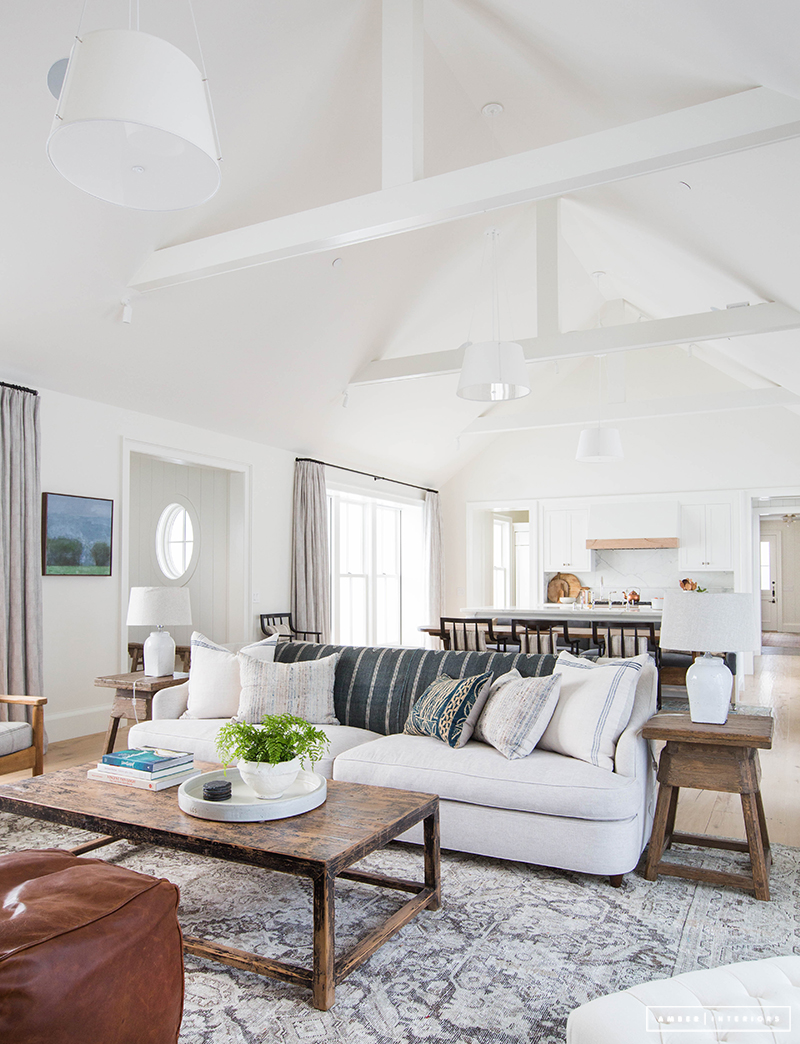 Before we moved and before my parents came in and helped me set up the house, I did start on one major project by myself! Though, I have to admit, I didn't finish it alone, ha, thanks again mom and dad! The only thing that I didn't love about our new place was that the main living room and kitchen had a rust-red accent wall.
Compared to our old home in the sky, the new place has a less windows and less natural light (but some beautiful trees grow out front!). The red color wasn't terrible, but it didn't match with any of our decor, and if I'm being honest, I'm just not a big fan of red. Plus, it made the entire place feel smaller, cramped and dark. The rest of the walls in this area were white, so naturally, I decided to paint over the accent wall to match the rest of the place. #bestdecisionever
The tough part was matching the paint color. I've picked paints many times in my life and have a go-to white paint color—Benjamin Moore White Dove (thanks to my interior designer friend, Layne)—but matching an existing white paint color was a bit tougher.
I picked up about 20 variations of white swatches at Home Depot and did my best to match the white. The owner of our unit finally found the original paint color which was Benjamin Moore's base white that you can buy straight off the shelves. That made it easy!
Now that the painting is complete, I'm so happy we decided to just go for it! It's brighter and feels bigger and more open! But it got me thinking, why is paint so hard to pick?! And, who knew there were so many shades of white! I thought it'd be fun to reach out to some of my decorator and design-minded friends to see what there go to shades of white paint were and they had some great advice!
Here's what they said:
GRACE ATWOOD
blogger
Gosh I don't have a favorite white paint though! I feel like I am just learning all this stuff. That being said, the "white" on my floors is Swiss Coffee by Behr. I really like it as it's soft and not too white (and also doesn't show dirt as much.)
It would probably also be really pretty on a wall… it's soft and inviting and not too stark. You can't tell it's not a true white until you put something very white next to it.
JACQUELYN CLARK
interior designer & blogger
My favourite white paint is Benjamin Moore's Chantilly Lace. It's a really crisp, clean, white that works as beautifully on trim work, throughout an entire room, as it does as millwork. It's my go-to for white kitchen cabinets and has yet to fail me.
ALAINA KACZMARSKI
blogger
Ultra Pure White by Behr is my favorite that is affordable! Wimborne White by Farrow and Ball is my favorite, but a bit expensive!
KIRA OBERMEIER
interior designer & blogger
Whites can be sooooo tricky because of lighting and undertones, but my go-to's are these:
Benjamin Moore Decorator's White—The purest white I've found, with just the tiniest gray undertone (if your place has good natural light, go with this one!). Benjamin Moore White Dove. A neutral but creamier white (I like this one for trim work a lot too). Farrow & Ball All White is a bright white with a warmer undertone.
MEGMADE
furniture store owner in Chicago
I have lots of whites that I like. It usually depends on if you get a lot of light or not and what you are pairing with it.
If you want a crisp white I really like just plain old white from Benjamin Moore (just ask for the base color in store). I think Super White is a little too white and White is a bit more tame.
As for warmer whites if you have browns and creams in the room I like White Dove and as for whites that have a slight gray tone I like White Heron. It gives a hint of blue gray when there is not direct sun but it looks bright white in the daylight. I always go with Benjamin Moore since it is what I use, but I am sure other paint brands are great too!
KIM & SCOTT VARGO
home renovation bloggers
White paint is so different in every home and every scenario (depending on which direction you receive light), but here's mine. Intense White by Benjamin Moore—it's a deep white with a lot of depth, leaning ever-so-slightly towards a soft warm grey.
It never feels too cold, and there's enough yellow in it to keep it feeling cozy. We use Intense White in our living room, kitchen and one of our bedrooms, and it feels so fresh in every space!
AMANDA HOLSTEIN
blogger
Alabaster White by Sherwin Williams is a great option that I believe Joanna Gaines uses and she's my idol :). It's a slightly warmer white so it makes the room less stark and more homey. It's great for that rustic/antique white look too!
CLAIRE STASZAK
interior designer
The my most recommended paint brand for coverage and quality is Benjamin Moore, something you might want to note about painting a bright accent wall over with white is that you need a very good primer (possibly a tinted primer) so the color does not show through.
Whites are also very hard to pick out b/c there is such a wide variety of undertones. My best bright white—that looks white in almost any light is Chantilly Lace by Benjamin Moore. I recommend Matte finish in the Aura line by Benjamin Moore.
AIMÉE MAZZENGA
interior photographer
We just painted our bedroom. It's Silky White by Behr. I wish the name was cooler 😐 But I do like it a lot. Its a good warm white while still for sure being white.
DANIELLE MOSS
blogger
I used Farrow and Ball Wevet on our walls and molding. It's definitely an investment but is the perfect white, and since we own, it felt worth it. If you're renting, I'd recommend having the color matched to save money.

When it comes to white paint, do you have a shade you prefer for your home projects? Share it below!
BTW, 10 Ikea hacks you can actually complete, and 17 reasons your kitchen needs a colorful kilim.